(Italiano) T-tip, il nostro futuro greco
ORIGINAL LANGUAGES, 27 Jul 2015
Francesco Martone, Comune Info – TRANSCEND Media Service
21 luglio 2015 – Per uno para­dosso o una signi­fi­ca­tiva coin­ci­denza lo stesso giorno nel quale pro­ces­sava Ale­xis Tsi­pras, il par­la­mento euro­peo avrebbe votato il rap­porto Lange sul Tran­sa­tlan­tic Trade and Invest­ment Part­ner­ship (T-tip). Raf­fi­gu­ra­zioni pla­sti­che ed evi­denti di come il pro­getto euro­peo di spa­zio di cit­ta­di­nanza comune abbia ceduto il passo a quello eli­ta­rio dell'austerity, e dell'ordoliberismo a tutti i costi, ed agli inte­ressi delle imprese e dei mer­cati anche a costo della soprav­vi­venza di uomini e donne in carne ed ossa.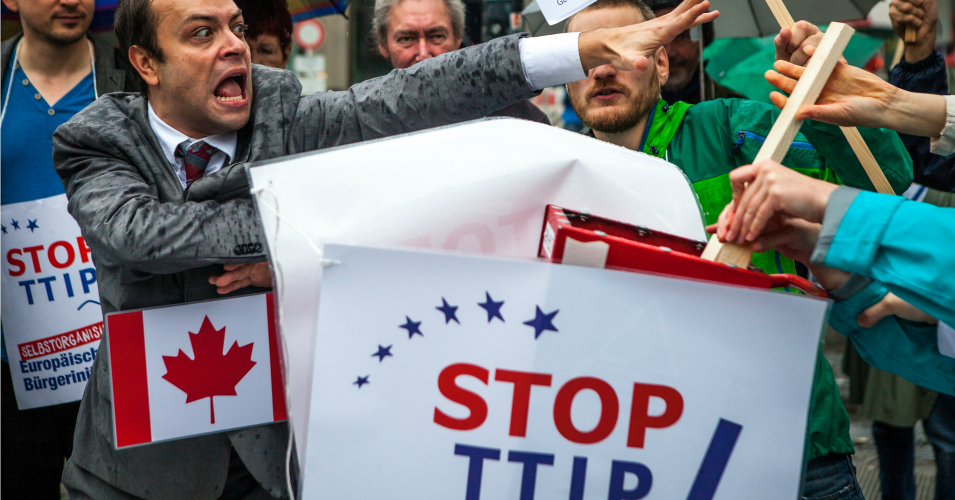 Il tema cen­trale del rap­porto Lange riguar­dava la cosid­detta «Inve­stor to State Dispute Set­tle­ment» (Isds). La sua appro­va­zione è stata giu­sta­mente con­dan­nata dagli atti­vi­sti delle cam­pa­gne inter­na­zio­nali con­tro il T-tip essendo poten­zial­mente lesiva dei diritti umani, dell'ambiente e del lavoro: è infatti un mec­ca­ni­smo che — sep­pur nelle cor­re­zioni addotte come com­pro­messo al ribasso dal gruppo socia­li­sta — subor­dina tut­tora il «cor­pus» dei diritti umani alla pre­va­lenza degli inte­ressi delle imprese e del mer­cato. Insomma con quella norma si crea uno stato di ecce­zione che può essere di volta in volta invo­cato dalle imprese per far valere i pro­pri diritti rispetto a nor­ma­tive rite­nute pre­giu­di­zie­voli. Una pro­gres­siva ero­sione della sovra­nità e del diritto all'autodeterminazione.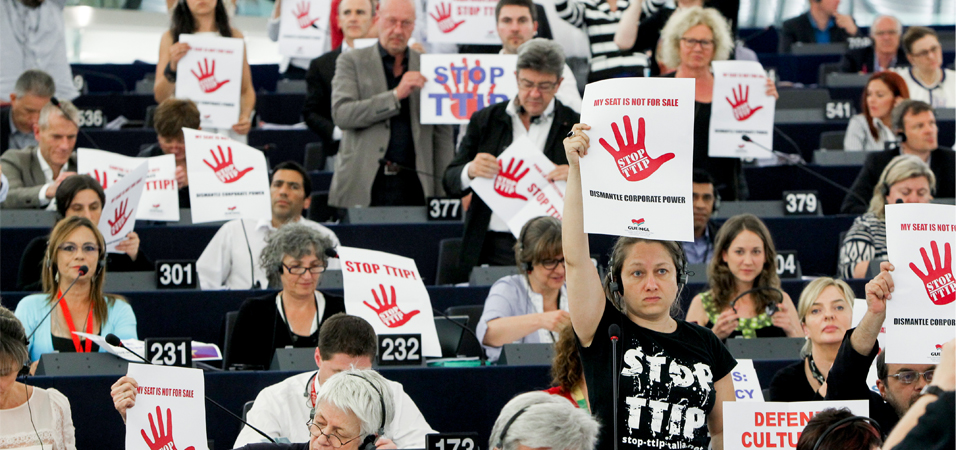 A parte la casua­lità det­tata dall'agenda e dagli eventi, esi­ste un filo rosso che lega il dibat­tito mat­tu­tino a quello pome­ri­diano, ed è quello dei diritti umani. A suo tempo il rela­tore spe­ciale dell'Onu sulla pro­mo­zione di un ordine inter­na­zio­nale equo e demo­cra­tico, Alfred de Zayas puntò il dito con­tro la segre­tezza ed anti­de­mo­cra­ti­cità con la quale viene nego­ziato il T-tip e con­tro la clau­sola Isds.
Ai primi di giu­gno De Zayas assieme ad altri rela­tori spe­ciali dell'Alto Com­mis­sa­rio Onu sui Diritti umani aveva pub­bli­cato un appello pub­blico nel quale si denun­ciava di nuovo la man­canza di tra­spa­renza dei nego­ziati, e l'impatto «nega­tivo che que­sti trat­tati potranno avere sul godi­mento dei diritti umani, defi­niti in accordi inter­na­zio­nali vin­co­lanti, che siano diritti civili, cul­tu­rali, eco­no­mici, poli­tici o sociali, quali il diritto alla vita, al cibo, all'acqua, alla salute, alla casa, alla cul­tura, i diritti dei lavo­ra­tori». La clau­sola Isds inol­tre è con­si­de­rata «ano­mala» nel senso di assi­cu­rare pro­te­zione agli inve­sti­tori ma non agli stati ed alle popo­la­zioni, «per­met­tendo agli inve­sti­tori di por­tare in giu­di­zio gli stati e non vice­versa». I rela­tori spe­ciali inol­tre denun­ciano i rischi deri­vanti dai trat­tati inter­na­zio­nali sugli inve­sti­menti rispetto alla capa­cità dei paesi inde­bi­tati di poter rine­go­ziare il pro­prio debito estero.
Non a caso tra i fir­ma­tari figura anche Juan Boho­sla­v­sky, esperto indi­pen­dente delle Nazioni unite sugli effetti del debito estero sui diritti umani, in par­ti­co­lare i diritti eco­no­mici, sociali e culturali.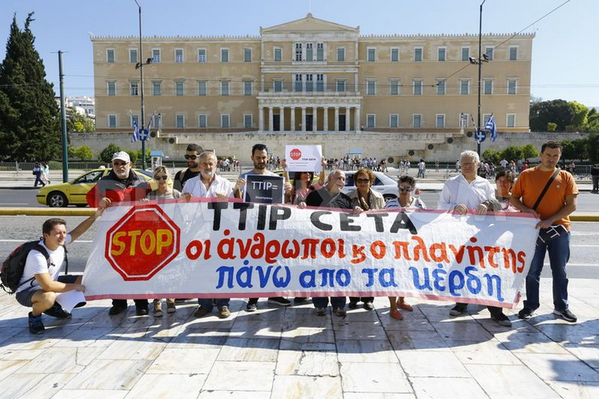 Boho­sla­v­sky, che ha svolto mis­sioni in Gre­cia ed in Islanda, sta lavo­rando ad una serie di dos­sier impor­tanti sul debito estero, seguendo le tracce del suo pre­de­ces­sore che stilò le linee guida sul debito estero ed i diritti umani appro­vate a suo tempo dal Con­si­glio Onu sui diritti umani, con l'astensione dell'Italia. A quel tempo c'era il governo Monti. Tra le rac­co­man­da­zioni quella di rico­no­scere il diritto al default ed alla rine­go­zia­zione del debito da parte dei governi, qua­lora il paga­mento del debito com­por­tasse la vio­la­zione dei diritti umani fon­da­men­tali dei pro­pri cit­ta­dini e cittadine.
Né più e né meno di ciò che chiede la Com­mis­sione di Audit del debito pro­mossa dal par­la­mento greco nel suo rap­porto pre­li­mi­nare pub­bli­cato di recente. Ora Boho­sla­v­sky, sulla scorta del caso legale che sta con­trap­po­nendo l'Argentina ed un fondo avvol­toio di pro­prietà di un tale Paul Sin­ger — primo finan­zia­tore dei repub­bli­cani Usa e che già par­te­cipò a pro­cessi di ristrut­tu­ra­zione del debito greco — sta ela­bo­rando una pro­po­sta di pro­ce­dura indi­pen­dente di arbi­trato sul debito che per­metta a cre­di­tori e debi­tori di sedere al tavolo nego­ziale a pari diritto. E che con­senta appunto di capo­vol­gere la pira­mide met­tendo al cen­tro i diritti rispetto agli impe­ra­tivi della finanza.
Nel loro appello sul T-tip i rela­tori spe­ciali si rife­ri­scono poi alle norme Onu sulle imprese ed i diritti umani secondo le quali gli Stati hanno l'obbligo di assi­cu­rare il rispetto dei diritti dei pro­pri cit­ta­dini. Dà da pen­sare che pro­prio nella stessa sede delle Nazioni unite a Gine­vra di lì a poco si sarebbe discussa la pro­po­sta avan­zata dall'Ecuador e da altri stati per un accordo vin­co­lante per le imprese trans­na­zio­nali ed i diritti umani.
Que­sta tappa del nego­ziato ha por­tato ad un impor­tante passo in avanti verso un regime vin­co­lante di respon­sa­bi­liz­za­zione delle imprese mul­ti­na­zio­nali, invo­cato anche da doz­zine di movi­menti sociali di tutto il mondo attra­verso l'elaborazione e la pro­po­sta di un trat­tato dei popoli sulle imprese mul­ti­na­zio­nali ed i diritti.
Ebbene, pro­prio men­tre la Com­mis­sione si sta ado­pe­rando per addol­cire la pil­lola amara dell'Isds, dall'altra decide di diser­tare quel con­sesso. Dopo aver ten­tato invano di con­te­stare l'oggetto del nego­ziato, addu­cendo il pre­te­sto — sep­pur legit­timo — che tale trat­tato dovesse essere vin­co­lante per tutte le imprese non solo quelle mul­ti­na­zio­nali, a fronte della resi­stenza di alcuni paesi, il rap­pre­sen­tante Ue decise di abban­do­nare la seduta. Diser­tare la discus­sione sui diritti umani e sugli obbli­ghi delle imprese va di pari passo con la deter­mi­na­zione con la quale la stessa Com­mis­sione spinge sull'acceleratore del nego­ziato T-tip, e con la quale impone alla Gre­cia misure dra­co­niane che rischiano di aggra­vare ulte­rior­mente la situa­zione dei diritti del popolo greco.
Un segnale ulte­riore della crisi dell'Europa che si com­pie lungo le sue fron­tiere, da quella atlan­tica, a quella del suo Sud, dal Medi­ter­ra­neo, all'Ucraina.
DA LEGGERE:
Fermate quella clausola. T-tip in aula
Monica Di Sisto | di Monica Di Sisto Il T-tip torna in aula. Il parlamento europeo il 7 e l'8 luglio sarà chiamato a riesaminare il testo della Risoluzione con cui darà le proprie indicazioni politiche alla Commissione sull'andamento del negoziato transatlantico di liberalizzazione degli scambi e degli investimenti tra Usa e Ue. Lo scoglio che si troverà di […]
La spallata dei movimenti al T-tip
Monica Di Sisto | La campagna stop T-tip lavora su entrambe le sponde dell'Atlantico
Il dominio del profitto e il T-tip
Ugo Biggeri Regole sugli standard sociali e ambientali sono un ostacolo al mercato
I contandini non vogliono il T-tip
Via Campesina |La ragioni di chi rifiuta l'accordo commerciale Usa-Ue
Genuino clandestino |Le molte ragioni per rifiutare la narrativa tossica di Expo e T-tip
Go to Original – comune-info.net
DISCLAIMER: The statements, views and opinions expressed in pieces republished here are solely those of the authors and do not necessarily represent those of TMS. In accordance with title 17 U.S.C. section 107, this material is distributed without profit to those who have expressed a prior interest in receiving the included information for research and educational purposes. TMS has no affiliation whatsoever with the originator of this article nor is TMS endorsed or sponsored by the originator. "GO TO ORIGINAL" links are provided as a convenience to our readers and allow for verification of authenticity. However, as originating pages are often updated by their originating host sites, the versions posted may not match the versions our readers view when clicking the "GO TO ORIGINAL" links. This site contains copyrighted material the use of which has not always been specifically authorized by the copyright owner. We are making such material available in our efforts to advance understanding of environmental, political, human rights, economic, democracy, scientific, and social justice issues, etc. We believe this constitutes a 'fair use' of any such copyrighted material as provided for in section 107 of the US Copyright Law. In accordance with Title 17 U.S.C. Section 107, the material on this site is distributed without profit to those who have expressed a prior interest in receiving the included information for research and educational purposes. For more information go to: http://www.law.cornell.edu/uscode/17/107.shtml. If you wish to use copyrighted material from this site for purposes of your own that go beyond 'fair use', you must obtain permission from the copyright owner.