A misConception of Conflict?
CONFLICT RESOLUTION - MEDIATION, 16 Nov 2015
Daniel Erdmann – World Mediation Organization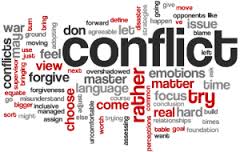 2 Nov 2015 – Dear colleagues, it is my upmost wish and interest to share my thoughts regarding the origin, the handling, and the finalization of conflict – generally spoken: its nature. As far as I see, lots of concepts are communicated in literature and trainings throughout the globe. Many of them confuse me and make me wonder if we are seriously talking about terms that are commonly accepted and / or underlie widely confirmed definitions. Sure, it might be a major project to create common definitions that match with the understanding of people from all corners of the world – if possible at all. But it still might be worth to place a focus on this context and to discover the immense quantity of interpretations that offers the term Conflict itself, mainly based on our very personal understanding.
I believe that the understanding of a term such as Conflict, War, or Peace is based on the formed personality of each individual. The personality itself is formed by the sum of life experiences, the level of education, the social and cultural background, etc. All these fragments and many more, form the worldview of the human being and influence the mindset that is kept within and the mindset that is communicated and shared with the public. The worldview may be a perfect starting point in order to analyze and discover the individual diverse background and the different concepts that people may have regarding such topics in question and life itself. Such concepts spread from the core of the personality into all hemispheres of personal involvement.
Having the diversity of our professional community members in mind and believing in the good work of our activists, I still wonder: Who created such definitions that are widely used? Where did authors and trainers have the initial information from? Where did they get the confidence from in order to promote such concepts? What was / is the background of the individual who formalized it / them? Are we commonly using terms and concepts transferred by others without sufficient skeptical reflection?
These questions may force us to analyze if terms like Peace, Conflict, and War mean the same to all of us? Maybe this is the case in homogeneous cultures, but what if we skip from a 'Western World' to other homogeneous cultural or territorial groups and compare them? What about conceptual differences found in Middle Eastern or African Crisis Areas? I am thinking of zones where escalated conflict takes place for periods of several decades and where even complete generations are raised within an environment of terror? Are we all meeting each other on the same level of understanding and emotional involvement when we use such terms? What is the real impact of cultural and social diversity? For me, being in touch with students all over the globe, this is very relevant.
In order to find my personal and proper path towards a deeper understanding of the above mentioned term(s) – now focusing on Conflict only, I had to create a certain type of distance that enabled me to listen to some sort of inner voice, or that simply helped me to discover my personal conception. A concept that I feel comfortable with, that demonstrates a perfect, sustainable inner logic that grants transparency and discloses an unchallengeable value.
My personal reflection made me believe that first of all trainings, articles, and presentations should outline that a temporary and final definition of Conflict and similar terms stays with the individual itself. Terms in certain usage (trainings, presentations, etc.) may grant sufficient space to work with the corresponding personal concept of the terminology in question, and may enable the audience to link it up with their individual background. As a result, the channel of communication (training, book, presentation) itself has to grant sufficient flexibility in order to acknowledge the competences and the diversity of the audience. The WMO Mediation and Conflict Management Training may be an example of such a procedure as it does not share any definition of mediation but encourages the student to discover the core understanding of mediation individually.
Now, that we reflected on cultural and social backgrounds, it might be useful to state and share with you as much personal information as possible in order to enable you to understand my values as much as possible, and to lead you as near as possible to my personal point of view. Let us see how far we get without going into details. Due to the quantity of variables that create and influence the personal understanding of the term Conflict, I will not offer you a definition or anything similar but more likely share information on what I associate with Conflict. Such an association states that I believe that it is impossible to define Conflict but more likely describe it, observe it, and compare it.
This complexity of Conflict is based on its fundamental unique character. In order to analyze Conflict, we need to understand that it is not only composed by visual components that are easy to identify and found within the direct environment, at a surface or horizontal level. Further, we might obtain additional information on a vertical bias, that may lead us to hidden, and veiled multi-level dynamics of a human being or state authority. As far as I understand, the phenomenon that we call Conflict describes interaction between human beings or authorities, is based on multi-level dynamics, and states a wide range of characteristics. These characteristics are the variables that we were talking about. Here, the individual decides from which moment on and why a specific interaction may be called Conflict. In some cases it might be a harsh way of dialoging, or an aggressive way of interacting, etc. When we think of the interaction between, what may be called Conflict Parties from one moment on, we may note that interaction and communication builds the basis for a future Conflict. Without any type of relationship and interdependence it might be difficult to enter Conflict. So, balanced epochs, when smooth interaction takes places, build the basis for future Conflict. Circumstances – Characteristics – Variables may change in a tiny or huge mood and stressed interaction or Conflict is born. Summing this phenomenon up: balanced times give birth to Conflict – Conflict gives birth to balanced times.
This linkage is very fascinating to me. We can even enlarge the impact of this enmeshment. The handling of epochs of unbalanced interaction or escalation (another term to be discussed and reviewed) has a direct impact on the time when a balanced status may be reobtained. So, the reobtained balance gives birth to future unbalanced times, as disclosed in the upper paragraph. Hereby, a fascinating circle of action and reaction shows up. All our actions have a direct impact on our future and future happenings in general. We may not speak about a settlement or finalization of such an unbalanced circumstance at all. The linkage between the current impact on future happenings may lead us to the conception that 'Conflict' does not end at all. More likely it is forms part of a chain of social actions and reactions, containing the ability of becoming visible and invisible. Thereby, we may say that we can accompany a Conflict situation but we may never dominate nor control it, as too many variables have an impact on its current and future manifestation.
As I previously stated in my reflection on the terminology of 'Peace', I think our own diversity offers an immense pool of individual concepts, definitions, and teachings. This wonderful fact should never be ignored at all, and it may encourage us to exchange and to discover in depth the other person's point. Each of us has a story to tell and a moral philosophy to communicate. If we ignore the individual, we lose the corresponding and unique point of view.
_____________________________________
Daniel Erdmann: Director General – World Mediation Organization – www.worldmediation.org
School Director, Professor, Philosophiae Doctor – Mediation and Conflict Resolution – www.euclid.int
Thesis Advisor and COTIPSO Classroom Partner – Peace Operations Training Institute – www.peaceopstraining.org
Go to Original – worldmediation.org
DISCLAIMER: The statements, views and opinions expressed in pieces republished here are solely those of the authors and do not necessarily represent those of TMS. In accordance with title 17 U.S.C. section 107, this material is distributed without profit to those who have expressed a prior interest in receiving the included information for research and educational purposes. TMS has no affiliation whatsoever with the originator of this article nor is TMS endorsed or sponsored by the originator. "GO TO ORIGINAL" links are provided as a convenience to our readers and allow for verification of authenticity. However, as originating pages are often updated by their originating host sites, the versions posted may not match the versions our readers view when clicking the "GO TO ORIGINAL" links. This site contains copyrighted material the use of which has not always been specifically authorized by the copyright owner. We are making such material available in our efforts to advance understanding of environmental, political, human rights, economic, democracy, scientific, and social justice issues, etc. We believe this constitutes a 'fair use' of any such copyrighted material as provided for in section 107 of the US Copyright Law. In accordance with Title 17 U.S.C. Section 107, the material on this site is distributed without profit to those who have expressed a prior interest in receiving the included information for research and educational purposes. For more information go to: http://www.law.cornell.edu/uscode/17/107.shtml. If you wish to use copyrighted material from this site for purposes of your own that go beyond 'fair use', you must obtain permission from the copyright owner.