Kerry Questions What Israel's Policy Really Is
PALESTINE - ISRAEL, 21 Dec 2015
Jews for Justice for Palestinians – TRANSCEND Media Service
Kerry: Israel 'imperilling' two-state solution
By Ma'an news
December 06/08, 2015
BETHLEHEM — US Secretary of State John Kerry warned Saturday that key Israeli policies were "imperilling" the viability of a two-state solution and pushing the Palestinian Authority toward collapse.
Speaking at the Brookings Institution's annual Saban Forum in Washington D.C., Kerry said there were "valid questions as to how long the Palestinian Authority will remain if the current situation continues," in some of his strongest comments to date.
"The current path is not leading to a more peaceful future. I am concerned that if a significant effort is not made to change the current dynamic, it will only bring more violence."
He reiterated his condemnation of Palestinian acts of violence, but stressed that key Israeli policies — including control over Area C, settlement activity, and home demolitions — were pushing the region away from peace.
"President Abbas spoke more despairingly than I have ever heard him about the sense of hopelessness the Palestinian people feel," Kerry said, referring to a meeting the two held during a visit to the region at the end of last month.
While he acknowledged that Israeli Prime Minister Benjamin Netanyahu had stated his commitment to a two-state solution, he said it was "important that that not become a slogan, not become a throwaway phrase — that it becomes a policy."
He expressed alarm at recent reports that senior Israeli officials had agreed it was not in Israel's interests to maintain the PA, and condemned Israeli government ministers for outright opposition to the creation of a Palestinian state.
He said the PA's 30,000 security forces had played a "key role in preventing the situation from spiralling out of control" in the occupied West Bank — including over the course of three devastating wars in Gaza.
"Without the PA security forces, the IDF could be forced to deploy tens of thousands of soldiers to the West Bank — indefinitely — to fill the void," he said.
"Are Israelis prepared for the consequences this would have for their children and grandchildren who serve in the IDF when the inevitable friction leads to confrontation and violence?"
He said it would cost Israel billions of dollars to control the West Bank, while they would run the risk of allowing religious extremism to fill the vacuum of "chaos, lawlessness, and desperation" left by the PA.
"Without the PA, Israel would also shoulder the responsibility for providing basic services in the West Bank, including for maintaining schools, hospitals, and law and order," he said.
With a note of exasperation, he asked: "If there is a risk the the PA could collapse, and it is in Israel's interests for it to in fact survive, should more therefore not be done to help sustain it?"
'A permanent underclass?'
Kerry also raised key questions about the nature of a one-state solution, in comments that some Palestinians will see as reflecting a reality that already exists.
"Would millions of Palestinians be given the basic rights of Israeli citizens, including the right to vote, or would they be relegated to a permanent underclass?" Kerry asked.
"Would the Israelis and Palestinians living together in such close quarters have segregated roads and transport systems, with different laws applying in the Palestinian enclaves? Would anyone really believe they were being treated equally?"
He said: "The one-state solution is no solution at all for a secure, Jewish, democratic Israel living in peace." However, he said "current trends, including violence, settlement activity, demolitions are imperilling the viability of a two-state solution."
He noted that Area C, territory that falls under full Israeli control and constitutes more than 60 percent of the occupied West Bank, "is effectively restricted for any Palestinian development."
He said that in 2014, his office was aware of only a single building permit being granted by the Israelis authorities to Palestinians living in Area C.
Meanwhile, he said that Israel was continuing to legalize settlement outposts, while "the settlement population has increased by tens of thousands over just the last five years." He said: "The continued settlement growth raises honest questions about Israel's long-term intentions, and will only make separating from the Palestinians much more difficult."
Kerry urged Israel to return to the 2002 Arab Peace Initiative, which calls for an Israeli withdrawal from the occupied Palestinian territory in exchange for full normalization of ties with the Arab world.
He also called on Israel to strengthen the PA, saying that increasing the extent of PA's power would serve toward peace for both Palestinians and Israelis.
Kerry reportedly left the region at the end of last month disappointed to find Israel unwilling to compromise in the occupied West Bank. In recent months, a clear rift has emerged between Israeli politicians and senior Israeli army officials.
While far-right members of the government have been calling for further military action in the West Bank and said that the collapse of the PA is in their interests, the army has recommended lifting restrictions on Palestinians, providing more work permits in Israel, and providing more support — including weapons — to the PA.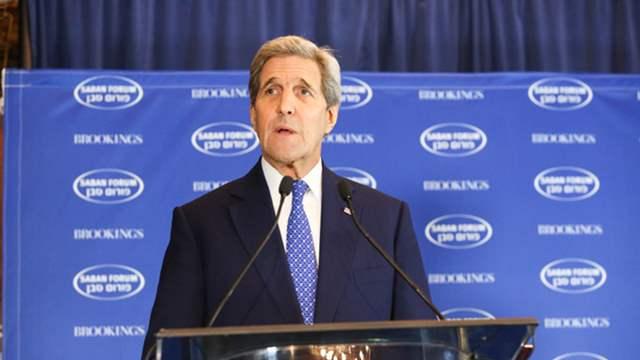 John Kerry at the Saban Center, December 5th, 2015. "But my  friends, it is important that [support for a 2-state solution] not become a slogan, not become a throwaway phrase, that it becomes a policy, which is what it is meant to be."
His full speech is here
________________________________
Jews for Justice for Palestinians is a network of Jews who are British or live in Britain, practising and secular, Zionist and not. We oppose Israeli policies that undermine the livelihoods, human, civil and political rights of the Palestinian people. We support the right of Israelis to live in freedom and security within Israel's 1967 borders. We work to build world-wide Jewish opposition to the Israeli Occupation, with like-minded groups around the world and are a founding member of European Jews for a Just Peace, a federation of Jewish groups in ten European countries.
Join the BDS-BOYCOTT, DIVESTMENT, SANCTIONS campaign to protest the Israeli barbaric siege of Gaza, illegal occupation of the Palestine nation's territory, the apartheid wall, its inhuman and degrading treatment of the Palestinian people, and the more than 7,000 Palestinian men, women, elderly and children arbitrarily locked up in Israeli prisons.
DON'T BUY PRODUCTS WHOSE BARCODE STARTS WITH 729, which indicates that it is produced in Israel. DO YOUR PART! MAKE A DIFFERENCE!
7 2 9: BOYCOTT FOR JUSTICE!
DISCLAIMER: The statements, views and opinions expressed in pieces republished here are solely those of the authors and do not necessarily represent those of TMS. In accordance with title 17 U.S.C. section 107, this material is distributed without profit to those who have expressed a prior interest in receiving the included information for research and educational purposes. TMS has no affiliation whatsoever with the originator of this article nor is TMS endorsed or sponsored by the originator. "GO TO ORIGINAL" links are provided as a convenience to our readers and allow for verification of authenticity. However, as originating pages are often updated by their originating host sites, the versions posted may not match the versions our readers view when clicking the "GO TO ORIGINAL" links. This site contains copyrighted material the use of which has not always been specifically authorized by the copyright owner. We are making such material available in our efforts to advance understanding of environmental, political, human rights, economic, democracy, scientific, and social justice issues, etc. We believe this constitutes a 'fair use' of any such copyrighted material as provided for in section 107 of the US Copyright Law. In accordance with Title 17 U.S.C. Section 107, the material on this site is distributed without profit to those who have expressed a prior interest in receiving the included information for research and educational purposes. For more information go to: http://www.law.cornell.edu/uscode/17/107.shtml. If you wish to use copyrighted material from this site for purposes of your own that go beyond 'fair use', you must obtain permission from the copyright owner.