Renewable Energy Soars in 2015
ENERGY, 28 Dec 2015
Nathanael Greene, Natural Resources Defense Council, EcoWatch – TRANSCEND Media Service
With Tax Incentives' Renewal, Expect More of the Same in Years to Come
23 Dec 2015 – 2015 has been a big year for renewable energy in the U.S., with solar and wind power growing like crazy—providing more than 5 percent of the nation's electricity for the first time—and the country's first offshore wind power project finally under construction.
The truth is, 2015 has been one in a series of very good years for these pollution-free, renewable resources—years that are helping us get on track for the low-carbon future we need and need now.
With its dizzying price declines and impressive job gains, this growth in solar and wind power has come, in large part, as the result of smart federal policies—smart federal policies that Congress wisely renewed and reinstated last week.
These policies don't just help level the playing field for clean energy—fossil fuels have received federal subsidies for almost a century, after all—they also drive renewable energy demand, thereby speeding economies of scale, spurring competition in the marketplace and investment in new technologies. The production tax credit (PTC) for wind power, the solar investment tax credit (ITC) and the ITC for offshore wind power will keep us on the right track.
Together, these tax credits will help our country go a long way toward realizing the bold clean energy goals of a large majority of the American public, 69 percent of whom endorse federal subsidies for renewable energy.
Just how good is our clean energy situation getting? Well, recently, the U.S. Department of Energy released these very happy-making charts (below) that emphasize renewable energy's huge growth and equally huge price declines in recent years.
In 2015, those particularly excellent trends continued. Though we won't have complete data until next spring, the country will likely install 7.4 gigawatts of solar energy through Dec. 31 of this year. That's enough to juice up more than 1.6 million homes and a full 24 percent rise over 2014. Wind power is also flying, with almost 3.6 gigawatts—1 million homes-worth—coming online in the first three quarters of this year and more than 13,000 megawatts now under construction.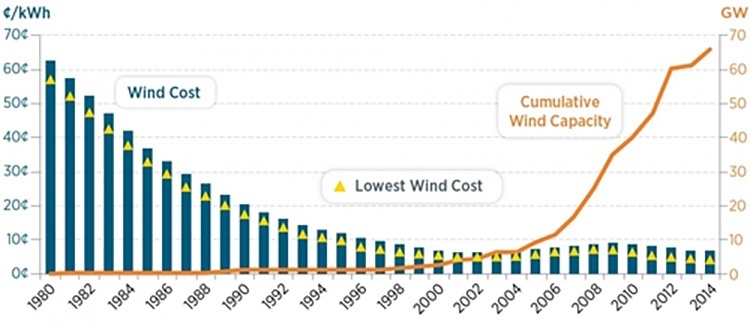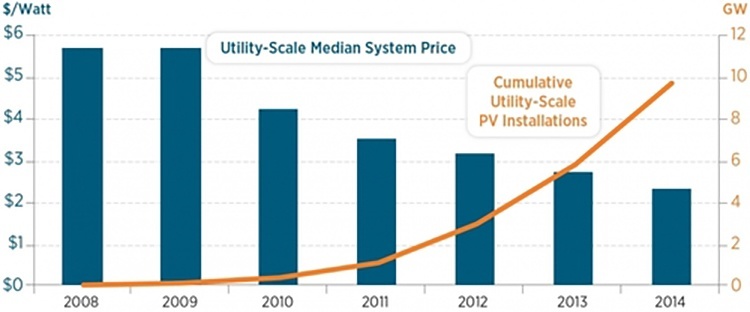 These U.S. Department of Energy graphs show how the prices of wind and solar power have plummeted as installation has soared. We saw more of the same in 2015 and can expect similar growth in 2016 and beyond, thanks to Congress's renewal last week of key clean energy tax incentives. Photo credit: U.S. DEP
This year also found several regions where pollution-free, solar and wind energy became cost-competitive with conventional power. That power, fired by coal and natural gas, masquerades as cheap but actually foists expensive public health and environmental problems on us all.
2015 had some especially good news about offshore wind power, too. Not only did construction begin on the Block Island Wind Farm, off the Rhode Island coast, but the U.S. Department of Energy reported in September that a total of 13 offshore wind power projects are in advanced phases of development. With federal policies that supplement the offshore wind power ITC—its current timetable is too short for most offshore wind power projects—we can help get many of those projects off of their drawing boards and into the water.
Wind and Solar Jobs Are Soaring
In 2015, solar and wind energy employment also soared. In January, the National Solar Jobs Census reported that solar jobs had climbed to almost 174,000, up by more than 31,000 over the previous year, with another 36,000 solar jobs projected in 2015. (Industry jobs are up by a mind-boggling 80,000 since 2010.) In August, the Department of Energy reported that wind energy jobs jumped to 73,000, up from 50,500 over the previous year, thanks to a short-term extension of the PTC.
Also in August, the U.S. Environmental Protection Agency's Clean Power Plan to cut carbon emissions from the nation's electric sector introduced its Clean Energy Incentive Program, designed to bring more clean energy online faster; it will begin in 2020, two years before the Clean Power Plan as a whole. Overall, the Clean Power Plan can jumpstart enough renewable energy to supply, by 2030, about 12 percent of the nation's electricity. And we can push those deployment graph slopes further upward—we can install even more wind and solar power—now that the PTC, the solar ITC and the offshore wind power ITC have been secured. They'll help us keep that momentum going until the Clean Energy Incentive Program kicks in. As they have already, incentives that increase deployment lower clean energy prices. And the cheaper renewable energy is, the more it will become of the energy source of choice, replacing polluting power.
2015: A Year of Innovation and Progress
This year has seen amazing advances in renewable energy. Here are just some of them:
New wind power technologies, like taller turbine towers, more powerful rotors and digital innovations, that can soon make every part of the country a wind power producer.
Huge solar growth.
Exponential increases in energy storage that can capture excess wind and solar power and use it when it's needed most.
Department of Energy funding for potentially revolutionary technologies, like a morphing wind turbine blade that can increase generating capacity 10 times and a new kind of offshore wind power that produces electricity much in the way a lightning cloud does, by sending an electrical charge through water vapor.
In 2015, we've made so much progress in solar and wind power. And now, with the help of smart, federal clean energy incentives, we're on track for much, much more. 2016 promises to double the total amount of solar installed in the U.S. (think about that: double!). There are more than 13,000 megawatts of wind power in the works, too and much more likely to come, now that Congress has extended the PTC. Thanks to the perceptive heads in Congress who worked out a bipartisan agreement, there's no end to that progress now.
__________________________________
You Might also Like:
Wind Power in U.S. Hits New Milestone: Enough Energy to Power 19 Million Homes
World's First Off-Grid EcoCapsule Runs Entirely on Renewable Energy
3 Communities Transition Away From Fossil Fuels to Run on 100% Renewables
High-Powered Public-Private Partnerships Essential to Expediting Renewable Energy
DISCLAIMER: The statements, views and opinions expressed in pieces republished here are solely those of the authors and do not necessarily represent those of TMS. In accordance with title 17 U.S.C. section 107, this material is distributed without profit to those who have expressed a prior interest in receiving the included information for research and educational purposes. TMS has no affiliation whatsoever with the originator of this article nor is TMS endorsed or sponsored by the originator. "GO TO ORIGINAL" links are provided as a convenience to our readers and allow for verification of authenticity. However, as originating pages are often updated by their originating host sites, the versions posted may not match the versions our readers view when clicking the "GO TO ORIGINAL" links. This site contains copyrighted material the use of which has not always been specifically authorized by the copyright owner. We are making such material available in our efforts to advance understanding of environmental, political, human rights, economic, democracy, scientific, and social justice issues, etc. We believe this constitutes a 'fair use' of any such copyrighted material as provided for in section 107 of the US Copyright Law. In accordance with Title 17 U.S.C. Section 107, the material on this site is distributed without profit to those who have expressed a prior interest in receiving the included information for research and educational purposes. For more information go to: http://www.law.cornell.edu/uscode/17/107.shtml. If you wish to use copyrighted material from this site for purposes of your own that go beyond 'fair use', you must obtain permission from the copyright owner.