Africa, Only If It Bleeds It Leads?
AFRICA, 25 Jan 2016
Baher Kamal – Human Wrongs Watch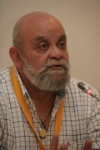 20 Jan 2016 – Africa is clearly one of the most negatively impacted regions by the increasingly dominant trend among the mainstream media to focus on tragic news, this way following a self-imposed rule that says, "If it bleeds it leads."
Famine; hunger; malnutrition; indebtedness; piracy; wars; massacres; tribal fights; terrorist attacks; Boko Haram; Al Qaeda Maghreb; Islamic State; Western military interventions; corruption; human rights abuses, and repeated operations of humanitarian assistance, among others, are pure adrenalin for most media outlets.
Africa also jumps to the top of the headers when it comes to announcing massive oil purchases by China and, above all, how Western politicians and media run to denounce the lack of human rights in the Asian giant.
Not that all these facts are entirely false—Africa has indeed been the scene for a lot of "bad news".
The Roots of Most African Dramas
Meanwhile, a number of experts, analysts and activists attempt to systematically remind of the deep roots lying beneath most African dramas:
centuries-long colonialism; slavery; massive depletion of natural resources by voracious multinational corporations; big sales of western weapons to parties in conflicts; extensive land grabbing and the heavy impact of climate change caused far away from Africa by industrialized states, just to mention some.
Yet, their voices have never received the attention they deserve. And when they have this attention, it was temporary and did not produce any effective action to help put an end to all the problems.
Against this backdrop, the African continent has been moving ahead in spite of the recent strong falls seen in international markets of its main sources of income, such as oil, commodities and minerals.
An Agenda 2063 for Africa
When in 2013 the leaders of 54 African countries adopted Agenda 2063 to achieve socio-economic transformation of the continent in half a century, they probably did not expect that the market value of some key resources would fall so sharply in a very short period of time.
Nevertheless, this vast continent extending over 30,221.000 km2, home to 1,2 billion people speaking up to 2,000 different native languages, is taking several steps to move forward.
For instance, the theme of the 26th Summit of heads of African states (Addis Ababa, January 21-31, 2016) is human rights with a particular focus on the Rights of Women.
In fact, African women face seven major challenges: economic exclusion; financial systems that perpetuate their discrimination; limited participation in political and public life; lack of access to education and poor retention of girls in schools; gender-based violence; harmful cultural practices, and exclusion of women from peace tables, among others.
The Addis Ababa based African Union Commission (AUC)  underlines that "Agenda 2063 is a strategic framework for the socio-economic transformation of the continent over the next 50 years. It builds on, and seeks to accelerate the implementation of past and existing continental initiatives for growth and sustainable development."
Top Aspirations
Seven top African Aspirations shape Agenda 2063. These aspirations "reflect our desire for shared prosperity and well-being, for unity and integration, for a continent of free citizens and expanded horizons, where the full potential of women and youth, boys and girls are realized, and with freedom from fear, disease and want," AUC underlines.
The aspirations as defined by the AUC are:
Aspiration 1: A prosperous Africa based on inclusive growth and sustainable development.
"We are determined to eradicate poverty in one generation and build shared prosperity through social and economic transformation of the continent."

Aspiration 2: An integrated continent, politically united, based on the ideals of Pan-Africanism and the vision of Africa's Renaissance.
"Since 1963, the quest for African Unity has been inspired by the spirit of Pan Africanism, focusing on liberation, and political and economic independence. It is motivated by development based on self-reliance and self-determination of African people, with democratic and people-centred governance."
Aspiration 3: An Africa of good governance, democracy, respect for human rights, justice and the rule of law.
"Africa shall have a universal culture of good governance, democratic values, gender equality, respect for human rights, justice and the rule of law."

Aspiration 4: A peaceful and secure Africa.
"Mechanisms for peaceful prevention and resolution of conflicts will be functional at all levels. As a first step, dialogue-centred conflict prevention and resolution will be actively promoted in such a way that by 2020 all guns will be silent. A culture of peace and tolerance shall be nurtured in Africa's children and youth through peace education."
Aspiration 5: An Africa with a strong cultural identity, common heritage, values and ethics.
"Pan-Africanism and the common history, destiny, identity, heritage, respect for religious diversity and consciousness of African people's and diaspora's will be entrenched."
Aspiration 6: An Africa whose development is people-driven, relying on the potential of African people, especially its women and youth, and caring for children.
"All the citizens of Africa will be actively involved in decision making in all aspects. Africa shall be an inclusive continent where no child, woman or man will be left behind or excluded, on the basis of gender, political affiliation, religion, ethnic affiliation, locality, age or other factors"
Aspiration 7: Africa as a strong, united and influential global player and partner.
"Africa shall be a strong, united, resilient, peaceful and influential global player and partner with a significant role in world affairs. We affirm the importance of African unity and solidarity in the face of continued external interference including, attempts to divide the continent and undue pressures and sanctions on some countries."
Whether the continent will manage to achieve all these objectives or not is something that belongs to the future. The point is that the aspirations of a whole, huge continent have never made the main headlines in Western media.
________________________________________
Baher Kamal, Egyptian-born, Spanish national secular journalist. He is founder and publisher of Human Wrongs Watch. Kamal is a pro-peace, non-violence, human rights, harmonious coexistence defender among human beings and with Nature, with more than 43 years of professional experience. With these issues in sight, he covered practically all professional posts, from correspondent to chief editor of dailies and international news agencies.
Go to Original – human-wrongs-watch.net
DISCLAIMER: The statements, views and opinions expressed in pieces republished here are solely those of the authors and do not necessarily represent those of TMS. In accordance with title 17 U.S.C. section 107, this material is distributed without profit to those who have expressed a prior interest in receiving the included information for research and educational purposes. TMS has no affiliation whatsoever with the originator of this article nor is TMS endorsed or sponsored by the originator. "GO TO ORIGINAL" links are provided as a convenience to our readers and allow for verification of authenticity. However, as originating pages are often updated by their originating host sites, the versions posted may not match the versions our readers view when clicking the "GO TO ORIGINAL" links. This site contains copyrighted material the use of which has not always been specifically authorized by the copyright owner. We are making such material available in our efforts to advance understanding of environmental, political, human rights, economic, democracy, scientific, and social justice issues, etc. We believe this constitutes a 'fair use' of any such copyrighted material as provided for in section 107 of the US Copyright Law. In accordance with Title 17 U.S.C. Section 107, the material on this site is distributed without profit to those who have expressed a prior interest in receiving the included information for research and educational purposes. For more information go to: http://www.law.cornell.edu/uscode/17/107.shtml. If you wish to use copyrighted material from this site for purposes of your own that go beyond 'fair use', you must obtain permission from the copyright owner.