Big War Lords Playing Brinkmanship Game in Syria
SYRIA IN CONTEXT, 22 Feb 2016
Baher Kamal – Inter Press Service-IPS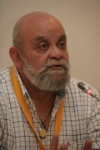 15 Feb 2016 – When 25 million Syrians–half of them refugees abroad or at home and the other half terrorised by daily bombing, learnt that major world leaders in their meeting in Germany launched an unprecedented confrontation threatening with unleashing World War III, instead of easily agreeing on a ceasefire to alleviate their inhumane suffering, they most probably fell into an even deeper desperation. See what happened.
The biggest "official" warlords on Earth—the Russian military apparatus and the US Pentagon and its "allies"–Europe, the US-led NATO, the Saudi Arabia-led Gulf countries, and Turkey, have just walked a step closer to the edge of the Middle East abyss over the weekend during their Munich Security Conference.
On the one hand, Moscow has just warned Washington and Ryad against starting a "permanent war" if they launch a ground intervention in Syria.
Russian prime minister Dmitry Medvedev on 12 February told Germany's Handelsblatt newspaper that sending foreign troops into Syria could unleash "yet another war on Earth." The warning followed recent statements from Saudi Arabia, joined later by other Gulf states and Turkey, that they were ready to send ground troops to Syria, should Washington lead the way.
"All sides must be compelled to sit at the negotiating table, instead of unleashing yet another war on Earth," Medvedev said. "Any kinds of land operations, as a rule, lead to a permanent war. Look at what's happened in Afghanistan and a number of other countries. I am not even going to bring up poor Libya."
"The Americans and Arab partners must think well: do they want a permanent war? Do they think they can really quickly win it? It is impossible, especially in the Arab world. Everyone is fighting against everyone there," Medvedev added.
A New World War?
"We must make everyone sit down at the negotiating table…rather than start yet another world war," the Russian prime minister added.
Titled: "Exclusive: Russia's Medvedev Warns of New World War" Handelsblatt ran the interview on the eve of the Munich Security Conference's International Syria Support Group meeting, where the cessation of hostilities in Syria became a top item on the agenda.
On the other hand, the US Defence Secretary Ashton Carter was lobbying for an ample NATO participation in the so-called war on Islamic State (IS).
The Pentagon-NATO Axis
In fact, Ashton Carter on 11 February, following a NATO meeting in Brussels, said that this military alliance is considering joining the US-led coalition fighting Islamic State militants in Syria and Iraq.
"Thanks to the leadership of NATO (secretary general) Jens Stoltenberg, we are exploring the possibility of NATO joining the coalition as a member itself," Ashton Carter said.
The alliance can bring "significant development" and "unique capabilities" which include "building partner capacity, training ground forces and providing stabilization support," he added.
The day after, that's on 12 February, NATO member states agreed to send AWACS surveillance aircraft to gather intelligence on IS over Iraq and Syria, replacing US jets. According to Ashton Carter, this will "increase the ability of the coalition to degrade and destroy the terrorist group."

Syria's Battlefield
Meanwhile, the military situation in Syria has been escalating, as Bashar al Assad's army made further advances in the northern city of Aleppo.
At the same time, the predominantly Kurdish Syrian Democratic Forces recaptured a former military airbase in the Aleppo province, from jihadists near the Turkish-Syrian border, reportedly with the support of Russian air strikes.
NATO Warships to Aegean Sea to Combat "Migrant" Trafficking
On 11 February, NATO sent war ships to the Aegean Sea to help Turkey and Greece deal with people smugglers and stem the flow of migrants, the alliance's top commander has announced.
Three NATO's military vessels have been ordered to "start to move now" and head for the Aegean sea to conduct reconnaissance and surveillance operations, NATO secretary general Jens Stoltenberg on 11 February said.
"This is about helping Greece, Turkey and the European Union with stemming the flow of migrants and refugees and coping with a very demanding situation," Stoltenberg said, describing the situation as a "human tragedy." Stoltenberg also said that the alliance's forces would be monitoring the land border between Syria and Turkey for people smugglers.
Saudi Jets on Syria
Parallely, Ankara announced that Saudi Arabia will deploy military jets and personnel to Turkey's Incirlik Air Base in the south of the country. The base is already used by the US Air Force for their sorties in Syria.
The deployment is part of the US-led effort to defeat the Islamic State terrorist group, Turkish Foreign Minister Mevlut Cavusoglu said.
"At every coalition meeting, we have always emphasized the need for an extensive result-oriented strategy in the fight against the DAESH terrorist group," he said, referring to IS by an Arabic-language acronym for the Islamic State of Iraq and the Levant.
Cavusoglu spoke to Turkish Yeni Şafak newspaper after addressing the Munich Security Conference. "If we have such a strategy, then Turkey and Saudi Arabia may launch a ground operation," he added.
Furthermore, Saudi Foreign minister, Adel al-Jubeir, in an interview with the German newspaper Sueddeutsche Zeitung on 13 February, said "there will be no Bashar al-Assad in the future… It may take three months… it may take six months or three years, but he (al Assad) will not assume any more responsibility in Syria."

"Don't Go There," Russia, Iran
Earlier, Saudi Arabia, Bahrain and the United Arab Emirates heralded their readiness to contribute troops for a ground operation in Syria on the condition that the US would lead the intervention.
Syria and its regional ally, Iran, warned that such a foreign force would face strong resistance. And Russian prime minister called on his Western counterparts in Munich Security Conference "not to threaten a ground operation" in Syria, stressing that Moscow is doing its utmost to pave the way for a lasting peace in the war-torn country.
Further on, Medvedev on 13 February said that the relationships between NATO and Russia have slid down toward a new Cold War, while describing NATO's policy as "unfriendly and not transparent."
"Almost every day we are referred to as the most terrible threat to NATO as a whole or to Europe, America and other countries specifically," Medvedev said. "Although actual threats that exist in our small world – and I hope, you understand that – are absolutely different."
In short, in less than one week, largest military powers have been threatening with invasions in Syria and armed interventions in Iraq, as their answer to the ongoing human tragedy.
Apparently there would be no problem with more unarmed, civilian populations being killed in all such military operations–it would probably be about a high official just saying: "sorry for this collateral damage."
___________________________________
Baher Kamal, Egyptian-born, Spanish national secular journalist. He is founder and publisher of Human Wrongs Watch. Kamal is a pro-peace, non-violence, human rights, harmonious coexistence defender among human beings and with Nature, with more than 43 years of professional experience. With these issues in sight, he covered practically all professional posts, from correspondent to chief editor of dailies and international news agencies.
DISCLAIMER: The statements, views and opinions expressed in pieces republished here are solely those of the authors and do not necessarily represent those of TMS. In accordance with title 17 U.S.C. section 107, this material is distributed without profit to those who have expressed a prior interest in receiving the included information for research and educational purposes. TMS has no affiliation whatsoever with the originator of this article nor is TMS endorsed or sponsored by the originator. "GO TO ORIGINAL" links are provided as a convenience to our readers and allow for verification of authenticity. However, as originating pages are often updated by their originating host sites, the versions posted may not match the versions our readers view when clicking the "GO TO ORIGINAL" links. This site contains copyrighted material the use of which has not always been specifically authorized by the copyright owner. We are making such material available in our efforts to advance understanding of environmental, political, human rights, economic, democracy, scientific, and social justice issues, etc. We believe this constitutes a 'fair use' of any such copyrighted material as provided for in section 107 of the US Copyright Law. In accordance with Title 17 U.S.C. Section 107, the material on this site is distributed without profit to those who have expressed a prior interest in receiving the included information for research and educational purposes. For more information go to: http://www.law.cornell.edu/uscode/17/107.shtml. If you wish to use copyrighted material from this site for purposes of your own that go beyond 'fair use', you must obtain permission from the copyright owner.