How an Underground Hip Hop Artist and His Book Club Threaten Angola's Regime
AFRICA, 4 Apr 2016
Phil Wilmot – Waging Nonviolence
31 Mar 2016 – On Monday [28 Mar], 17 Angolan activists received sentences ranging from two to eight-and-a-half years in jail for participating in a book club that was discussing Gene Sharp's "From Dictatorship to Democracy." Far from being just an isolated act of dissent, their book club was actually an escalation of a decade-plus conflict between Africa's second-longest-serving president Jose Eduardo dos Santos and young Angolans seeking a brighter, more democratic future.
The conflict was sparked on November 26, 2003, when a car washer in the capital city of Luanda was caught singing a politically defiant tune by popular Angolan rapper MCK. Presidential guard soldiers seized the young man, Arsénio Sebastião. Against the cries of onlookers, they tied his arms behind his back and marched him out to the Atlantic Ocean.
While the presidential guard soldiers had intended to cultivate a climate of fear in the Luanda population, they may have done quite the opposite. The drowned Sebastião's martyrdom continues to fuel the flames of a growing citizens' movement in his homeland.
DIY hip hop builds a decentralized movement
At the time of Sebastião's execution, hip hop artist MCK was still a university student. Other rappers like Brigadeiro 10 Pacotes and Dioniso Casimiro would never be featured on Radio Nacional de Angola. They were forced to develop their own methods of distributing their art.
Self-piracy became the popular avenue for the dissemination of conscious rap music, quickly gaining popularity in a nation formerly subjected to guerrilla warfare, the ripple-effects of the communist collapse and Portuguese colonization.
"Guess it's true what they say: The forbidden fruit is the most desired," Luaty Beirão, also known by his stage name Ikonoklasta, told Okay Africa in 2012. "Nowadays you have a totally ridiculous phenomenon where underground artists sell more records on release day than pop trashcan artists who get promoted to exhaustion in public and private media ever do."
Despite the state's efforts to withdraw sponsorships and subsidies from pro-people hip hop artists, they continue to use the Internet, flash disks, blank CDs, taxi operators and street vendors to distribute their tracks. Spaces such as the "University of Hip Hop" in Luanda's outskirts and local NGOs like Omunga have been established in recent years to activate the consciousness of youth through Angola's most defiant genre.
Beirão hadn't noticed the power of his own art form until he was arrested in March of 2011. A policeman at the station sat down next to him, reciting the lyrics to one of his songs.
Angola 15 perform hunger strike
Beirão continued to tally arrests in the years that followed, including one on June 20, 2015 when he met with a book club that would soon be dubbed the "Angola 15." Among those present were Domingos da Cruz, author of "Tools to Destroy a Dictator and Avoid a New Dictatorship" and Nito Alves, who had been placed in solitary confinement at age 17 for selling shirts describing dos Santos — valued at more than $20 billion after hoarding Angola's oil wealth — as a disgusting dictator.
In addition to da Cruz's own text, the club was discussing Sharp's "From Dictatorship to Democracy." Tipped off about the meeting, state agents moved in for the arrests.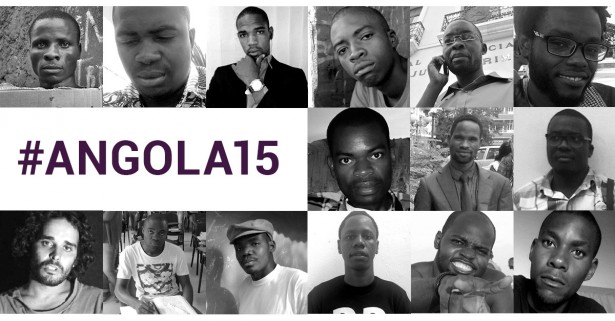 On September 15, when the terms of their imprisonment were still unclear, the Angola 15 announced a hunger strike protesting the injustice. The strike would continue for two weeks before most of the members resumed eating. As the most publicly visual member of the team, Beirão continued to the 36th day, a day for every year of dos Santos' regime.
In October, 20 activists holding a vigil calling for the release of those confined without trial were also arrested. The tie between political consciousness and hip hop strengthened to the extent that the head of Human Rights Foundation Thor Halvorseen wrote to Nicki Minaj, asking her to cancel her Christmas season performance for dos Santos' family. One part of the letter read, "As a strong-willed independent artist, shouldn't you be advocating for the release of the imprisoned rapper, rather than entertaining the dictator and his thieving family?"

 Nicki Minaj later posted pictures of her time spent with the elite dos Santos family on social media, praising Isabel dos Santos for being the world's eighth most wealthy woman.
Book club resumes, activists sentenced for coup plot
The prolonged remand did nothing to crush the spirits of the Angola 15, and indeed their numbers began increasing. The book club convened again this March, resulting in another group arrest. This time, the activists were produced in court on March 28, each suspect receiving a multiple-year sentence.
Beirão received a five-and-a-half year sentence for rebelling against the president, falsified documents and criminal association. Da Cruz received the longest sentence — cited by the court as the group's "leader" — with eight-and-a-half years for coup-planning.
Civil society organizations have already launched statements of condemnation concerning the arrests. According to Amnesty International director for Southern Africa, Deprose Muchena, "The activists have been wrongly convicted in a deeply politicized trial. They are the victims of a government determined to intimidate anyone who dares to question its repressive policies."
The court ruled that each activist must pay more than $300 in legal fees. That's in a country where 70 percent of Angolans live on less than $2 per day. Various NGOs have called for the prompt release of the prisoners of conscience.
A new Angola
The oil-powered, blood-diamond-hungry dos Santos regime has no effective means of curtailing the politically-critical sounds of Angola's hip hop underground. Although Beirão and his alleged co-conspirators are behind bars, his music videos — which include footage from Angola's civil war and world-renowned acts of civil disobedience like Vietnam's burning monk and China's one-man tank blockade — are still circulating freely across YouTube.
At the same time, Beirão's wife Mónica Almeida has released a video condemning the court's decisions. Personal safety is no longer much of a consideration for Almeida. "What more do I have to lose?" she asks.
The question is valid for all residents of Angola. After their land and resources were taken by Portugal in the 19th century, and then later considered a personal asset of the ruling family, Angolans young and old are wondering whether political change is actually possible. Although dos Santos has pledged to step down in 2018, he has broken similar promises in the past.
Before his trial, Beirão said, "What will happen will be what the president decides … We all know and understand how it works … If [dos Santos] decides so, let's be found guilty. We are mentally prepared to be found guilty."
Arrestees Nito Alves and Nuno Dala are physically weak, but their spirits remain strong. Perhaps another hunger strike — or another creative action — will soon follow. In the meantime, the books by Sharp and da Cruz are waiting to be read by a new batch of activists, ready to take up the struggle of leading Angolans to a brighter, more democratic future.
Go to Original – wagingnonviolence.org
DISCLAIMER: The statements, views and opinions expressed in pieces republished here are solely those of the authors and do not necessarily represent those of TMS. In accordance with title 17 U.S.C. section 107, this material is distributed without profit to those who have expressed a prior interest in receiving the included information for research and educational purposes. TMS has no affiliation whatsoever with the originator of this article nor is TMS endorsed or sponsored by the originator. "GO TO ORIGINAL" links are provided as a convenience to our readers and allow for verification of authenticity. However, as originating pages are often updated by their originating host sites, the versions posted may not match the versions our readers view when clicking the "GO TO ORIGINAL" links. This site contains copyrighted material the use of which has not always been specifically authorized by the copyright owner. We are making such material available in our efforts to advance understanding of environmental, political, human rights, economic, democracy, scientific, and social justice issues, etc. We believe this constitutes a 'fair use' of any such copyrighted material as provided for in section 107 of the US Copyright Law. In accordance with Title 17 U.S.C. Section 107, the material on this site is distributed without profit to those who have expressed a prior interest in receiving the included information for research and educational purposes. For more information go to: http://www.law.cornell.edu/uscode/17/107.shtml. If you wish to use copyrighted material from this site for purposes of your own that go beyond 'fair use', you must obtain permission from the copyright owner.