Amid Media Megamergers, a Mosaic of Community Media Thrives
MEDIA, 2 May 2016
Amy Goodman and Denis Moyhihan – Democracy NOW!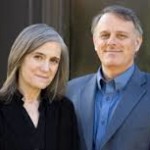 28 Apr 2016 — The business press is all atwitter with merger news, as federal regulators are set to approve a massive deal between cable giants Charter, Time Warner and Bright House Networks. The $78 billion transaction will create the second-largest cable TV/Internet company, dubbed "New Charter," next to Comcast, and leave just three major cable providers in the U.S. Meanwhile, the Gannett Company, which owns more than 100 newspapers, including USA Today, is attempting to acquire Tribune Publishing, which owns several major newspapers, including the Los Angeles Times and the Chicago Tribune.
This looming consolidation in the corporate media is happening as we celebrate "Democracy Now!" news hour's 20th anniversary. We are on a 100-city tour of the United States, going from city to city, hosting fundraisers for community media outlets and broadcasting the news as we travel. Our travels confirm that a thriving, vibrant community media sector exists, serving the public interest, free from the demands to turn a profit at any cost.
On Feb. 19, 1996, "Democracy Now!" began as the only daily election show in public broadcasting. President Bill Clinton was running for re-election against Kansas Sen. Bob Dole and third-party candidate Ross Perot. The plan was for the show to run through Election Day. Our hope was that the issues in the presidential race were important enough and the audience cared enough that they would tune in to daily coverage that brought them voices and ideas not normally heard in the corporate media.
That's how we started: giving a voice to the grass roots. When the election wrapped up, we thought that "Democracy Now!" would wrap up as well. But there was more demand for the show after the elections than before. Why? There is a hunger for authentic voices — not the same handful of pundits circulating through all the media networks who know so little about so much, explaining the world to us and getting it so wrong.
The show began on just nine community radio stations in 1996. Today, it's carried on more than 1,400 outlets, a remarkable constellation of community media organizations: PBS, NPR and Pacifica public radio and television broadcasters, college and community stations, public-access television facilities, low-power FM radio stations, as well as online news organizations and, of course, the many newspapers that carry this column.
These outlets each serve their community uniquely, providing relevant, locally created and curated content. As we travel, we see the connection that local media institutions help forge, both within a community but also across traditional barriers of race, class and age.
Take, for example, the new low-power FM (LPFM) radio station that is being built in Albuquerque, New Mexico. LPFM is a noncommercial radio service that recently got a boost from the Federal Communications Commission after activists spent years pushing the federal government to allow more stations. This new station in Albuquerque is licensed to a long-standing media nonprofit called Quote…Unquote, which provides training in digital-media creation, to empower people to tell their own stories.
To launch the station, they have partnered with the Robert F. Kennedy High School, a remarkable school in the South Valley, one of the poorest neighborhoods of Albuquerque, with a population of students who are largely undocumented immigrants. "We serve students that traditional schools have given up on," Robert Baade, RFK's director, told us. "The radio station will be one more tool for them, to allow them to speak for themselves."
This is just one of hundreds of innovative community media institutions that we are supporting as we travel the country. They are largely nonprofit, supported by enthusiastic volunteers, and are hyperlocal, beloved by the communities they serve.
Juxtapose this with increasingly consolidated major media corporations. "Thanks to this merger both Charter and Comcast now have unprecedented control over our cable and Internet connections," Craig Aaron, of the media reform organization Free Press, said after the news broke that these two corporations will likely merge. "Their crushing monopoly power will mean fewer choices, higher prices, no accountability and no competition."
Even in this high-tech digital age, all we get is static: that veil of distortion, lies, misrepresentations and half-truths that obscure reality. We need the media to give us the dictionary definition of static: Criticism. Opposition. Unwanted interference. We need a media that covers power, not covers for power. We need a media that is the Fourth Estate, not for the state. And we need a media that covers the movements that create static and make history. That is the power of independent media. That is a media that will save us.
_____________________________________
Amy Goodman is the host of "Democracy Now!" a daily international TV/radio news hour airing on more than 900 stations in North America. She is the author of Breaking the Sound Barrier, recently released in paperback and now a New York Times best-seller.
Denis Moynihan is the co-founder of Democracy Now! Since 2002, he has participated in the organization's worldwide distribution, infrastructure development, and the coordination of complex live broadcasts from many continents. He lives in Denver where he is developing a new noncommercial community radio station.
The original content of this program is licensed under a Creative Commons Attribution-Noncommercial-No Derivative Works 3.0 United States License. Please attribute legal copies of this work to democracynow.org. Some of the work(s) that this program incorporates, however, may be separately licensed.
Go to Original – democracynow.org
DISCLAIMER: The statements, views and opinions expressed in pieces republished here are solely those of the authors and do not necessarily represent those of TMS. In accordance with title 17 U.S.C. section 107, this material is distributed without profit to those who have expressed a prior interest in receiving the included information for research and educational purposes. TMS has no affiliation whatsoever with the originator of this article nor is TMS endorsed or sponsored by the originator. "GO TO ORIGINAL" links are provided as a convenience to our readers and allow for verification of authenticity. However, as originating pages are often updated by their originating host sites, the versions posted may not match the versions our readers view when clicking the "GO TO ORIGINAL" links. This site contains copyrighted material the use of which has not always been specifically authorized by the copyright owner. We are making such material available in our efforts to advance understanding of environmental, political, human rights, economic, democracy, scientific, and social justice issues, etc. We believe this constitutes a 'fair use' of any such copyrighted material as provided for in section 107 of the US Copyright Law. In accordance with Title 17 U.S.C. Section 107, the material on this site is distributed without profit to those who have expressed a prior interest in receiving the included information for research and educational purposes. For more information go to: http://www.law.cornell.edu/uscode/17/107.shtml. If you wish to use copyrighted material from this site for purposes of your own that go beyond 'fair use', you must obtain permission from the copyright owner.