'RT Broadcast Halt in Argentina Is All-Out Psychological Onslaught on Latin America'
MEDIA, 13 Jun 2016
Adrian Salbuchi – Russia Today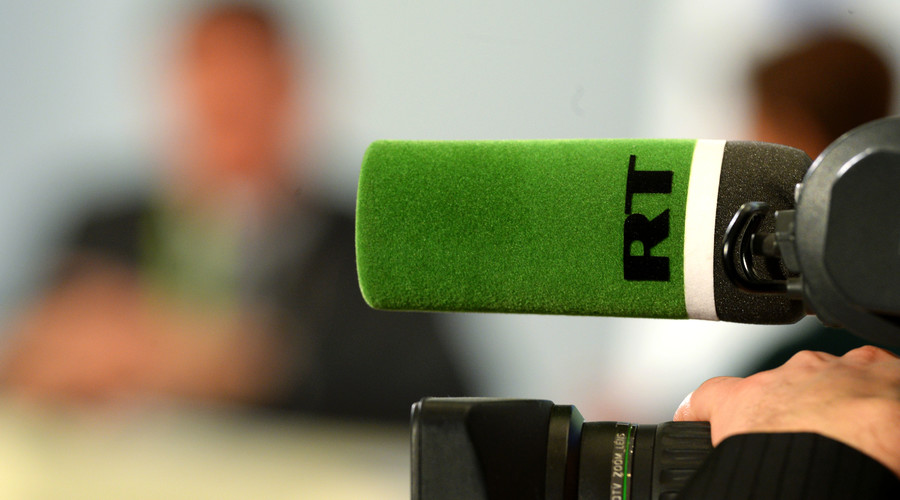 The suspension of the broadcast of RT Spanish in Argentina, that provides a much-needed alternative viewpoint, along with TeleSUR, is "psychological warfare" and part of the West's all-out onslaught on Latin America.
RT: Do we know any official explanation as to why RT has been taken off air in Argentina?
Adrian Salbuchi: Well, the official explanation has been that they need those channels presently occupied by the RT Spanish signal and also the TeleSUR Venezuela signal. The government is saying – officially – that they need these two frequency slots to transmit provincial channels, channels from Argentinian provinces, for example Tierra del Fuego which is way down in the South. But that is hardly a credible explanation of any sort whatsoever.
RT: Another opinion that was put forward with regards to the TeleSUR channel being taken off that it had leftist views and alternative viewpoints. Do you think there is something more to it than the government is saying?
AS: Absolutely, because RT and also TeleSUR from Venezuela (of which Argentina forms part actually because it's a multi-national corporation) definitely have a very alternate view on international politics, international finance, international economic treaties, for example, the Trans-Pacific Partnership and so forth.
And, regrettably, the new government of President Maricio Macri, who was inaugurated in early December 2015, has completely aligned – and I stress, completely aligned – Argentina to the interests of the United States, the European Union, the United Kingdom and also Israel, and all of their combined and very complex interests in Argentina and this part of the world.
So, regrettably, I think what we are seeing, at least in Argentina, is a case of censorship where the government does not want an alternative viewpoint which is different to CNN and Fox News and the New York Times and the Daily Telegraph to be heard by the Argentinian population so that we may have a clearer view what is happening in the world and in Argentina.
RT: Do you think that switching off of RT could be part of something bigger, part of a larger trend?
AS: Yes, because there's definitely a trend that's not only of this geo-political alignments which are official and have been announced by the government but they definitely need to sway the public opinion in favor of these government policies. So, for example, whilst at the same time they are taking RT off the air in 60-days' time and TeleSUR off the air in just a couple of days, they've said, at the same time they are inviting CNN and they would probably be coming in, perhaps, even with an open air TV frequency to form CNN Argentina, as they have already formed CNN Chili and CNN Mexico. And couple that with what's been happening in Brazil with the government Mr Temer and the election results in Peru, which is also a very pro-US government.
And, regrettably, I think the best way to describe this is an all-out onslaught on all of Latin America, not just in economic, political or financial terms, but also in, shall we call it, psychological warfare through the mainstream media.
RT: When RT Spanish launched in Argentina it was quite a big deal. You had Vladimir Putin with then-president of Argentina both stated the importance of relations between the countries. Do you think that this decision now could affect Russia-Argentina relations?
AS: I wouldn't think they would actually affect them or would be a key point in affecting them. What I think is more important, although RT is part of a whole package, is the fact that not only are we moving away from friendly relations with Russia, in spite of the fact that diplomatically we are trying to make reforms. But the fact that this is all part of a much wider attack on the BRICS partnership, because Brazil moving away, Argentina also moving away from Russia in a way it's sort of pushing all of Latin America away from BRICS where the 'B' for Brazil is slowly being replaced by the 'B' with Britain.
And the public opinion here [in Argentina] was very much for good relations with Russia, good relations with China but, especially, in the case of Russia that will now change. So I think that we will see a discrete and diplomatically and politically correct moving away from Russia and that is very bad for public opinion here in Argentina.
_________________________________________
Adrian Salbuchi is an international political analyst, researcher and consultant. Author of several books on geopolitics in Spanish and English (including 'The Coming World Government: Tragedy & Hope'), he is also a conference speaker in Argentina and radio/TV commentator. He writes op-ed pieces for RT Spanish as well as RT English, and is a regular guest on alternative media radio and TV shows in the US, Europe and Latin America. Adrian currently hosts his TV show 'Segunda República' on Channel TLV1 – Toda La Verdad Primero – in Buenos Aires, and is founder of the Second Republic Project (Proyecto Segunda República), a sovereign governance model for Argentina, Latin American countries and elsewhere. His website is: www.asalbuchi.com.ar; YouTube channel:www.youtube.com/user/arsalbuchi.
 READ MORE:
Brazil's Temer 'just another puppet of US imperialism in Latin America'
DISCLAIMER: The statements, views and opinions expressed in pieces republished here are solely those of the authors and do not necessarily represent those of TMS. In accordance with title 17 U.S.C. section 107, this material is distributed without profit to those who have expressed a prior interest in receiving the included information for research and educational purposes. TMS has no affiliation whatsoever with the originator of this article nor is TMS endorsed or sponsored by the originator. "GO TO ORIGINAL" links are provided as a convenience to our readers and allow for verification of authenticity. However, as originating pages are often updated by their originating host sites, the versions posted may not match the versions our readers view when clicking the "GO TO ORIGINAL" links. This site contains copyrighted material the use of which has not always been specifically authorized by the copyright owner. We are making such material available in our efforts to advance understanding of environmental, political, human rights, economic, democracy, scientific, and social justice issues, etc. We believe this constitutes a 'fair use' of any such copyrighted material as provided for in section 107 of the US Copyright Law. In accordance with Title 17 U.S.C. Section 107, the material on this site is distributed without profit to those who have expressed a prior interest in receiving the included information for research and educational purposes. For more information go to: http://www.law.cornell.edu/uscode/17/107.shtml. If you wish to use copyrighted material from this site for purposes of your own that go beyond 'fair use', you must obtain permission from the copyright owner.