Human Security a Must in a Chaotic, Confused World – Japan
IN FOCUS, 18 Jul 2016
Baher Kamal – Inter Press Service-IPS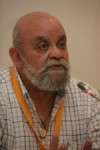 11 Jul 2016 – The question is simple and the answer, short: does eating more mean being better nourished?… Not Necessarily!
On this, top United Nations agencies dealing with food and health have set a clear definition: food security implies access by all people at all times to the food needed for a healthy life, while nutrition security means not only access to adequate diet, but also to essential health services, safe water and sanitation, according to the Food and Agriculture Organisation (FAO) and the World Health Organisation (WHO).
But simple as it is, this equation is too often neglected. Why? An answer can probably be found in a recent statement by Shinichi Kitaoka, President of the Japan International Cooperation Agency (JICA), which is in charge of executing Japan's Official development Assistance to more than 120 developing countries.
"The modern world is becoming increasingly chaotic. Problems related to conflict, extremism, poverty, disparities, infectious diseases and natural disasters are threatening the lives and dignity of many people across national borders and around the world," he said. Then he highlighted "human security" as one of the world's top priorities.
But what does food and nutrition have to do with all this?
Take the case of Africa as one of the most impacted continents by violence and catastrophes.
On the one hand, "human security" is strongly linked to food and nutrition security. In fact, on-going man-made disasters—such as armed conflicts and climate change—are the very direct cause of the current, unprecedented levels of human suffering. The United Nations estimates that the number of refugees, migrants and forcibly displaced at home has now hit all-high record: 160 million worldwide.
On the other hand, the African continent, which is home to nearly 1,2 billion inhabitants in 54 countries, has been suffering the impact of the meteorological phoneme know as "El Niño", which has caused droughts and floods that has devastated harvests and livestock.
El Niño is the term used to describe the warming of the central to eastern tropical Pacific that occurs, on average, every three to seven years. It raises sea surface temperatures and impacts weather systems around the globe so that some places receive more rain while others receive none at all, often in a reversal of their usual weather pattern.
The lack of food and nutrition security and how to mitigate it, will be on the table of the JICA promoted Sixth Tokyo International Conference on African Development (TICAD-VI) on August 27-28 in Nairobi. This will be the first time TICAD is held in Africa since its inception in 1993.
The conference, which is expected to attract over 6,000 participants from Africa and Japan and various international organisations, will discuss the so-called Initiative for Food and Nutrition Security in Africa (IFNA). Health, water and sanitation will be top on TICAD VI's agenda, along with industrialisation and social stability.
No wonder—according to a FAO and WHO report, Africa is one of most critically in need of nutrition development. Not only: nearly 30 per cent of worlds' undernourished populations live in Africa.
IFNA aims at strengthening collaboration with African governments and stakeholders, to "eradicate malnutrition in Africa" with emphasis on a practical and people-centred approach.
The Initiative, which was announced on April 29 at the FAO meeting of the Working Group on Nutrition of the Committee on World Food Security, also aims at accelerating the implementation of African food and nutrition policies in alliance with civil society, private corporates, international organisations, and development aid agencies, among others.
In 2015, the international community agreed upon the Sustainable Development Goals (SDGs) at a United Nations summit and took a first step toward realising a world in which no one is left out of the benefits of development. According to Kitaoka, the philosophy of "human security," which Japan has advocated, is incorporated throughout the SDGs.
In the view of development aid experts, IFNA is a "win-win" deal.
In fact, while the continent benefits from IFNA, for Japan, which largely depends upon its relationships with the rest of the world, it is a matter of national interest for the world to be peaceful, stable and prosperous," said JICA chief. "If Japan can put its experience and expertise to work for world poverty reduction and economic growth, Japan's presence will grow."
Shinichi Kitaoka went on to say that JICA believes it is important to promote international cooperation that contributes to Japan's own growth and development by implementing development cooperation that encompasses various actors, including the Japanese government, local governments, private companies, civil society, universities and research institutes.
For this, JICA will work to strengthen the strategic aspect and comprehensiveness of its cooperation, he announced:
"Specifically, we will mainly develop the following themes based on the 2015 Development Cooperation Charter: 1) quality growth and mitigating disparities, 2) promoting peace-building and the sharing of universal values, 3) strengthening operational engagement on global issues and the international aid agenda, 4) expanding and deepening strategic partnerships, and 5)
On this, increasing agricultural production and productivity on a sustainable basis are effective tools in reducing hunger and malnutrition through food and nutrition security and essential for poverty reduction and sustainable and inclusive economic growth.
In the specific case of Africa, ensuring food and nutrition security appear to be a must.
According to European Union-UN Children Fund (UNICEF) action plan, in Sub-Saharan Africa, 54 million children under five years of age are suffering from chronic malnutrition. And more than a third of children under 5 years of age in Africa are stunted.
"This is a silent emergency with devastating and far-reaching effects, which is robbing millions of children of their full potential for growth and development", EU-UNICEF say.
For its part, the Office of Special Adviser on Africa (OSAA) confirms the fact that many African countries have sustained high growth rates for a decade, even weathering the global financial crisis of 2008 in impressive fashion.
"However, Africa still faces various economic challenges; accelerate the pace of poverty reduction, narrow income gaps, create decent jobs, especially for youth, build infrastructure, and promote regional integration."
OSAA is one of the five co-organisers of TICAD, along with the Government of Japan, the African Union Commission (AUC), the World Bank, and the United Nations Development Programme (UNDP)
Meanwhile, the African industrialisation process will be also high on TICAD VI agenda.
But why exactly does Africa need industrialisation now? "First: To accelerate the pace of poverty reduction and narrow income gaps by increasing labour productivity," Kitaoka answers.
The second aspect is to create more decent and productive jobs, especially for youth.
The fact is that Africa needs to meet growing demand for youth employment, with 18 million new jobs to be created every year in Africa from 2010 to 2035, the International Monetary Fund estimates. There are few sectors outside labour-intensive manufacturing that have been capable of absorbing such large numbers of would-be workers, it says.
The third aspect, according to JICA's chief, is to mitigate the impact of external economic shocks, such as sharp declines in the prices of oil and other commodities.
________________________________________
Baher Kamal, Egyptian-born, Spanish national secular journalist. He is founder and publisher of Human Wrongs Watch. Kamal is a pro-peace, non-violence, human rights, harmonious coexistence defender among human beings and with Nature, with more than 43 years of professional experience. With these issues in sight, he covered practically all professional posts, from correspondent to chief editor of dailies and international news agencies.
DISCLAIMER: The statements, views and opinions expressed in pieces republished here are solely those of the authors and do not necessarily represent those of TMS. In accordance with title 17 U.S.C. section 107, this material is distributed without profit to those who have expressed a prior interest in receiving the included information for research and educational purposes. TMS has no affiliation whatsoever with the originator of this article nor is TMS endorsed or sponsored by the originator. "GO TO ORIGINAL" links are provided as a convenience to our readers and allow for verification of authenticity. However, as originating pages are often updated by their originating host sites, the versions posted may not match the versions our readers view when clicking the "GO TO ORIGINAL" links. This site contains copyrighted material the use of which has not always been specifically authorized by the copyright owner. We are making such material available in our efforts to advance understanding of environmental, political, human rights, economic, democracy, scientific, and social justice issues, etc. We believe this constitutes a 'fair use' of any such copyrighted material as provided for in section 107 of the US Copyright Law. In accordance with Title 17 U.S.C. Section 107, the material on this site is distributed without profit to those who have expressed a prior interest in receiving the included information for research and educational purposes. For more information go to: http://www.law.cornell.edu/uscode/17/107.shtml. If you wish to use copyrighted material from this site for purposes of your own that go beyond 'fair use', you must obtain permission from the copyright owner.