As Our Cultural Heritage in Syria Hemorrhages, Villagers Work to Restore It
SYRIA IN CONTEXT, 15 Aug 2016
Franklin Lamb – TRANSCEND Media Service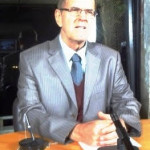 Qalamoun Mountains, Syria
Reports continue nearly daily of yet more damage to our archeological treasures Syria. A few examples include the recent ISIS destruction at Tal Ajaja, one of Syria's most important 2nd century AD Assyrian period. "More than 40 percent of Tal Ajaja was destroyed or has been ravaged by IS recently" has revealed Khaled Ahmo, the Director of Antiquities in Hasakeh.
This year at Tal Ajaja, ISIS discovered previously unknown millennia-old statues and cuneiform tablets, which they promptly sold while destroying others until they were driven out of Tal Ajaja  six months ago by Kurdish fighters, and into Syria's  northeastern Hasakeh province.  Local citizens have reported to this observer that fragments of broken artifacts are strewn throughout the desecrated area and large holes dug by looters pockmark the area.
Under the direction of the Syria's Directorate of Antiquities and Museums (DGAM), most of the known treasures of Tal Ajaja, discovered in the 19th century, had long been removed and placed in safe places. Between 2014 and 2015, Syria' DGAM moved some 300,000 objects and thousands of manuscripts from across Syria into safe storage, including many in Damascus. But the jihadists, as well as local looters, dug up artifacts that archeologists had not yet uncovered, destroying or trafficking priceless pieces.  According to DGAM's Maamoun Abdel Karim, "In two or three months, ISIS wiped out what would have required 50 years of archeological excavations."
More recent damage was done last month, (7/13/2016), to the National Museum of Aleppo by militia-fired missiles. The Museum sustained lesser damage in 2014, also from missiles fired from east Aleppo. This time, parts of the Museum's roof have been destroyed and there is also major structural damage to the Museum's exterior doors, to the offices of employees and of Museum curators, the destruction of generators, as well as parts of the Museum's outer fences.
A third major recent loss, also in the Aleppo Governorate, occurred this past May at the Byzantine site of Qalaat Semaan, the monastery dedicated to St Simeon Stylites  (from the Greek word for pillar, "style"), where the 5th-century hermit inaugurated the practice of living on top of pillars in contemplation and prayer. St Simeon is said to have spent 47 years in prayer perched on various pillars. The original pillar, which marked the center of the monastic church, was toppled, while the facade of the church now has a huge hole blown into it.  For many centuries, St Simeon Monastery was a major pilgrimage and tourist center and was added to UNESCO's protective World Heritage List in June of 2011, just after the start of the Syrian conflict. Ever since, it has been under the control of various pro and anti-government factions.
In addition to the tragic damage at St Simeon's Monastery, in mid-July 2016 an inspection field visit in the Hasaka region by DGAM documented yet more damage by ISIS in the area to the south of the city of Hasaka on the eastern bank of Lake Dam hill. In the western and northern areas, tunnels approximately twenty meters long were dug by ISIS, this resulting in the destruction of artifacts from the 7th century BC Babylonian period. Also gutted were irreplaceable buildings dating to the 2nd century BC Assyrian period.
Other examples of recent damage at Syrian archaeological sites include the Shinsharain Jabal Zawiya, a UNESCO designated World Heritage Site (Dead Cities) which was hit by an airstrike around the time that a mortar exploded on the Sham Moon restaurant in the Christian quarter of Bab Touma in the Old City of Damascus.  Recent damage has also been inflicted on two mosques in al-Bara, in the Idlib Governorate.  Recently damage was sustained at the al-Iman Mosque in Quriyah, in the Deir ez Zor Governorate and at a mosque and Sufi tomb in Manbij, in the Aleppo Governorate. An airstrike has damaged the al-Foqani Mosque at Hbit, in the Idlib Governorate and last month five mosques in the Aleppo Governorate were damaged. In addition, it has been reported that the al-Kabir Mosque in Urum al-Kubra has recently been damaged by shelling from east Aleppo This past month, three more mosques in Aleppo, as well as the Church of St Demetrius sustained war damage.
On and on, Syria's heritage bleeds along with her people.
However tragic the growing list of damage to our cultural heritage sites, this observer has witnessed again this past week stunning restoration work initiated and undertaken by villagers themselves. And this in what I would have perhaps considered the least likely area of Syria which, moreover, I had not previously visited during nearly three years of traveling around Syria and examining damage at cultural heritage sites – the Qalamoun Mountains.
Eighty kilometers NW of Syria's capital, Qalamoun is a key strategic area for rebels shipping supplies, fighters and weapons into Lebanon. The Qalamoun area saw fierce fighting beginning in mid-November 2013 with air strikes on the village of Qara in an attempt by the Syrian Army to cut rebel supply lines to Damascus from Lebanon.  It essentially ended in late April 2014 when rebels in Zabadani surrendered, and the Syrian Army and its allies occupied the town, thus taking the last rebel stronghold in the Qalamoun region and up to the Lebanese border. This was a  major strategic victory for the Syrian government and her allies.
The critical battles  in the ancient Qalamoun mountain area included the villages of Yabroud, al-Jarajir, northwest of Yabroud, Qamieh, al-Kornish areas surrounding Yabroud, An-Nabk, Rima, Deir Attiyeh, Sahel, the al-Arid road, Al-Sarkha Jibbeh and Jbaadin as well as  Maaloula among other villages.
Our cultural heritage sustained damage in each of these Qalamoun area villages to varying degrees. But what this observer deems truly remarkable, while not widely known, is how the local citizens, ignoring religion and sectarianism or whether one side on another caused the damage  to mosques or churches or other sites, responded once the fighting stopped. Without recriminations, villagers took the initiative and in a spectacular fashion have now largely restored these damaged sites. We are all in their debt.
This observer experienced a type of ''epiphany'' during his time in Yabroud.  A cynic might just attribute it to heatstroke or prolonged lack of sleep. But I would demure.  Not only have approximately 60% of Yabroud's pre-war population returned after fleeing the heavy fighting of 2013, but I witnessed firsthand how Yabroud has become a cultural heritage boom town, as its citizens handle repairs, reconciliation and forgiveness for perceived past trespasses in this  scenic town where, as in many villages of Syria, Muslims (who make up 75% of Yabroud's population) and Christians have  lived together in peace and mutual respect over 1000 years.
To offer one of more than a couple dozen examples that this observer has witnessed in Yabroud, the Greek Catholic Cathedral of Constantine and Helen which sustained significant damage in October of 2013 immediately springs to mind. Considered by locals to be the oldest church in Syria, the Cathedral is located in the heart of Yabroud on the slope of the Qalamoun Mountains. The Cathedral has been completely restored on the initiative of the Christian and Muslim residents of Yabroud without any outside financial support or government paperwork. The photos below show the main damage caused to the roof of the Cathedral by a rocket three years ago and its current repair as of 8/12/2016.
A mortar had blasted a hole in the roof of the Cathedral of Constantine and Helen. At the end of hostilities, Yabroud citizens took it upon themselves to repair all damage. The above photo shows the replaced lower right damaged section of the roof, soon to be painted to match the adjoining undamaged roof sections.
Below, the interior of the Cathedral of Constantine and Helen in Yabroud as it is today.
So what is my point, dear reader?
It is that despite the horrors inflicted on hundreds of thousands of victims in Syria during these past 67 months, when this maelstrom ends, it will be the Syrian people themselves who will take the lead and rebuild and reconstruct Syria better than it was before the start of the carnage.
One Syrian archeologist, who is working intensely on archeological restoration projects, wrote this observer earlier this month on the subject of the challenges which cultural heritage restorers' face today: "Security remains a major problem. Various logistical problems exist for restoration projects in liberated areas and often there is a lack of traditional compatible materials. There is a need for more human resources and experts. DGAM can take the lead but needs a range of equipment from simple equipment to computers, scanners, printers, service cars and equipment. There is also the recognition that residential buildings and emergency housing should have priority. International cooperation has been limited due mainly to security obstacles, and DGAM cannot face this disaster alone."
The people of Syria do not need, nor do they seek, the infusion of Western "Democracy projects" claiming Kiplingesque 'White man's burden" obligations. Nor will they accept rebranded Sykes or Picot or Balfour dictates. They are neither revanchists suffering delusional fantasies and seeking another Persian, Ottoman, Soviet, or American-led Western hegemonic project.  No more so than Syrians with whom I have become friends, would accept a Caliphate of any sort.
We all know that Syria as a country is severely wounded.  None of us can deny this reality. At times, this observer becomes enervated, discouraged, depressed, and perhaps cynical, at all the carnage still swirling dizzyingly around us and being inflicted on innocents in Syria.
Yet I remain convinced from my experience in Syria itself that it will be the Syrian people themselves and only the Syrian people, as the custodians of ten millennia and more of our shared and currently endangered cultural heritage, whom we can each count on to preserve, protect and restore this cradle of civilization's endangered cultured heritage.
_______________________________
Franklin Lamb is doing research in Syria and Lebanon and volunteers with the MSRCL (http://mealsforsyrianrefugeechildrenlebanon.com/) and the Sabra-Shatila Scholarship Program. His latest book, Syria's Endangered Heritage is available on Amazon/Kindle. He is reachable c/o fplamb@gmail.com.
This article originally appeared on Transcend Media Service (TMS) on 15 Aug 2016.
Anticopyright: Editorials and articles originated on TMS may be freely reprinted, disseminated, translated and used as background material, provided an acknowledgement and link to the source, TMS: As Our Cultural Heritage in Syria Hemorrhages, Villagers Work to Restore It, is included. Thank you.
If you enjoyed this article, please donate to TMS to join the growing list of TMS Supporters.


This work is licensed under a CC BY-NC 4.0 License.