(Italiano) La visibilità delle notizie… a proposito dell'energia nucleare
ORIGINAL LANGUAGES, 17 Oct 2016
Elena Camino – Centro Studi Sereno Regis
12 ottobre 2016 – Stavo esplorando alcune informazioni interessanti sul sito della Heinrich Boll Foundation1, quando occasionalmente mi sono imbattuta in un articolo pubblicato da Craig Morris il 6 ottobre 2016 con questo titolo: Swiss ban new nuclear reactors (la Svizzera mette al bando la costruzione di nuove centrali nucleari) Interessante! Sembra che i nostri vicini di casa abbiano preso una decisione importante… tuttavia, come fa notare l'autore dell'articolo, non c'è traccia di questo nei principali giornali in lingua inglese: "c'è da chiedersi quando i media internazionali se ne occuperanno, Forse mai – oppure avevate letto da qualche parte che la Svizzera aveva avviato la dismissione delle centrali nucleari (prevista entro il 2034) sull'onda del disastro di Fukushima fin dal 2011?"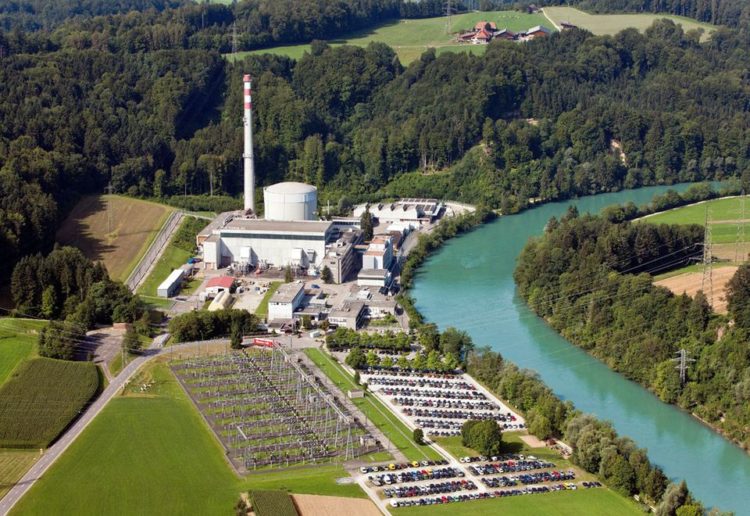 Cerco di capire qual è la situazione dell'energia nucleare in Svizzera: trovo subito i dati , che sono forniti dalla World Nuclear Association (Nuclear Power in Switzerland), che sono aggiornati all'aprile 2016:
La Svizzera ha 5 reattori nucleari, che generano il 40% della sua elettricità. Sono in programma due nuove grandi unità.
Un voto nazionale ha confermato che l'energia nucleare è parte del mix energetico della Svizzera.
A giugno 2011 il parlamento ha deciso di non sostituire i reattori invecchiati, quindi di concludere l'esperienza dell'energia nucleare entro il 2034, nonostante il forte sostegno pubblico a questa forma di energia.
Provo a cercare dati più aggiornati in lingua italiana, visto che la Svizzera è plurilingue. Sui siti che 'vengono fuori' per primi dalla ricerca su google ci sono notizie di qualche mese fa. La prima che compare è questa:
La Svizzera non è più disposta ad abbandonare il nucleare, del 3 marzo 2016.
Insisto con altre parole chiave, finché – cercando "energy strategy 2050 switzerland" mi imbatto in un sito ufficiale della Confederazione elvetica, Dipartimento federale dell'ambiente, dei trasporti, dell'energia e delle comunicazioni (DATEC), e qui leggo:
Gli elementi centrali della Strategia energetica 2050 sono i seguenti: maggiore ricorso all'energia idroelettrica e alle "nuove" energie rinnovabili nonché aumento dell'efficienza energetica.
L'approvvigionamento energetico, che sul piano politico si basa sulla Strategia energetica 2050, dev'essere garantito a lungo termine.
Dopo la catastrofe nucleare di Fukushima, nel 2011 il Consiglio federale e il Parlamento hanno deciso, in linea di principio, l'abbandono graduale dell'energia nucleare: le cinque centrali nucleari esistenti dovranno essere disattivate al termine del loro ciclo di vita senza essere sostituite con nuovi impianti.
Questa decisione, insieme al mutato contesto di mercato a livello internazionale e a nuove tecnologie nel settore energetico, rende necessario un riassetto del sistema svizzero di approvvigionamento energetico.
A questo riguardo, il 30 settembre 2016 il Parlamento ha approvato il primo pacchetto di misure della Strategia energetica 2050, comprendente provvedimenti per incrementare l'efficienza energetica e per aumentare la quota di energia da fonti rinnovabili.
Fra questi figurano, fra l'altro, un sostegno finanziario maggiore, ma anche più aderente al mercato, alle energie rinnovabili quali l'energia solare, eolica, idrica e da biomassa, nonché maggiori contributi per il risanamento energetico degli edifici. Inoltre, nelle procedure di autorizzazione per i grandi impianti eolici e idroelettrici, all'interesse nazionale per tali impianti dovrà essere attribuito, di regola, il medesimo peso attribuito alla protezione della natura e del paesaggio, anch'essa di interesse nazionale. Con un progetto di legge separato (Strategia Reti elettriche) verranno inoltre accelerati la trasformazione e l'ampliamento delle reti elettriche.
Intanto, per effetto di una Iniziativa popolare «Per un abbandono pianificato dell'energia nucleare»2 è stato indetto un referendum che avrà luogo il 27 novembre 2016. L'iniziativa intende vietare la costruzione di nuove centrali nucleari in Svizzera e limitare la durata di esercizio dei cinque impianti attuali: nel caso venisse accettata, le centrali nucleari di Beznau I e II e di Mühleberg dovrebbero essere disattivate nel 2017, quelle di Gösgen e Leibstadt rispettivamente nel 2024 e nel 2029. Il Consiglio federale e Parlamento si oppongono all'iniziativa poiché essa implicherebbe uno spegnimento troppo precipitoso delle centrali nucleari elvetiche.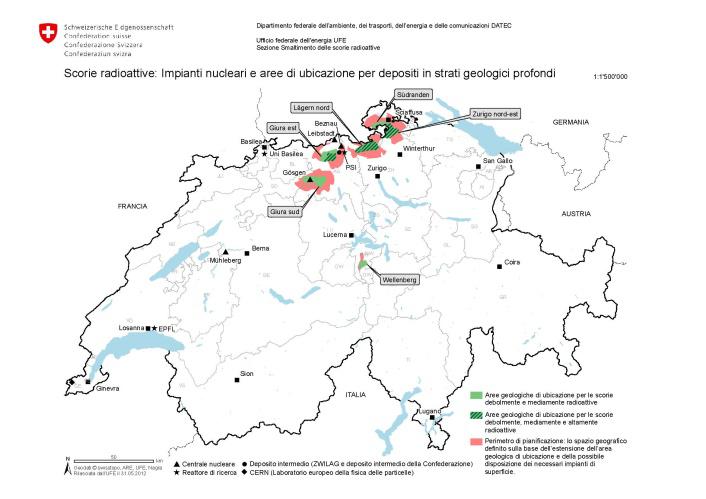 Le centrali nucleari svizzere si trovano tutte nel nord del Paese, vicino ai confini con la Francia e la Germania. La distanza dall'Italia è di circa 250 – 300 Km.
Dalla lettura dei vari documenti sembra di capire che la Svizzera ha deciso da tempo di non costruire nuove centrali nucleari, nonostante le affermazioni della World Nuclear Association. Resta controverso il tempo entro il quale si intende arrivare alla chiusura definitiva delle centrali esistenti. Il Referendum del 27 novembre 2016 dovrebbe far capire se i cittadini svizzeri sono d'accordo con il Governo e il Parlamento oppure se intendono concludere rapidamente l'esperienza dell'energia nucleare.
NOTE:
1 Una prestigiosa Associazione indipendente, nata in Germania, che ha attualmente collaborazioni in 60 Paesi promuovendo democrazia, difesa ambientale, uguaglianza.
2 Il testo dell'iniziativa, così come tutti i dati sopra riportati, sono disponibili nei siti ufficiali dell'Amministrazione Federale svizzera.
___________________________________________
Elena Camino è membro della rete TRANSCEND per la Pace, Sviluppo e Ambiente e Gruppo ASSEFA Torino.
Go to Original – serenoregis.org
DISCLAIMER: The statements, views and opinions expressed in pieces republished here are solely those of the authors and do not necessarily represent those of TMS. In accordance with title 17 U.S.C. section 107, this material is distributed without profit to those who have expressed a prior interest in receiving the included information for research and educational purposes. TMS has no affiliation whatsoever with the originator of this article nor is TMS endorsed or sponsored by the originator. "GO TO ORIGINAL" links are provided as a convenience to our readers and allow for verification of authenticity. However, as originating pages are often updated by their originating host sites, the versions posted may not match the versions our readers view when clicking the "GO TO ORIGINAL" links. This site contains copyrighted material the use of which has not always been specifically authorized by the copyright owner. We are making such material available in our efforts to advance understanding of environmental, political, human rights, economic, democracy, scientific, and social justice issues, etc. We believe this constitutes a 'fair use' of any such copyrighted material as provided for in section 107 of the US Copyright Law. In accordance with Title 17 U.S.C. Section 107, the material on this site is distributed without profit to those who have expressed a prior interest in receiving the included information for research and educational purposes. For more information go to: http://www.law.cornell.edu/uscode/17/107.shtml. If you wish to use copyrighted material from this site for purposes of your own that go beyond 'fair use', you must obtain permission from the copyright owner.