Battle of the Desert: A 'Great Green Wall for Africa' (II)
ENVIRONMENT, 21 Nov 2016
Baher Kamal – Inter Press Service-IPS
20 Nov 2016 –  – Desertification, land degradation, drought, climate change, food insecurity, poverty, loss of biodiversity, forced migration and conflicts, are some of the key challenges facing Africa—a giant continent home to 1,2 billion people living in 54 countries.
And they are huge challenges indeed, in particular affecting Africa's vulnerable drylands. Just think that the drylands of North Africa, Sahel and Horn of Africa extend over 1.6 billion hectares home to about 500 million people, i.e. slightly less than half of the entire population of the continent.
Such rapidly deteriorating situation, which has been exacerbated by climate change and its growing impact, has mobilised more than 20 African countries around the Sahara (North, East and West), international organisations, research institutes, civil society and grassroots organisations, to build together what has been called: The Great Green Wall for the Sahara and the Sahel Initiative (GGWSSI) or simply Africa's Great Green Wall (GGW).
On this, Nora Berrahmouni, Forestry Officer (Drylands) at the Food and Agriculture Organization of the United Nations (FAO), tells IPS in an interview that the GGW core area (focus area for intervention identified) is about 780 million hectares.
What is this Wall all about? "Africa's Great Green Wall, the so-called "Great Green Wall for the Sahara and the Sahel Initiative (GGWSSI)" is a Pan African initiative, established and endorsed by the African Union in 2007 and it is Africa's flagship initiative to combat the effects of climate change, desertification, food insecurity and poverty."
"Drylands of North Africa, Sahel and Horn of Africa extend over 1.6 billion hectares home to about 500 million people"– FAO
Here, Berrahmouni clarifies that the so-called Great Green Wall initiative "is not a line or a wall of trees across the desert. The "Wall" is a metaphor to express solidarity between countries and partners, a mosaic of sustainable land management and restoration interventions."
Regardless of its name, the plan aims at promoting:
Long-term solutions to the pressing challenges of desertification, land degradation, drought and climate change,
Integrated interventions tackling the multiple challenges affecting the lives of millions of people in the Sahel and Sahara, including restoration of production systems, development of rural production and sustainable development hubs,
And an urgent call to development actors and policy makers to invest more on long term solutions for the sustainable development of drylands in the Sahel and Sahara.
Asked about specific examples, these are "sustainable management of natural resources, including soils, water, forests, rangelands; promotion of sustainable rural production systems in agriculture, pastoralism and forestry, as well as sustainable production, processing and marketing of agricultural products and forest goods and services, says Berrahmouni.
Other examples include the diversification of economic activities through rural production centres, to stimulate job creation and offer income generation activities, in particular for youth and women, and to spread knowledge exchange about the causes of desertification and the best ways to combat and prevent it.
FAO is a key partner of the African Union and of its member states in implementing this initiative. Indeed, for FAO, this is a "game changer in addressing poverty eradication, ending hunger and boosting food and nutrition security in the continent," the Algerian expert explains.
From 2010 to 2013, FAO focused on supporting the African Union Commission and 13 member countries to put in place an enabling environment for the implementation of the GGWSSI. These countries are: Algeria, Burkina Faso, Chad, Djibouti, Egypt, Ethiopia, Gambia, Mali, Mauritania, Niger, Nigeria, Senegal, and Sudan.
With funding from the FAO Technical Cooperation Programme and the European Union (EU), this leading UN body in the field of food and agriculture has developed and implemented successfully two complementary projects.
These projects have lead to: the preparation and validation of national action plans and strategies for the implementation of the initiative in 13 countries; the development and validation of Regional Harmonized Strategy, ensuring that all stakeholders involved in the implementation of work towards a common and shared vision, objectives and results, and to put in place a community of practice for the effective implementation of Africa's Great Green Wall.
Berrahmouni tells IPS that since July 2014 and with the support of European Union and the African, Caribbean and Pacific Group of States (ACP) Secretariat, FAO is implementing with partners a project called "Action Against Desertification" in support of the implementation of the Great Green Wall in 6 countries (Burkina Faso, Ethiopia, the Gambia, Niger, Nigeria, Senegal) and South-South Cooperation in ACP countries.
On November 16, FAO presented to the United Nations Framework Convention on Climate Change (UNFCCC) in Marrakech, Morocco (7-18 November), a groundbreaking map of restoration opportunities along Africa's Great Green Wall. at the UN climate change conference.
Announcing that there are 10 million hectares a year in need of restoration along the Great Green Wall, it informs that restoration needs along Africa's drylands have been mapped and quantified for the first time.
The map is based on collection and analysis of crucial land-use information to boost action in Africa's Great Green Wall to increase the resilience of people and landscapes to climate change.
__________________________________________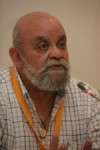 Baher Kamal, Egyptian-born, Spanish national secular journalist. He is founder and publisher of Human Wrongs Watch. Kamal is a pro-peace, non-violence, human rights, harmonious coexistence defender among human beings and with Nature, with more than 43 years of professional experience. With these issues in sight, he covered practically all professional posts, from correspondent to chief editor of dailies and international news agencies.
DISCLAIMER: The statements, views and opinions expressed in pieces republished here are solely those of the authors and do not necessarily represent those of TMS. In accordance with title 17 U.S.C. section 107, this material is distributed without profit to those who have expressed a prior interest in receiving the included information for research and educational purposes. TMS has no affiliation whatsoever with the originator of this article nor is TMS endorsed or sponsored by the originator. "GO TO ORIGINAL" links are provided as a convenience to our readers and allow for verification of authenticity. However, as originating pages are often updated by their originating host sites, the versions posted may not match the versions our readers view when clicking the "GO TO ORIGINAL" links. This site contains copyrighted material the use of which has not always been specifically authorized by the copyright owner. We are making such material available in our efforts to advance understanding of environmental, political, human rights, economic, democracy, scientific, and social justice issues, etc. We believe this constitutes a 'fair use' of any such copyrighted material as provided for in section 107 of the US Copyright Law. In accordance with Title 17 U.S.C. Section 107, the material on this site is distributed without profit to those who have expressed a prior interest in receiving the included information for research and educational purposes. For more information go to: http://www.law.cornell.edu/uscode/17/107.shtml. If you wish to use copyrighted material from this site for purposes of your own that go beyond 'fair use', you must obtain permission from the copyright owner.