Battle of the Desert: To Fight or to Flee? (I)
ENVIRONMENT, 21 Nov 2016
Baher Kamal – Inter Press Service-IPS
18 Nov 2016 – To fight or to flee? These are the stark choices Maria, a single mother from the Bangalala midlands of Tanzania, faces repeatedly.
"After the rains failed for a few years, some neighbours claimed our trees were drawing too much water from the ground. We cut them down. Our harvests fell. My mother closed her stall at the local market. That is when my father and I moved from the midlands to the Ruvu Mferejini river valley."
Maria, whose dramatic story has been told by the United Nations organization leading in combating desertification, goes on to say: "My brother quit school to help the family. He went to find work but he does not earn enough. My mother stayed in Bangalala so that my daughter could go to school because there are no schools in the valley."
"But where we moved to, my crop also failed last year. That is why early this year I moved yet again, but I left my father behind. I hope to farm here much longer, as I am sure the people I left behind with my father will have to move too. But when will this moving end? I cannot afford it anymore."
This is not an isolated case–Maria is in the same situation that women in Darfur, Mali, Chad or Afghanistan were in before local conflicts over water or land turned into civil wars, sexual violence or genocide, reports the United Nations Convention to Combat Desertification (UNCCD).
"Nor is this situation unique to sub-Saharan Africa where half a billion inhabitants are rural, a majority lives off the land and desertification is a constant threat to their livelihoods," it alerts in its report Desertification, the Invisible Frontline.
"As the effects of climate change undermine livelihoods, inter-ethnic clashes are breaking out within and across states and fragile states are turning to militarisation to control the situation." UNCCD
According to the Bonn-based UNCCD, more than 1.5 billion people in the world depend on degrading land, and 74 per cent of them, like Maria, are poor.
Desertification is a silent, invisible crisis that is destabilising communities on a global scale, says this international legal framework for tackling desertification, land degradation and drought, 169 of its 194 Parties have declared they are affected by desertification.
The consequences are dire. "As the effects of climate change undermine livelihoods, inter-ethnic clashes are breaking out within and across states and fragile states are turning to militarisation to control the situation."
The effects of desertification are increasingly felt globally as victims turn into refugees, internally displaced people and forced migrants or they turn to radicalisation, extremism or resource-driven wars for survival, UNCCD continues.
"If we are to restore peace, security and international stability in a context where changing weather events are threatening the livelihoods of more and more people, survival options are declining and state capacities are overburdened, then more should be done to combat desertification, reverse land degradation and mitigate the effects of drought.'
Otherwise, many small-scale farmers and poor, land-dependent communities face two choices: fight or flight.
UP to 30% of World's Land Affected by Desertification
For its part, the United Nations Environment Programme (UNEP) estimates that desertification currently affects approximately twenty-five to thirty per cent of the world's land surface area. About 1,2 billion people in at least 100 states are at risk.
Over 42 billion dollars in lost productivity or human support occurs each year on account of it. According to UNEP, the global rate of desertification is increasing, although the local rates vary by region.
"Africa, with around sixty-six per cent of its land either desert or drylands, is particularly affected by desertification. Already, a number of large-scale famines have occurred in the Sahelian region, resulting in migration of people towards more hospitable lands."
Desertification occurs mainly through over-cropping, over-grazing, improper irrigation practices, and deforestation. These activities arise from poor land management, which, in turn, stems from the socio-economic conditions in which the farmers live.
Monique Barbut, UNCCD Executive Secretary, gives specific figures.
"Globally, only 7.8 billion hectares of land are suitable for food production. About 2 billion hectares are already degraded, and of these 500 million hectares have been totally abandoned. These lands could be restored to fertility for future use."
With 99.7 per cent of our food calories coming from the land –Barbut underlines– land degradation is a threat to our food security. But its effects are especially harsh for the poorest people who rely directly on the land for survival – food, employment and water. When their lands cannot produce any more, they have little choice but to migrate or fight over what little is left.
"Unless we change our approach, when drought comes and the rains fail, the future of the 400 million African farmers who rely on rain fed subsistence agriculture, for example, is put in jeopardy," Barbut wrote on IPS.
Rain-fed agriculture accounts for more than 95 per cent of farmed land in sub-Saharan Africa. And water scarcity alone could cost some regions 6 per cent of their Gross Domestic Product, she added.
"Unless we change our approach, people are going to be increasingly forced to decide whether to ride out a drought disaster and then rebuild. Or simply leave."
According to Barbut, "It is a form of madness that we force our people to make these difficult choices."
Food Insecurity Triggering Riots
In 2008, food insecurity triggered riots in over 30 countries, ccording to the UNCCD. But it is rural communities like those of Bangalala, who depend on rainfed agriculture that contribute to global food security.
The livelihoods of over 2 billion people worldwide depend on 500 million small-scale farmers. Drylands, which make up nearly 34 per cent of the land mass and are a major source of food security especially for the poor, are being degraded day-by-day, it adds.
"Desertification does not always lead to conflict. But it is an amplifier of displacement, forced migration, radicalisation, extremism and violence."
The US National Security Strategy refers to climate change as a key global challenge that will lead to conflicts over refugees and resources, suffering from drought and famine, catastrophic natural disasters, and the degradation of land across the globe, it reminds.
Therefore, "investing in practical solutions that transform lives and reduce the vulnerability of communities like Maria's would be cheaper and work better than investing in walls, wars and relief."
____________________________________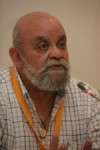 Baher Kamal, Egyptian-born, Spanish national secular journalist. He is founder and publisher of Human Wrongs Watch. Kamal is a pro-peace, non-violence, human rights, harmonious coexistence defender among human beings and with Nature, with more than 43 years of professional experience. With these issues in sight, he covered practically all professional posts, from correspondent to chief editor of dailies and international news agencies.
DISCLAIMER: The statements, views and opinions expressed in pieces republished here are solely those of the authors and do not necessarily represent those of TMS. In accordance with title 17 U.S.C. section 107, this material is distributed without profit to those who have expressed a prior interest in receiving the included information for research and educational purposes. TMS has no affiliation whatsoever with the originator of this article nor is TMS endorsed or sponsored by the originator. "GO TO ORIGINAL" links are provided as a convenience to our readers and allow for verification of authenticity. However, as originating pages are often updated by their originating host sites, the versions posted may not match the versions our readers view when clicking the "GO TO ORIGINAL" links. This site contains copyrighted material the use of which has not always been specifically authorized by the copyright owner. We are making such material available in our efforts to advance understanding of environmental, political, human rights, economic, democracy, scientific, and social justice issues, etc. We believe this constitutes a 'fair use' of any such copyrighted material as provided for in section 107 of the US Copyright Law. In accordance with Title 17 U.S.C. Section 107, the material on this site is distributed without profit to those who have expressed a prior interest in receiving the included information for research and educational purposes. For more information go to: http://www.law.cornell.edu/uscode/17/107.shtml. If you wish to use copyrighted material from this site for purposes of your own that go beyond 'fair use', you must obtain permission from the copyright owner.