(Français) La politique est la solution
ORIGINAL LANGUAGES, 14 Nov 2016
Megan Erickson, Katherine Hill, Matt Karp, Connor Kilpatrick, & Bhaskar Sunkara | Investig'Action – Jacobin Magazine
Nous ne pouvons pas nous déplacer au Canada ou nous cacher sous le lit. C'est le moment d'embrasser la politique démocratique, et non de la rejeter.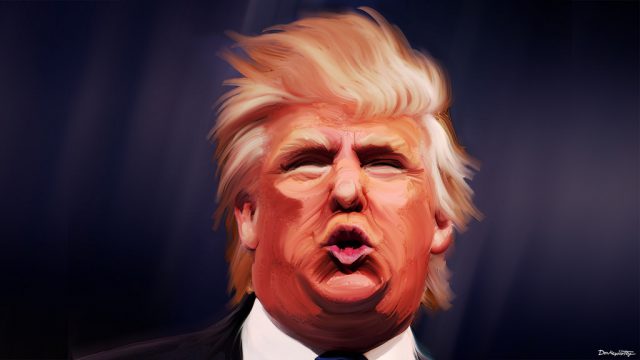 10 Nov 2016 – Nous n'avons aucune illusion sur l'impact de la victoire de Donald Trump. C'est une catastrophe. La perspective d'un gouvernement de droite unifié, dirigé par un populiste autoritaire, représente une catastrophe pour les travailleurs.
Il existe deux façons de répondre à cette situation. L'une consiste à blâmer le peuple des États-Unis. L'autre est de blâmer l'élite du pays.
Dans les prochains jours et les prochaines semaines, de nombreux experts vont opter pour la première façon. Les libéraux effrayés ont déjà écrit des explications sur la façon de déménager au Canada ; hier soir, le site d'immigration canadien a planté après une flambée du trafic. Les gens qui nous ont amenés jusqu'à ce précipice planifient maintenant leur fuite.
Mais blâmer le public américain pour la victoire de Trump ne fait que renforcer l'élitisme qui a rallié ses électeurs en premier lieu. Il est incontestable que le racisme et le sexisme ont joué un rôle crucial dans la montée de Trump. Et c'est effrayant de voir comment son triomphe va renforcer les forces les plus cruelles et les plus bigotes de la société américaine.
Pourtant, une réponse à Trump qui commence et se termine par l'horreur n'est pas une réponse politique — c'est une forme de paralysie, une politique de planque en dessous du lit. Et une réponse à la bigoterie américaine qui commence et se termine par la dénonciation morale n'est pas du tout politique — c'est le contraire de la politique. C'est la capitulation.
Croire que l'appel de Trump était entièrement basé sur le nationalisme ethnique, c'est croire que la majorité des Américains ne sont poussés que par la haine et par un désir commun d'un programme politique de la suprématie blanche.
Nous ne le croyons pas. Et les faits ne le confirment pas.
Cette élection, selon l'analyste du New York Times Nate Cohn, a été décidée par des gens qui ont voté pour Barack Obama en 2012. Tous ne peuvent pas être bigots.
Clinton a remporté seulement 65 pour cent des électeurs latinos, alors qu'Obama en avait remporté 71 il y a quatre ans. Elle a réalisé cette pauvre performance face à un candidat qui a misé son programme sur la construction d'un mur le long de la frontière sud de l'Amérique, un candidat qui a lancé sa campagne en qualifiant les Mexicains de violeurs.
Clinton a convaincu 34 pour cent des femmes blanches sans diplôme universitaire. Et elle a remporté seulement 54 pour cent des femmes dans l'ensemble, contre 55 pour cent pour Obama en 2012. Clinton, bien sûr, était en compétition avec un candidat qui a grogné sur une vidéo qu'il fallait saisir les femmes « par la chatte ».
C'était l'élection que Clinton devait perdre. Et elle a perdu. Beaucoup de culpabilité retombera sur la candidate Clinton, mais elle n'a fait qu'incarner le consensus de cette génération de dirigeants du Parti démocrate. Sous le président Obama, les démocrates ont perdu près de mille sièges dans les assemblées législatives d'États, une douzaine de gouverneurs, soixante-neuf sièges à la Chambre et treize au Sénat. La nuit dernière n'est pas sortie de nulle part.
Le problème avec Clinton n'était pas sa particularité, mais sa typicité. C'était caractéristique de ce Parti démocrate de voir les acteurs au pouvoir à Washington décider de leur candidat — avec des approbations écrasantes — plusieurs mois avant qu'un seul bulletin de vote n'ait été lancé.
Ils ont fait un choix fâcheux pour nous tous en pipant les dés, de manière décisive, contre le genre de politique qui aurait pu gagner : une politique ouvrière.
Soixante-douze pour cent des Américains qui ont voté hier soir pensent que « l'économie est truquée au profit des riches et des puissants ». Soixante-huit pour cent s'accordent à dire que « les partis et les politiciens traditionnels ne se soucient pas des gens comme moi ».
Pratiquement seul parmi les politiciens démocrates, Bernie Sanders a parlé de ce sentiment frémissant d'aliénation et de colère de classe. Sanders avait un message de base pour le peuple américain : vous méritez plus et vous avez raison de croire que vous le méritez. Soins de santé, études supérieures, salaire décent. C'est un message qui l'a rendu de loin le politicien le plus populaire du pays.
La tribune formelle d'Hillary Clinton a abordé certaines des idées concrètes de Sanders, mais elle a répudié son message de base. Pour les responsables du Parti démocrate, il n'y avait aucune raison de pester contre l'Amérique. Pour eux, l'Amérique n'a jamais cessé d'être grande. Et les choses n'ont fait que s'améliorer.
Les dirigeants du parti ont demandé aux électeurs de leur confier la politique. Ils pensaient l'avoir sous contrôle. Ils avaient tort. Maintenant, nous devons tous faire face aux conséquences. Et nous allons le faire.
Il s'agit d'une ère nouvelle qui nécessite un nouveau modèle de politique — un modèle qui répond aux besoins pressants et aux espoirs des gens plutôt qu'à leurs craintes. Il s'avère que le libéralisme élitiste ne peut pas vaincre le populisme de droite. Nous ne pouvons pas nous déplacer au Canada ou nous cacher sous le lit. C'est le moment d'embrasser la politique démocratique, et non de la rejeter.
_________________________________________
Source originale: Jacobin.
Traduit de l'anglais par Investig'Action.
Go to Original – investigaction.net
DISCLAIMER: The statements, views and opinions expressed in pieces republished here are solely those of the authors and do not necessarily represent those of TMS. In accordance with title 17 U.S.C. section 107, this material is distributed without profit to those who have expressed a prior interest in receiving the included information for research and educational purposes. TMS has no affiliation whatsoever with the originator of this article nor is TMS endorsed or sponsored by the originator. "GO TO ORIGINAL" links are provided as a convenience to our readers and allow for verification of authenticity. However, as originating pages are often updated by their originating host sites, the versions posted may not match the versions our readers view when clicking the "GO TO ORIGINAL" links. This site contains copyrighted material the use of which has not always been specifically authorized by the copyright owner. We are making such material available in our efforts to advance understanding of environmental, political, human rights, economic, democracy, scientific, and social justice issues, etc. We believe this constitutes a 'fair use' of any such copyrighted material as provided for in section 107 of the US Copyright Law. In accordance with Title 17 U.S.C. Section 107, the material on this site is distributed without profit to those who have expressed a prior interest in receiving the included information for research and educational purposes. For more information go to: http://www.law.cornell.edu/uscode/17/107.shtml. If you wish to use copyrighted material from this site for purposes of your own that go beyond 'fair use', you must obtain permission from the copyright owner.