Turkish Realignment: Prospects amid Uncertainty
MIDDLE EAST & NORTH AFRICA, 5 Dec 2016
Richard Falk | Global Justice in the 21st Century – TRANSCEND Media Service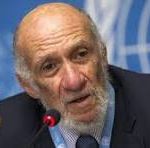 3 Dec 2016 – In recent months the Turkish President, Recep Teyipp Erdoğan, and his principal advisors have not made it a secret that they are reconsidering Turkey's relations with neighbors, with the countries of the region, and with leading geopolitical actors.
The Early Agenda of AKP
When the Justice and Development Party (AKP) came to power in 2002 it set about almost immediately to fashion a post-Cold War foreign policy based on the idea that it was time to supersede the Cold War posture of almost total Turkish deference to the United States, especially within NATO and bipolar contexts, and depict a conception of Turkish interests developed in Ankara rather than adhere to Washington's blueprint. In its early period of national leadership, the AKP seemed to pursue four interrelated international goals:
–resolve the Cyprus conflict;
–give priority to seeking full membership in the European Union (EU);
–improve diplomatic and political relations with Arab World;
–seek continuity in U.S./NATO/EU relations, but with overall independence.
During the Foreign Ministry of Abdullah Gul, reflecting and incorporating some of Ahmet Davutoğlu ideas and his ambitious conception of the proper Turkish international role, this new assertiveness of Turkish foreign policy achieved with impressive results. Turkey's signature approach of 'Zero Problems with Neighbors' (ZPN) was initially seen as the adoption of a regional conflict-resolving perspective, and given early credibility by transforming relations with Syria from hostility to harmony. Syria became the poster child of ZPN, and the new approach was reinforced by a rapid expansion of economic and cultural relations with countries throughout the Arab World. Beyond this, Turkey extended its foreign policy with substantial economic and diplomatic success to the non-Arab parts of the Islamic World, as well as to sub-Saharan Africa. Istanbul, rather than Paris or London, quickly became the preferred hub for a wide variety of international political gatherings of interest to the Global South.
There was also a large emphasis placed by during the early AKP years on the acceleration of accession diplomacy with the EU, leading to an unexpected civilianizing of the Turkish government in ways that reduced the leverage of the armed forces in domestic politics and definitely moved in the direction of meeting the preconditions of human rights, democratization, and secularity that would seem to qualify Turkey to become an EU member, comparing favorably with the record of several East European countries that gained membership in the EU without confronting strong accession obstacles. The AKP also had domestic reasons to build a firewall against any future coup by the armed forces whose leadership was imbued with Kemalist belief, including a feared encroachment of political Islam on the governing process.
While developing a more pro-active and independent foreign policy, the AKP leadership continued to affirm its relationship with the United States, and as a staunch NATO ally. This affirmation was somewhat tested in 2003 when Washington pressed Turkey to allow a portion of the planned attack on Iraq to proceed from Turkish territory. The Turkish Parliament refused to give its consent, and the Erdoğan leadership under pressure from the United States, submitted the American request a second time with an executive recommendation of approval, but Parliament again withheld consent. It remains uncertain as to whether Erdoğan was pretending to seek parliamentary approval or was genuinely willing to allow Turkey to become directly involved in the attack upon neighboring Iraq. When the attack against Iraq proceeded without UN authorization, Turkey adopted a low profile approach that included a readiness to cooperate with the American-led occupation of Iraq, which sought to restore stability to the country. In effect, the new AKP foreign policy wanted to achieve freedom of maneuver for Turkey but without shaking the foundations of the foreign policy that had guided the ardently secular leadership of the country since the origins of the republic.
Revising AKP Foreign Policy
Five major changes of circumstances undermined this early AKP approach to foreign policy: First of all, the deterioration of relations with Israel that became dramatically manifest at the 2009 Davos meetings of the World Economic Forum when Erdoğan sharply confronted the Israeli President, Shimon Peres, on Israel's massive attack (Cast Lead) on Gaza, and climaxed in 2010 when Israeli commandos attacked the humanitarian flotilla bringing medical supplies to Gaza, killing 9 Turkish nationals on the Mavi Marmara, the largest ship in the flotilla of ships challenging the Israeli blockade. Clearly, Israel was sending a warning message to Turkey that it would push back against any Turkish challenge, including those of civil society, to the Israeli approach to Palestinians living under occupation. This encounter challenged Washington to seek restored normalcy in Israeli-Turkish relations so that it would not have to choose sides or juggle relations with both. Energetic diplomatic efforts by Barack Obama sought to heal this breach between these two principal strategic American allies in the region.
The second development involved Turkish reactions to the 2011 uprisings in the Arab World, the so-called 'Arab Spring.' It should be remembered that Turkey was among the first countries to affirm unconditionally these uprisings against authoritarian rule, treating the political upheavals as welcome expressions of democratizing passions on the part of the citizenry. Turkish prestige in the region reached an all time high, and there was talk throughout the Middle East of the applicability of 'the Turkish model.' It was often overlooked that Erdoğan went to Cairo in the Spring of 2011 to encourage Egyptian political forces to follow the Turkish example of political secularism, and not try to embody religion in the governing process. This view not appreciated at the time in Egypt being interpreted as a neo-Ottoman effort to interfere with Egyptian internal rights of self-determination.
The third development was the gradual Turkish realization that their prospects for EU membership were declining despite their internal good faith efforts to comply with accession expectations. The main explanation for this decline involved the rise of Islamophobia in several key countries in Western Europe whose political approval by national referendum would be necessary before Turkish membership could be formally approved. With the virtual disappearance of this European option, the pragmatic case for internal political reform in Turkey was weakened while making the benefits of a geopolitically more equi-distant diplomacy more evident, being implemented through Turkish openings to Iran, Russia, India, and China. In other words, facing a demeaning rejection by the EU even if not directly expressed, Turkey partially turned eastward, or at least contemplated such a turn away from Europe and the West, given dramatic emphasis by Erdoğan's display of embittered anger in reaction to EU criticism. This dynamic was further aggravated by the controversial 2015 agreement with the EU by which Turkey would slow the flow of Syrian refugees across its borders in exchange for a monetary payment and visa-free travel to Europe for Turks. From a human rights perspective, it should be noted, this kind of treatment of refugees, misleadingly called 'migrants,' is highly questionable, instrumentalizing their destiny as an inter-governmental bargaining chip rather than respecting their vulnerability by establishing a humane protective regime.
The fourth development relates to the various signs that Erdoğan was assuming a more authoritarian role in the Turkish governing process, especially in the aftermath of the AKP electoral victory in 2011. In these years Erdoğan overtly embraced a majoritarian view of democracy weakening the republican character of the Turkish government. This dynamic was accentuated after he became President of Turkey in 2014, and in response to a renewal of hostility with the large Kurdish minority, especially as represented by the Peoples Workers Party (PKK). Erdoğan's blunt political style, combined with Turkey's earlier shows of independence and break with Israel, encouraged a much more critical tone in the international media treatment of the AKP leadership in Turkey. This shift amounted to a sea change if compared to the more balanced approach taken between 2002-2011. The anti-Erdoğan hostility peaked in response to the Gezi Park incident in 2013 when Turkish police used excessive force to break up a series of Istanbul demonstrations by opposition forces. It seems notable that the criticisms of Turkish encroachments on human rights were given far greater international attention than the far worse contemporaneous encroachments by the Sisi regime in Egypt and the Saudi monarchy. This difference in international perceptions reflects the overseas influence of anti-AKP activists as well as the divergence of policy as between Ankara and Washington, Brussels, and Tel Aviv.
The fifth development is associated with the failed coup of July 15th.
The Turkish Government and internal Turkish public opinion were strongly convinced that the coup perpetrators were linked to the Fetullah Gülen (or Hizmet) movement, and that the United States Government had some prior knowledge, and if circumstantial evidence is to be trusted, quite possibly signaled a green light to the perpetrators. In the course of the coup, and during its aftermath, neither the US nor Europe expressed their support for the democratically elected government of Turkey, adopting a wait and see attitude that seemed poised to accept, if not welcome, the outcome had the coup been successful. Beyond this the US Government has not been responsive to the Turkish formal extradition request, failing to detain Fetullah Gülen while the legal process proceeded. Again international coverage of post-coup Turkey gives almost all of its attention to the Erdoğan crackdown on those suspected of involvement with the Hizmet movement, which while excessive and troublesome, does not depict the context in which it is reasonable for the AKP leadership to feel threatened from within by the continued Hizmet penetration of the organs of government and as a result of Kurdish militancy and ISIS terrorism. At the same time, it is fully understandable that international forces hostile to the AKP should highlight the massive dismissals from academic institutions and widespread media closures as amounting to a witch hunt.
A Turkish Foreign Policy Reset?
Against such a background, it is hardly surprising that Turkey should in this period be exploring its foreign policy options. Indeed, the exploration preceded the coup attempt of the past year. The impulse to reset Turkish foreign policy reflected a retreat from the more principled and rigid foreign policy positions associated with Davutoğlu's influence and the endorsement of a pragmatic attempt to minimize hostile regional and global tensions.
Most controversially from an American perspective, the pragmatic turn seemed to regard as its centerpiece improved relations with Russia. The goal was broad based cooperation with Russia in recognition of shared interests, including a possible compromise on how to establish a sustainable ceasefire in Syria. From the perspective of the American national security establishment cooperative Russian/Turkish relations were viewed as an unfavorable development at least until the electoral victory of Donald Trump. When the prospect of Hillary Clinton becoming the next America president was a near certainty, there existed a general expectation that the West would soon confront Russia in a more determined way than during the Obama presidency. In Turkey this encouraged the belief that the US national security establishment was sufficiently opposed to any closeness between Russia and Turkey as to have explained its possible support for the coup attempt of last July, or at minimum, its ambivalence toward the outcome. This suspicion, although widely shared in Turkey, remains without evidence, and is purely conjectural.
With Trump becoming the next American president it seems more likely, but by no means assured, that relations between the West and Russia will again be guided by a realist logic of mutual interests. This prospect is also encouraged by the recent emergence in Europe of several political leaders that favor accommodation with Russia. There may be an initial collision of policies if Trump follows through on his campaign pledge to renounce the nuclear agreement with Iran or significantly increases pressure on its implementation.
Tensions with the EU over the migration deal and in reaction to freezing accession talks also inclines Turkey to evaluate various additional forms of realignment, including a reported consideration of joining informal international groupings that are led by China and Russia.
In the end, if Trump follows through with a non-interventionist approach to the Middle East, and Turkish internal stability is restored, it seems most likely that there will be a weakening of relations with Europe and the United States, but no break, and no move that deserves to be labeled as 'realignment.' Turkey will probably place greater emphasis on economic and diplomatic relations with Asia, as well as with a renewal of interactions within the Middle East and North Africa, minimizing ideological differences.
Conclusion
There is more uncertainty with respect to global politics than at any time since the end of the Cold War. This uncertainty reflects the rise of authoritarian leaders in many important countries that enjoy the backing of a mobilized right-wing populism that pushes against economic globalization and gives an impetus to exclusionary forms of nationalism. Turkey is part of this wider international trend, and seems caught between contradictory pressures toward continuity and discontinuity in the conduct of its foreign policy. With Trump's ascendancy the same can be said of the United States.
In general, it seems encouraging that Turkey has again seems to be opting for a foreign policy that is pragmatic rather than programmatic and normative, although it is not at this time exerting the kind of wider influence and leadership in the region and beyond that characterized the Davutoğlu approach. The times are different, calling for less ambition and greater stability.
How this pragmatic repositioning of Turkey in relation to East and West, North and South, will finally crystallize remains highly uncertain. Whether it results in major changes in orientation depends largely on whether Turkish ties to the West are maintained, Middle East turmoil is contained, and Turkish internal politics calms down.
________________________________
Richard Falk is a member of the TRANSCEND Network, an international relations scholar, professor emeritus of international law at Princeton University, author, co-author or editor of 40 books, and a speaker and activist on world affairs. In 2008, the United Nations Human Rights Council (UNHRC) appointed Falk to a six-year term as a United Nations Special Rapporteur on "the situation of human rights in the Palestinian territories occupied since 1967." Since 2002 he has lived in Santa Barbara, California, and taught at the local campus of the University of California in Global and International Studies, and since 2005 chaired the Board of the Nuclear Age Peace Foundation. His most recent book is Achieving Human Rights (2009).
Go to Original – richardfalk.wordpress.com
DISCLAIMER: In accordance with title 17 U.S.C. section 107, this material is distributed without profit to those who have expressed a prior interest in receiving the included information for research and educational purposes. TMS has no affiliation whatsoever with the originator of this article nor is TMS endorsed or sponsored by the originator. "GO TO ORIGINAL" links are provided as a convenience to our readers and allow for verification of authenticity. However, as originating pages are often updated by their originating host sites, the versions posted may not match the versions our readers view when clicking the "GO TO ORIGINAL" links. This site contains copyrighted material the use of which has not always been specifically authorized by the copyright owner. We are making such material available in our efforts to advance understanding of environmental, political, human rights, economic, democracy, scientific, and social justice issues, etc. We believe this constitutes a 'fair use' of any such copyrighted material as provided for in section 107 of the US Copyright Law. In accordance with Title 17 U.S.C. Section 107, the material on this site is distributed without profit to those who have expressed a prior interest in receiving the included information for research and educational purposes. For more information go to: http://www.law.cornell.edu/uscode/17/107.shtml. If you wish to use copyrighted material from this site for purposes of your own that go beyond 'fair use', you must obtain permission from the copyright owner.