The Real German Submarine Scandal
WEAPONS OF MASS DESTRUCTION, 9 Jan 2017
Victor Gilinsky | Bulletin of the Atomic Scientists – TRANSCEND Media Service
4 Jan 2017 – Israel is absorbed with a "submarine scandal" that centers on improprieties in the award of a billion-dollar contract under which Israel would acquire three new advanced German submarines. (Germany has already delivered five of the subs, on a previous contract for six.)
It came to light that the prime minister's personal lawyer was on the payroll of the submarine builder, ThyssenKrupp. Then it turned out that Iran, which figures heavily in the motive for getting the submarines, owns 4.5 percent of ThyssenKrupp and so would gain a profit from their sale. On top of that, there is a Lebanese connection to the German builder, too. But the real scandal is that Germany supplies the submarines at all, and does so through a loophole in the Non-Proliferation Treaty (NPT). Everyone who pays attention to the subject understands that the submarines are built to carry long-range Israeli cruise missiles armed with nuclear weapons.
The German newsmagazine Der Spiegel laid out the details in a six-part 2012 series. The missiles' range is about 1,500 kilometers, which brings Tehran within reach from the Mediterranean. As if to erase any doubts, in greeting the arrival of the latest submarine, Israeli Prime Minister Benjamin Netanyahu said it would be equipped with "advanced" Israeli systems that would be "used first and foremost to deter our enemies who strive to extinguish us. They must know that Israel is capable of hitting back hard against anyone who seeks to hurt us." German government claims that they know nothing about the submarines' nuclear role are more than a little ridiculous.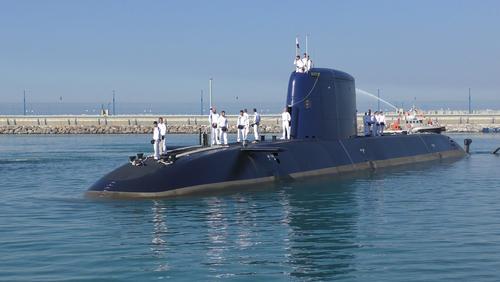 The United States has repeatedly insisted that it is committed to strengthening the Non-Proliferation Treaty. Here is a good place to begin. While the treaty prohibits nuclear weapon states (that is, the US, Russia, Britain, China, and France) from aiding any other state in obtaining nuclear weapons, and it prohibits the treaty's non-nuclear weapon state members from receiving such aid, it does not specifically prohibit these other members from providing nuclear weapon-related assistance, including aid to non-members India, Israel, North Korea, and Pakistan, all of which now have nuclear weapons.
The loophole reflects two unrealistic assumptions of the 1968 treaty. The first: That member countries outside of the five authorized to have nuclear weapons would not have any nuclear weapons-related technology to pass along to other countries, so an explicit prohibition was unnecessary. The second: That an effective protective system against proliferation could be limited to "safeguarding," or keeping track of, the transfer of nuclear materials from which nuclear warheads could be fashioned. Thus, the treaty ignores the trade in delivery vehicles, even those, such as some missiles and strategic submarines, that are entirely devoted to launching nuclear warheads.
Examples of the problem: Germany (or another NPT member, such as the United States) would be in treaty violation if it supplied India, or Israel, or North Korea, or Pakistan with a single kilogram of plutonium, unless the delivery were covered by International Atomic Energy Agency inspection. If both countries provided nuclear bomb designs to any of those non-member states, only the United States would be in violation of the NPT. And if they both supplied nuclear-capable missiles or strategic submarines to any of those non-member nuclear states, neither would be in violation of a strict reading of the treaty.
But the existence of loopholes in the NPT does not diminish the obligation of the parties to act in accordance with the treaty's fundamental objectives. The treaty preamble states that the members believe "the proliferation of nuclear weapons would seriously enhance the danger of nuclear war." The obligation to restrain nuclear weapons programs of non-NPT states does not end when those states obtain nuclear weapons. By providing Israel with strategic submarines, Germany has given that non-NPT member an essentially invulnerable capacity to strike anywhere in Europe, North Africa, or the Middle East with nuclear weapons. That surely is at odds with German (and American) insistence that the NPT is the "cornerstone" of their proliferation policy.
The German submarine export is perhaps the most glaring inconsistency in the nonproliferation policy of the great powers. But Israel is not the only non-NPT member to benefit from the disparity between the professed commitments and practices of these countries. China is reputed to have offered Pakistan a warhead design. And Russia has been helping India get started on a nuclear strategic submarine. These cases raise the question: Have the keepers of the NPT given up on capping the nuclear forces of India, Israel, and Pakistan, or, for that matter, any friendly state once it crosses the nuclear weapon threshold? If so, it sends an unfortunate message to prospective nuclear weapon states such as Japan and South Korea, or perhaps Saudi Arabia and Turkey, that have friendly relations with the Western countries. It tells them that once they have sprinted through the politically dangerous zone to get their first nuclear warheads, they will be home free.
A more responsible step would be to close the loophole that allows NPT member states to assist non-member states with their nuclear weapon programs. Realistically, that doesn't seem to be in the cards, as it would impact India and, much more important, Israel. But if the loophole isn't closed, the United States and the other principal NPT members should understand that, when it comes to the principles of the treaty, winking at friendly countries' evasions is a recipe for the spread of nuclear weapons.
_______________________________________
Victor Gilinsky has for many years been an independent consultant, mainly on nuclear issues. He earlier served two terms on the Nuclear Regulatory Commission. Before that he was head of the Physical Science Department at the RAND Corp.
Go to Original – thebulletin.org
DISCLAIMER: The statements, views and opinions expressed in pieces republished here are solely those of the authors and do not necessarily represent those of TMS. In accordance with title 17 U.S.C. section 107, this material is distributed without profit to those who have expressed a prior interest in receiving the included information for research and educational purposes. TMS has no affiliation whatsoever with the originator of this article nor is TMS endorsed or sponsored by the originator. "GO TO ORIGINAL" links are provided as a convenience to our readers and allow for verification of authenticity. However, as originating pages are often updated by their originating host sites, the versions posted may not match the versions our readers view when clicking the "GO TO ORIGINAL" links. This site contains copyrighted material the use of which has not always been specifically authorized by the copyright owner. We are making such material available in our efforts to advance understanding of environmental, political, human rights, economic, democracy, scientific, and social justice issues, etc. We believe this constitutes a 'fair use' of any such copyrighted material as provided for in section 107 of the US Copyright Law. In accordance with Title 17 U.S.C. Section 107, the material on this site is distributed without profit to those who have expressed a prior interest in receiving the included information for research and educational purposes. For more information go to: http://www.law.cornell.edu/uscode/17/107.shtml. If you wish to use copyrighted material from this site for purposes of your own that go beyond 'fair use', you must obtain permission from the copyright owner.