Facing Famine, 20 Million People Need Food, Not Bombs
ANGLO AMERICA, 20 Mar 2017
Amy Goodman & Denis Moynihan – Democracy NOW!
16 Mar 2017 – The world is facing the most serious humanitarian catastrophe since the end of World War II. Twenty million people are at risk of starving to death in Yemen, Somalia, Nigeria and South Sudan. Meanwhile, President Donald Trump is responding by slamming the door on refugees and cutting aid funding while proposing a massive expansion of the U.S. military.
"Millions of people are barely surviving in the space between malnutrition and death, vulnerable to diseases and outbreaks, forced to kill their animals for food and eat the grain they saved for next year's seeds," Antonio Guterres, the new United Nations secretary-general, said recently. "These four crises are very different, but they have one thing in common. They are all preventable. They all stem from conflict, which we must do much more to prevent and resolve."
While the United Nations scrambles to raise the $5.6 billion needed to avert the worst impacts of these crises, the Trump administration is slashing funding to the U.S. State Department, and, according to a draft executive order obtained by The New York Times, to the United Nations as well. The order as drafted (but not yet officially signed or released) calls for "at least a 40 percent overall decrease" of U.S. voluntary contributions to U.N. programs like the World Food Program, the U.N. High Commissioner for Refugees and UNICEF. "This is, frankly, a juvenile attitude unbecoming of the world's only superpower," wrote former George W. Bush State Department official Stewart M. Patrick, now at the Council on Foreign Relations.
While the attitude may be juvenile, its impact on actual juveniles is deadly. Seven million people in Yemen are in danger of starvation, and 2.2 million of those are children. Close to half a million of those children are "severely and acutely malnourished," which means they have already suffered potentially lifelong, developmental damage due to starvation.
Joel Charny, director of the Norwegian Refugee Council USA, said on the "Democracy Now!" news hour, "If the war continues, people will die from famine. I don't think there's any question about that. We just have to find a way for the war to end." That would start with stopping the arming of Saudi Arabia, which is mercilessly bombing Yemen. Instead, on Tuesday, President Trump met at the White House with Saudi Arabia's Deputy Crown Prince and Minister of Defense Mohammed bin Salman, where they reportedly discussed resuming sales of precision-guided munitions to the Saudi dictatorship.
Amnesty International urged Trump to block new arms sales, writing, "Arming the Saudi Arabia and Bahrain governments risks complicity with war crimes, and doing so while simultaneously banning travel to the U.S. from Yemen would be even more unconscionable."
The war in Yemen is largely seen as a proxy conflict between Saudi Arabia and Iran, with the United States, under Obama and now intensified under Trump, arming the Saudis and logistically supporting their bombardment of Yemen. "It needs to be stressed that this is not something that started on January 20th," Charny said, referring to Trump's inauguration. "This is something that the U.S. has been driving for some time." In his two terms, President Obama sold a record-breaking $115 billion in arms to Saudi Arabia, suspending sales only after a Saudi jet attacked a Yemeni funeral with back-to-back bombings, killing 140 people and wounding 500.
Millions more face famine and a painful death by starvation in Somalia, South Sudan and Nigeria. In South Sudan, despite oil revenue and fertile cropland, Charny says, "unresolved political conflicts within the South Sudanese ruling class that date all the way back to the '90s, that were covered up during the independence struggle but have since emerged," leading to famine. In northeastern Nigeria, armed conflict between the group Boko Haram and the government make delivering humanitarian aid extremely dangerous. Somalia, where famine threatens populations that are actually reachable by the weak central government and aid agencies, Charny struck a more optimistic note: "If we're able to mobilize food and cash quickly, we can overcome the situation in Somalia … if we get moving."
Famine in these four countries is avoidable. President Trump should fully fund food shipments — not arms shipments — and spearhead much-needed diplomacy to avoid the immense catastrophe of 20 million horrific deaths by starvation.
This is what would make America great.
_____________________________________________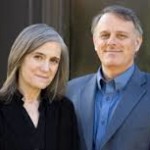 Amy Goodman is the host of "Democracy Now!" a daily international TV/radio news hour airing on more than 900 stations in North America. She is the author of Breaking the Sound Barrier, recently released in paperback and now a New York Times best-seller.
Denis Moynihan is the co-founder of Democracy Now! Since 2002, he has participated in the organization's worldwide distribution, infrastructure development, and the coordination of complex live broadcasts from many continents. He lives in Denver where he is developing a new noncommercial community radio station.
The original content of this program is licensed under a Creative Commons Attribution-Noncommercial-No Derivative Works 3.0 United States License. Please attribute legal copies of this work to democracynow.org.
Go to Original – democracynow.org
DISCLAIMER: The statements, views and opinions expressed in pieces republished here are solely those of the authors and do not necessarily represent those of TMS. In accordance with title 17 U.S.C. section 107, this material is distributed without profit to those who have expressed a prior interest in receiving the included information for research and educational purposes. TMS has no affiliation whatsoever with the originator of this article nor is TMS endorsed or sponsored by the originator. "GO TO ORIGINAL" links are provided as a convenience to our readers and allow for verification of authenticity. However, as originating pages are often updated by their originating host sites, the versions posted may not match the versions our readers view when clicking the "GO TO ORIGINAL" links. This site contains copyrighted material the use of which has not always been specifically authorized by the copyright owner. We are making such material available in our efforts to advance understanding of environmental, political, human rights, economic, democracy, scientific, and social justice issues, etc. We believe this constitutes a 'fair use' of any such copyrighted material as provided for in section 107 of the US Copyright Law. In accordance with Title 17 U.S.C. Section 107, the material on this site is distributed without profit to those who have expressed a prior interest in receiving the included information for research and educational purposes. For more information go to: http://www.law.cornell.edu/uscode/17/107.shtml. If you wish to use copyrighted material from this site for purposes of your own that go beyond 'fair use', you must obtain permission from the copyright owner.