Memory, Fire and Hope: Five Lessons from Standing Rock
ACTIVISM, 27 Mar 2017
Alnoor Ladha |The Rules – TRANSCEND Media Service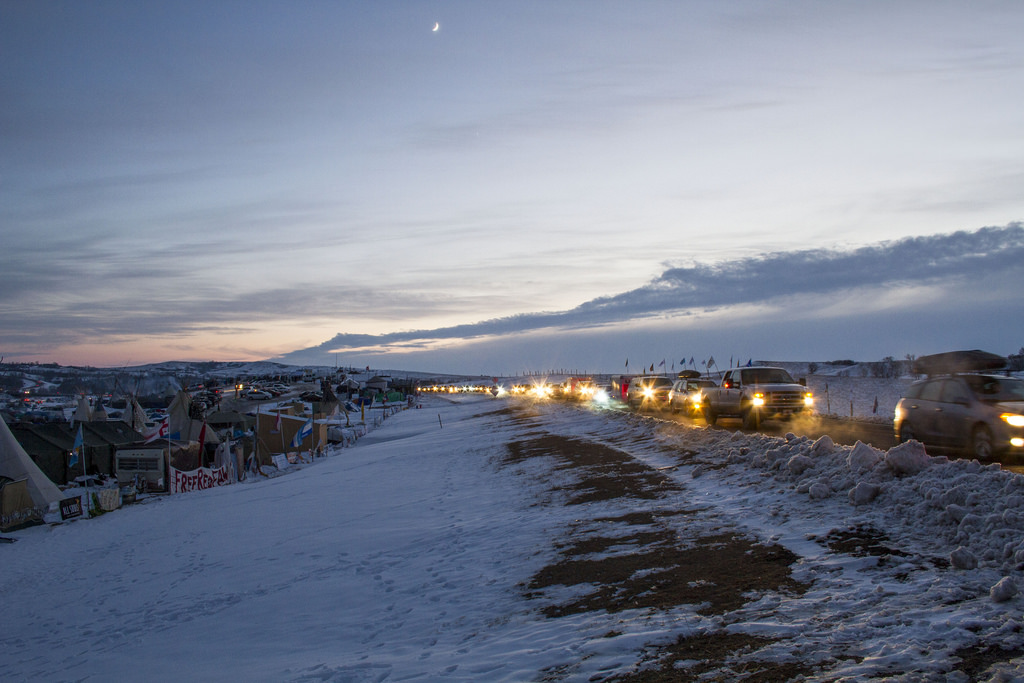 Standing Rock may have been evicted but the movement hasn't lost. Here are five lessons activists around the world can learn from the water protectors.
"The struggle of man against power is the struggle of memory against forgetting." 
— Milan Kundera, The Book of Laughter and Forgetting
 14 Mar 2017 – On February 22, 2017, water protectors at the Oceti Sakowin camp, the primary camp of Standing Rock, were evicted by the Army Corps of Engineers in a military style takeover. A peaceful resistance that began with a sacred fire lit on April 1, 2016, ended in a blaze as some of the protectors, in a final act of defiance, set some of the camp's structures on fire.
The millions of people around the world who have stood in solidarity and empathy with Standing Rock now stand in disbelief and grief, but the forced closure of the encampment is simply the latest chapter in a violent, 500-year-old history of colonization against the First Nations. It is also the latest chapter in the battle between an extractive capitalist model and the possibility of a post-capitalist world.
Of course, the ongoing struggle will not go down in the flames at Oceti Sakowin. We should take this opportunity to remember the enduring lessons of this movement, and prepare ourselves for what is to come next.
There is a global convergence of movements
When I visited Standing Rock in October 2016, it struck me that this was the most diverse political gathering I'd ever seen. Over 300 North American tribes had came together for the first time in history. Standing alongside them were over 100 Indigenous communities from all over the globe. A contingent from the Sami people, the Indigenous peoples of Scandinavia, had traversed the Atlantic to show their support the day I arrived. They were joined by black bloc anarchists, New Age spiritualists, traditional environmentalists, union organizers and ordinary Americans who have never attended a protest.
The media has characterized Standing Rock as a one-off protest against a pipeline in North Dakota. But the reality is that the various movements from around the world including the Umbrella Movement in Hong Kong, the Pink Tide in Latin America, the landless people's movement from India, the anti-austerity movement in Europe, the global Occupy movement, and the countless "awakenings" spreading across the African continent are uniting as expressions of the same impulse: a belief that the neoliberal capitalist system has failed the majority of humanity and a new world is emerging.
A more holistic activism is emerging
With its sacred fire, daily prayers and water ceremonies, Standing Rock has helped to reanimate the sacred aspect of activism. We are seeing a shift from resistance to resistance and renewal simultaneously. Progressive movements which once internalized the Neitzchean dictum that "God is dead" are now evolving their positions. As the anarchist philosopher Hakim Bey states: "As Capital triumphs over the Social as against all spiritualities, spirituality itself finds itself realigned with revolution."There is a shift to embracing a more holistic activism that transcends traditional Cartesian duality and calls upon greater forces. Cedric Goodhouse, an elder at Standing Rock put it simply, saying: "We are governed by prayer."
The particular ways in which Standing Rock embodied non-violent direct action has given many activists a new faith in the possibility of a more sacred activism. I stood with dozens of water protectors when they prayed on water in front of Energy Transfer Partners (ETP) engineers while they were laying down oil pipeline. The very act of seeing Indigenous elders praying on water said more about the implications of an extractive pipeline than any linear argument. They dropped their tools not only because they wanted to avoid confrontation, but because somehow they understood they were on the wrong side of the moral calculus.
The author Charles Eisenstein reminds us of a powerful insight about sacred activism that has been embodied in Standing Rock: "We need to confront an unjust, ecocidal system. Each time we do we will receive an invitation to give in to the dark side and hate 'the deplorables.' We must not shy away from those confrontations. Instead, we can engage them empowered by the inner mantra that my friend Pancho Ramos-Stierle uses in confrontations with his jailers: 'Brother, your soul is too beautiful to be doing this work.' If we can stare hate in the face and never waver from that knowledge, we will access inexhaustible tools of creative engagement, and hold a compelling invitation to the haters to fulfill their beauty."
Occupation of space is a critical tactic
Even before Occupy there has been a renaissance in the political understanding of the value of place and space. The battlegrounds between the corporate/state nexus and people's movements are physical realms: the places where resources are being extracted, water is being polluted and capitalist interests are expanding through what Marxist geographer, David Harvey, calls "accumulation by dispossession."
The occupation of space creates a physical spectacle that forces the corporate media to tell the stories it would otherwise like to ignore. It creates networks of solidarity and deep relationships that span beyond the time and space of the occupation. It creates inter-generational transfers-of-knowledge, both politically and spiritually. It weaves the connective tissue for the continued resistance against corporate (and other imperialist) power.
Standing Rock will be remembered by the thousands of activists who braved blizzards to sleep in tipis, who cooked food together in the communal kitchens, and celebrated in song and ceremony with tribal elders around the sacred fire. As the activist Reverend Billy Talen recently stated: "Zuccotti Park and the stretch of sidewalk in front of the Ferguson police department and the meadow near the Sacred Stone… these three places are lived in. Here is where activists cared for each other and shared food, clothing and medicine. The force that upsets entrenched power the most is this compassionate living, this community in plain sight."
We are Nature protecting itself
Part of the on-going colonial legacy of North America is a battle between the mute materialism of capitalism that seeks to dominate nature and the symbiotic approach of Indigenous thought that sees Nature as alive, and sees human beings as playing a central role in the evolution and stewardship of the broader whole. It is this very worldview that rationalists derisively call "animist" and that continues to confound the utility maximization ideals of modern thought.
Indigenous lands are increasingly going to be a battleground not only for resource extraction, but ideology itself. Although Indigenous peoples represent about 4% of the world's population they live on and protect 22% of the Earth's surface. Critically, the land inhabited by Indigenous peoples holds the remaining 80% of the planet's biodiversity.
It is no coincidence that ETP moved away from its early proposal to have the DAPL project cross the Missouri river just north of Bismarck, a primarily white city, to the Standing Rock area inhabited by the Sioux tribe.
During COP 21 in Paris, Indigenous youth groups carried banners that read: "We are Nature protecting itself." The idea that we are not protestors, but protectors of the sacred is a central theme that resonates throughout the world.
In a powerful article on the Sacred Stone blog, the camp's founder Ladonna Bravebull Allard said: "This movement is not just about a pipeline. We are not fighting for a reroute, or a better process in the white man's courts. We are fighting for our rights as the Indigenous peoples of this land; we are fighting for our liberation, and the liberation of Unci Maka, Mother Earth. We want every last oil and gas pipe removed from her body. We want healing. We want clean water. We want to determine our own future."
These ideals are not just Indigenous ideals; they are ideals linked with our very survival as a species. In a world of catastrophic climate change, protecting the sacred must be the mantra of all activists and concerned citizens.
There is a common antagonist
Although the various social movements around the world are portrayed as separate incidents that are particular to their local context, there is a growing awareness among movements themselves that we are uniting against the same antagonist: the deadly logic of late-stage capitalism.
Whether one is fighting for land rights in India or tax justice in Kenya or to stop a pipeline in the US, the 'enemy' is the same: a cannibalistic global economy that requires perpetual extraction, violence, oppression, in the service of GDP growth, which in turn, benefits a tiny elite at the expense of the world's majority.
There is a Algonquin word, wetiko, that refers to a cannibalistic spirit that consumes the heart of man. It was a common term used when the First Nations of North America initially interacted with the Western European colonialists. The spirit of wetiko, like many memetic thought-forms, has mutated and evolved, and has now become the animating force of the global capitalist system. We are not just fighting a pipeline; we are fighting the wetiko spirit that has taken hold of our planet like invisible architecture.
What Standing Rock achieved so beautifully was to provide this broader context, to ladder up a local struggle for clean water to the struggle against the forces of wetiko itself. Wetikois inherently anti-life. And what we are all fighting for is a new system that recognizes our interdependence with the Earth and with each other, and that allows our highest selves to flourish.
The sacred fire at Standing Rock may now be smoldering but it's reverberations are only beginning to be felt. As Julian Brave NoiseCat poignantly states in his reflections on the impact of this historical movement: "They have lit a fire on the prairie in the heart of America as a symbol of their resistance, a movement that stands for something that is undoubtedly right: water that sustains life, and land that gave birth to people."
This is the enduring power of Standing Rock. It has created inextinguishable hope, activated our historical memory and created new forms of power by the profound act of starting a global movement from a single sacred fire. The fires of Standing Rock are illuminating the transition that lies ahead and the new society that is emerging from its ashes.
__________________________________________
Alnoor Ladha is the Executive Director of The Rules and a board member of Greenpeace International USA.
The Rules is a worldwide network of activists, artists, writers, farmers, peasants, students, workers, designers, hackers, spiritualists and dreamers, linking up, pushing the global narrative in a new direction. We focus on five strategic areas that are in desperate need of radical reform: Money, Power, Secrecy, Ideas and The Commons. We work with social movements, community leaders, cultural players, and everyday people with common adversaries and common goals. We explore world-changing ideas, dig up dirt on corporations and corrupt CEO's, hurl metaphysical stones at governmental and societal repression, and offer material support to emerging movements and spontaneous activist fissures, wherever they occur.
Go to Original – blog.p2pfoundation.net
DISCLAIMER: In accordance with title 17 U.S.C. section 107, this material is distributed without profit to those who have expressed a prior interest in receiving the included information for research and educational purposes. TMS has no affiliation whatsoever with the originator of this article nor is TMS endorsed or sponsored by the originator. "GO TO ORIGINAL" links are provided as a convenience to our readers and allow for verification of authenticity. However, as originating pages are often updated by their originating host sites, the versions posted may not match the versions our readers view when clicking the "GO TO ORIGINAL" links. This site contains copyrighted material the use of which has not always been specifically authorized by the copyright owner. We are making such material available in our efforts to advance understanding of environmental, political, human rights, economic, democracy, scientific, and social justice issues, etc. We believe this constitutes a 'fair use' of any such copyrighted material as provided for in section 107 of the US Copyright Law. In accordance with Title 17 U.S.C. Section 107, the material on this site is distributed without profit to those who have expressed a prior interest in receiving the included information for research and educational purposes. For more information go to: http://www.law.cornell.edu/uscode/17/107.shtml. If you wish to use copyrighted material from this site for purposes of your own that go beyond 'fair use', you must obtain permission from the copyright owner.