UN Farms to Create One Million Days of Work for Mideast Migrants
UNITED NATIONS, 20 Mar 2017
Baher Kamal – Inter Press Service-IPS
15 Mar 2017 – The problem is rather complex and often not recognised: in one of the major regions of both origin and destination for migrants and refugees — the Near East and North of Africa, 10 per cent of rural communities is made up of forcibly displaced persons, while more than 25 per cent of the young rural people plan to emigrate.
This has a strong rural dimension, with large numbers of displaced people originating in rural areas, and now living in rural host communities within or outside their home countries.
In recent years, forced displacement has become a global problem of unprecedented scale, driven by conflict, violence, persecution and human rights violations.
While the total number of displaced people reached an all-time high of more 65 million people, global attention has focused on the Near East and North Africa (NENA) region, where continued conflict and violence most acutely affect Iraq, Syria, Yemen and neighbouring countries.
The total impacted population in the region is estimated at around 22 million people, a fact that generates additional pressure on both the host areas and the sending areas.
The UN, through its Rome-based International Fund for Agricultural Development (IFAD), designed an innovative response to the on-going crisis: FARMS (Facility for Refugees, Migrants, Forced Displacement and Rural Stability), which was announced at the UN World Summit on Migration held in September last year at the United Nations headquarters in New York City.
Internally Displaced, Migrants, Refugees
IPS asked Khalida Bouzar, Director, Near East, North Africa and Europe Division, who is in charge of FARMS at IFAD, if the Facility is meant for displaced rural persons within each country or if it also includes migrants and forcibly displaced persons fleeing conflicts and/or natural and man-made disasters?
Bouzar explains that in terms of displaced people, FARMS will cover both international refugees (people displaced across borders) and internally displaced people (forced to flee from their homes due to conflict or other extraneous factors but remaining within their country), she adds.
UN Khalida Bouzar Sudan Minister Badr Al Din Mahmoud Abbas
Khalida Bouzar greeting Sudan's Minister of Finance and Economic Planning, Badr Al Din Mahmoud Abbas. Credit: IFAD
FARMS will also address the needs of host communities (the local population) to reduce the stress on natural resources and economic opportunities. In origin communities, it will create opportunities for the entire community.
Specifically, Bouzar said that in host areas, the local communities will be supported in coping with the influx of displaced people by making their agriculture more productive and sustainable. The displaced, in turn, will be better able to contribute to their host communities, and better prepared to return home when the situation improves.
Regarding the "sending areas", economic opportunities will be created so that people who have left have something to return to, and those who remain have a chance to build their livelihoods. "With FARMS, we seek to deliver long-term peace and development dividends. It is paramount to create a healthy climate for economic opportunities, and enable displaced people to return to their communities," says Bouzar.
So far, about USD 20 million has been identified for the facility, with the goal of reaching USD 100 million.
FARMS resources will be provided in the form of co-financing support for the on-going IFAD portfolio of about USD 1.2 billion in the NENA region as well as stand-alone grants or activities and communication products to raise global awareness of the issues.
According to Bouzar, FARMS will strengthen the resilience of rural host areas to the impacts of large inflows of refugees, and will also create resilient livelihoods in the origin areas to break the cycle of migration and incentivise the eventual return of migrants.
One Million Days of Work
FARMS will create one million days of work, including at least 20,000 opportunities for youth. "This will be achieved over the life of the projects, and therefore over the next 5 to 6 years," says Bouzar.
Other objectives are to implement at least 500 community infrastructure projects, and to increase social resilience by strengthening community and local government capacity to manage their development, resolve conflicts, and address the needs of refugees.
FARMS also aims at improving governance and management of natural resources, particularly land and water, as well as to improve the policy and regulatory frameworks to address the needs of rural host and sending communities.
Regarding the main causes of displacement, the IFAD's Director, Near East, North Africa and Europe Division explains that these could be conflict, natural disasters, or climate-change related vulnerabilities and pressures. Often the cause is a combination of different factors.
Ten Priority Countries
Bouzar informs that the initial priority countries include: Djibouti, Egypt, Jordan, Lebanon, Morocco, Somalia, Sudan, Tunisia, Turkey and Yemen.
In the first phase, the facility will focus on the NENA region where the current crisis is most acute, with the possibility of scaling up globally in the future. In fact, says Bouzar, after the initial pilot of projects in the NENA region, FARMS could be scaled up to potentially include displacement in other regions.
Asked about the countries, which have been supportive of FARMS and about the amount of financial resources allocated to this project, Bouzar says the IFAD has received support from a wide range of IFAD members.
"Countries in the region have stepped up as crucial early partners, too. The Government of Jordan is collaborating with IFAD, and more partnerships are being designed with Iraq, Lebanon and Sudan."
Why IFAD? According to Bouzar, the Fund is well positioned to be a key partner in bridging the gap between humanitarian and sustainable development responses in rural areas, and is already actively engaged in many of the most affected regions.
In fact, the 2015 Addis Ababa Action Agenda recognised IFAD's comparative advantage as a major investor in poor rural people and affirmed that rural development could achieve "rich payoffs across the SDGs," she adds.
IFAD invests in rural people, empowering them to reduce poverty, increase food security, improve nutrition and strengthen resilience. Since its creation in 1978, it has provided 18.5 billion dollars in grants and low-interest loans to projects that have reached about 464 million people.
_______________________________________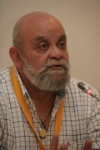 Baher Kamal, Egyptian-born, Spanish national secular journalist. He is founder and publisher of Human Wrongs Watch. Kamal is a pro-peace, non-violence, human rights, harmonious coexistence defender among human beings and with Nature, with more than 43 years of professional experience. With these issues in sight, he covered practically all professional posts, from correspondent to chief editor of dailies and international news agencies.
DISCLAIMER: The statements, views and opinions expressed in pieces republished here are solely those of the authors and do not necessarily represent those of TMS. In accordance with title 17 U.S.C. section 107, this material is distributed without profit to those who have expressed a prior interest in receiving the included information for research and educational purposes. TMS has no affiliation whatsoever with the originator of this article nor is TMS endorsed or sponsored by the originator. "GO TO ORIGINAL" links are provided as a convenience to our readers and allow for verification of authenticity. However, as originating pages are often updated by their originating host sites, the versions posted may not match the versions our readers view when clicking the "GO TO ORIGINAL" links. This site contains copyrighted material the use of which has not always been specifically authorized by the copyright owner. We are making such material available in our efforts to advance understanding of environmental, political, human rights, economic, democracy, scientific, and social justice issues, etc. We believe this constitutes a 'fair use' of any such copyrighted material as provided for in section 107 of the US Copyright Law. In accordance with Title 17 U.S.C. Section 107, the material on this site is distributed without profit to those who have expressed a prior interest in receiving the included information for research and educational purposes. For more information go to: http://www.law.cornell.edu/uscode/17/107.shtml. If you wish to use copyrighted material from this site for purposes of your own that go beyond 'fair use', you must obtain permission from the copyright owner.