Why These Missile Strikes Won't Make Things Better for the Syrian People
SYRIA IN CONTEXT, 10 Apr 2017
There are serious questions as to whether Trump's bombing of the Syrian base has anything to do with protecting civilians.
7 Apr 2017 – The U.S. bombing of Syria's Al Shayrat air base has brought more death and destruction to that country and is unlikely to deter additional war crimes by the Syrian regime. It will not ease the suffering of the Syrian people.
But then it wasn't actually meant to.
The missile strikes had nothing to do with any concern for the civilian victims of the regime's apparent April 4 sarin attack on the town of Khan Sheikhoun. The unilateral military action was ordered by the same president whose proposed budget would make major cuts to the very programs that have provided at least some relief to Syrian refugees fleeing the violence of the regime and various armed rebel factions and who has desperately tried to ban any of the refugees from even entering the United States.
With no direct threat to the national security of the United States and with no congressional authorization, such use of force was illegal. By contrast, when President Obama considered authorizing military action against the regime following an even deadlier sarin attack in 2013, he respected such constitutional limitations on his power and—failing to receive authorization from Congress—did not do so, providing time for the Russian-initiated UN-backed agreement, which resulted in the destruction of the vast majority of Syria's chemical weapons arsenal.
Obama was willing, but not ideologically driven, to go to war. As a result, popular pressure and viable diplomatic alternatives prevented war at that time. And, despite Trump's more recent criticism of that decision, he was at that time among the voices opposing U.S. military intervention.
While Trump's militarism, unfortunately, may be harder to constrain, the fact that the air strikes were fairly limited may be indicative that he recognizes that the American public is not interested in the United States getting involved in another major Middle Eastern war.
Rather than promoting dubious conspiracy theories exonerating the Bashar al-Assad regime from yet another of its many war crimes, the focus should be on how the United States has no right to punish Syria.
True, there is something uniquely horrific about chemical weapons, the use of which has been banned since the Geneva Protocol of 1925, the possession of which has been illegal since the Chemical Weapons of 1993 (belatedly signed and ratified by Syria in 2013.)
But know this: Since Trump came to office, nearly 1,000 civilians have been killed by U.S. air strikes in Syria and Iraq—including up to 200 civilians in Mosul and around 60 civilians in the bombing of a mosque in al-Jena (not far from the site of the chemical weapons attack) this past month.
This again raises questions as to whether Trump's bombing of the Syrian base has anything to do with protecting civilians.
The U.S. has been bombing Syria since 2014, conducting more than 8,000 air strikes against opponents of Assad (and not only the so-called "Islamic State"), resulting in thousands of civilian casualties, all in the name of fighting terrorism. Thursday's bombing of the Syrian air base is the first direct deliberate attack by the United States against Assad's forces, which have arguably been the worst "terrorists" out of the many armed groups fighting in that country. Yes, these latest air strikes are illegal and likely counter-productive, but so are the others.
There is little reason to think that these limited strikes will make much of a difference in Assad's behavior. The Syrian government has lost more than 150,000 soldiers and militiamen and countless military assets, so the damage done by the 59 Tomahawk missiles is unlikely to lead to a change in regime policy. And there are reports that the Trump administration warned the Russians of the impending strikes and their limited nature.
The United States also has a long history of trying to undermine the peaceful, law-based efforts to eliminate chemical weapons, including opposition to the UN-mandated goal of ridding the Middle East of such weapons. Indeed, both Israel and Egypt—the largest recipients of U.S. military aid—have stockpiles larger than that of Syria.
In previous articles for YES!, I have tried to stress positive developments and put forward credible nonviolent alternatives to difficult political situations, even in the Middle East. I honestly have a hard time doing so in regard to Syria. We have a cultural propensity here in the United States to believe that if we put in enough money, or creativity, or willpower, or firepower into a problem, we can make things right. While that attitude has served us well overall, it isn't always the case.
Both the right and the left seem to embrace the idea that the United States—either for good or for ill—has the power to determine the outcome of virtually every conflict in the world. But there are limits to power. The tens of billions of dollars' worth of arms sent to the Shah of Iran and to Egypt's Mubarak was not enough to keep these dictators in power against the will of their own people. Overwhelming U.S. military force could not prevent a Communist victory in Vietnam or create a peaceful, democratic, pro-America Iraq.
_____________________________________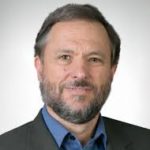 Stephen Zunes is a leading scholar of U.S. Middle East policy and of strategic nonviolent action. He is a professor of politics and international studies at the University of San Francisco and coordinator of the program in Middle Eastern studies. He serves as a senior policy analyst for Foreign Policy in Focus project of the Institute for Policy Studies. He is the author, along with Jacob Mundy, of Western Sahara: War, Nationalism, and Conflict Irresolution (Syracuse University Press, 2010).
Go to Original – yesmagazine.org
DISCLAIMER: The statements, views and opinions expressed in pieces republished here are solely those of the authors and do not necessarily represent those of TMS. In accordance with title 17 U.S.C. section 107, this material is distributed without profit to those who have expressed a prior interest in receiving the included information for research and educational purposes. TMS has no affiliation whatsoever with the originator of this article nor is TMS endorsed or sponsored by the originator. "GO TO ORIGINAL" links are provided as a convenience to our readers and allow for verification of authenticity. However, as originating pages are often updated by their originating host sites, the versions posted may not match the versions our readers view when clicking the "GO TO ORIGINAL" links. This site contains copyrighted material the use of which has not always been specifically authorized by the copyright owner. We are making such material available in our efforts to advance understanding of environmental, political, human rights, economic, democracy, scientific, and social justice issues, etc. We believe this constitutes a 'fair use' of any such copyrighted material as provided for in section 107 of the US Copyright Law. In accordance with Title 17 U.S.C. Section 107, the material on this site is distributed without profit to those who have expressed a prior interest in receiving the included information for research and educational purposes. For more information go to: http://www.law.cornell.edu/uscode/17/107.shtml. If you wish to use copyrighted material from this site for purposes of your own that go beyond 'fair use', you must obtain permission from the copyright owner.