A Grisly Tale of Children Falling Easy Prey to Ruthless Smugglers
IN FOCUS, 29 May 2017
Baher Kamal – Inter Press Service-IPS
22 May 2017 – Don't read this story if you are a parent or have children relatives. It is the bloodcurdling story of over 300,000 unaccompanied refugee and migrant children who are just a small part of millions of children that are innocent, easy prey for smugglers and human traffickers worldwide.
Among a raft of alarming statistics, a new UN report has just found that children account for around 28 per cent of trafficking victims globally. And that Sub-Saharan Africa and Central America and the Caribbean have the highest share of children among detected trafficking victims, at the rates of 64 and 62 per cent, respectively.
"I'm a child, not a criminal, not a threat, not an outcast" – UNICEF
The new report, issued by the UN Children Fund (UNICEF), also informs that the number of children travelling alone has increased five–fold since 2010, warning that many young refugees and migrants are taking highly dangerous routes, often at the mercy of traffickers, to reach their destinations.
At least 300,000 unaccompanied and separated children were recorded in some 80 countries in the combined years of 2015 and 2016, up from 66,000 in 2010 and 2011, according to the report A Child is a Child: Protecting children on the move from violence, abuse and exploitation, which was released on May 18, and presents a global snapshot of refugee and migrant children, the motivations behind their journeys and the risks they face along the way.
"One child moving alone is one too many, and yet today, there are a staggering number of children doing just that – we as adults are failing to protect them," commented UNICEF deputy executive director Justin Forsyth. "Ruthless smugglers and traffickers are exploiting their vulnerability for personal gain, helping children to cross borders, only to sell them into slavery and forced prostitution. It is unconscionable that we are not adequately defending children from these predators."
First and foremost, children need protection, the UN agency reminded, while highlighting the importance of the Convention on the Rights of the Child, through which State Parties commit to respect and ensure the rights of "each child within their jurisdiction, without discrimination of any kind."
One of World's Deadliest Routes for Children
Few weeks earlier, a senior UNICEF official called the routes from sub-Saharan Africa into Libya and across the sea to Europe one of the "world's deadliest and most dangerous for children and women," as the UN agency informed that nearly half of the women and children interviewed after making the voyage were raped.
On this, its report A Deadly Journey for Children: The Central Mediterranean Migrant Route, warned that "refugee and migrant children and women are routinely suffering sexual violence, exploitation, abuse and detention along the Central Mediterranean migration route from North Africa to Italy,"
At the time of the report, which was issued end of February, 256,000 migrants were recorded in Libya, including about 54,000 included women and children. "This is a low count with actual numbers at least three times higher."
The UN agency believes that at least 181,000 people –including more than 25,800 unaccompanied children –used smugglers in 2016 to try to reach Italy. "At the most dangerous portion– from southern Libya to Sicily – one in every 40 people is killed."
Raped, Exploited, Left in Debt
Here, Afshan Khan, UNICEF Regional Director and Special Coordinator for the Refugee and Migrant Crisis in Europe, said that the Central Mediterranean from North Africa to Europe is among the world's deadliest and most dangerous migrant routes for children and women. "The route is mostly controlled by smugglers, traffickers and other people seeking to prey upon desperate children and women who are simply seeking refuge or a better life."
"Nearly half the women and children interviewed had experienced sexual abuse during migration – often multiple times and in multiple locations," with "widespread and systematic" sexual violence at crossings and checkpoints.
"In addition, about three-quarters of all the children interviewed said that they had "experienced violence, harassment or aggression at the hands of adults" including beatings, verbal and emotional abuse."
In Western Libya, women were often held in detention centres were they reported "harsh conditions, such as poor nutrition and sanitation, significant overcrowding and a lack of access to health care and legal assistance," the UN Children Fund informed.
What the Most Powerful Should – and Can Do
Included in the report is a six-point agenda calling for "safe and legal pathways and safeguards to protect migrating children." UNICEF urged the European Union to adopt this agenda ahead of the Summit of the G7 (the group of the 7 most powerful countries) in Taormina, Italy, on 26-27 May.
The six-point agenda stresses the need to protect child refugees and migrants, particularly unaccompanied children, from exploitation and violence; to end the detention of children seeking refugee status or migrating by introducing a range of practical alternatives, and to keep families together as the best way to protect children and give children legal status.
It recommends, as well, to keep all refugee and migrant children learning and give them access to health and other quality services; to press for action on the underlying causes of large scale movements of refugees and migrants; and to promote measures to combat xenophobia, discrimination and marginalization in countries of transit and destination.
Such commitments would obviously be easy to take and implement by the G7 governments. The point is: will the political leaders of the world's richest countries consider, seriously, this inhuman tragedy?
Are they aware that the number of children left alone has been soaring? UNICEF –which they created to assist millions of European refugee children, victims of their Wold War II– has just reported that 92 per cent of children who arrived to Italy by sea in 2016 were unaccompanied, up from 75 per cent in 2015.
Do these mandatories know that 75 per cent of children who arrived in Italy—the very same country hosting their Summit—have reported experiences such as being held against their will or being forced to work without pay?
Let alone the case of hundreds of children who are abducted to sell their organs, to be recruited by terrorist organisations as child soldiers, or are exploited in harsh "modern" slavery work.
Will these political leaders mostly talk big finance and big business–including the 20 May US-Saudi Arabia weapons deal amounting to 110 billion dollars? Who knows…they might also have some spare time to read US president Donald Trump's latest tweets.
_____________________________________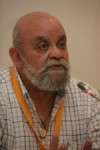 Baher Kamal, Egyptian-born, Spanish national secular journalist. He is founder and publisher of Human Wrongs Watch. Kamal is a pro-peace, non-violence, human rights, harmonious coexistence defender among human beings and with Nature, with more than 43 years of professional experience. With these issues in sight, he covered practically all professional posts, from correspondent to chief editor of dailies and international news agencies.
DISCLAIMER: The statements, views and opinions expressed in pieces republished here are solely those of the authors and do not necessarily represent those of TMS. In accordance with title 17 U.S.C. section 107, this material is distributed without profit to those who have expressed a prior interest in receiving the included information for research and educational purposes. TMS has no affiliation whatsoever with the originator of this article nor is TMS endorsed or sponsored by the originator. "GO TO ORIGINAL" links are provided as a convenience to our readers and allow for verification of authenticity. However, as originating pages are often updated by their originating host sites, the versions posted may not match the versions our readers view when clicking the "GO TO ORIGINAL" links. This site contains copyrighted material the use of which has not always been specifically authorized by the copyright owner. We are making such material available in our efforts to advance understanding of environmental, political, human rights, economic, democracy, scientific, and social justice issues, etc. We believe this constitutes a 'fair use' of any such copyrighted material as provided for in section 107 of the US Copyright Law. In accordance with Title 17 U.S.C. Section 107, the material on this site is distributed without profit to those who have expressed a prior interest in receiving the included information for research and educational purposes. For more information go to: http://www.law.cornell.edu/uscode/17/107.shtml. If you wish to use copyrighted material from this site for purposes of your own that go beyond 'fair use', you must obtain permission from the copyright owner.