Agony of Mother Earth: World's Forests Depleted for Fuel (II)
ENVIRONMENT, 22 May 2017
This is the second of a two-part series on how humankind has been systematically destroying world's forests—the real lungs of Mother Earth. Part I dealt with the relentless destruction of forests.
19 May 2017 – Humankind is the biggest ever predator of natural resources. Just take the case of forests, the real lungs of Mother Earth, and learn that every 60 seconds humans cut down 15 hectares of trees primarily for food or energy production. And that as much as 45,000 hectares of rainforest are cleared for every million kilos of beef exported from South America.
Should these figures not be enough, Monique Barbut, the executive-secretary of the UN Convention to Combat Desertification (UNCCD), also drew world's attention to the fact that "when we take away the forest it is not just the trees that go… The entire ecosystem begins to fall apart… with dire consequences for us all…"
Barbut, who provided these and other figures on the occasion of this year's International Day of Forests –marked under the theme "Forestry and Energy"— also reminded that deforestation and forest degradation are responsible for over 17 per cent of all man-made greenhouse gas emissions.
UNCCD's chief is far from the only expert to sound the alarm–the UN Food and Agriculture Organization (FAO) warned that up to seven per cent of global greenhouse gas emissions caused by humans come from the production and use of fuel-wood and charcoal.
This happens largely due to unsustainable forest management and inefficient charcoal manufacture and fuel-wood combustion, according to The Charcoal Transition report published on the Day (March 21).
Right – but the other relevant fact is that for more than two billion people worldwide, wood fuel means a cooked meal, boiled water for safe drinking, and a warm dwelling, as this specialised body's director-general José Graziano da Silva timely recalled.
Poor People in Rural Areas
This is especially important for poor people in rural areas of developing countries, where wood is often the only energy source available.
Regions with the greatest incidence of poverty, most notably in Sub-Saharan Africa and low income households in Asia, are also the most dependent on fuel-wood: "Nearly 90 per cent of all fuel wood and charcoal use takes place in developing countries, where forests are often the only energy source available to the rural poor," said Manoel Sobral Filho, Director of the UN Forum on Forests Secretariat.
However, much of the current production of wood fuel is "unsustainable," contributing significantly to the degradation of forests and soils and the emission of greenhouse gases in the atmosphere, said Graziano da Silva. "In many regions the conversion to charcoal is often done using rudimentary and polluting methods."
He urged countries to reverse these negative trends in wood energy production and use. "We need, for instance, to adopt improved technologies for energy conversion." Currently the organisation he leads while is participating in several programmes to deliver fuel-efficient stoves, especially for poor people in Latin America and Africa.
In conflict and famine-struck South Sudan, the organisation and partners have already distributed more than 30,000 improved stoves.
For his part, Fiji's president, Jioji Konousi Konrote, stressed, "We need to turn our attention to scaling up the transfer of renewable energy technologies, particularly for forest biomass, in order to ensure that developing countries are making use of these technologies and keep pace with growing energy demands in a sustainable manner."
The government of Fiji is poised to assume the presidency of the next Conference of Parties of the UN Climate Agreement scheduled to take place in in Bonn, Germany, in November.
1 in 3 People Wood-Fuel Dependent
The challenge is huge knowing that more than 2.4 billion people –about one-third of the world's population– still rely on the traditional use of wood-fuel for cooking, and many small enterprises use fuel-wood and charcoal as the main energy carriers for various purposes such as baking, tea processing and brickmaking.
Of all the wood used as fuel worldwide, about 17 per cent is converted to charcoal, according to The Charcoal Transition report. The point is when charcoal is produced using inefficient technologies and unsustainable resources, the emission of greenhouse gases can be as high as 9 kg carbon dioxide equivalent per 1 kg charcoal produced.
The report highlights that in the absence of realistic and renewable alternatives to charcoal in the near future, in particular, in sub-Saharan Africa, Southeast Asia and South America, greening the charcoal value chain and applying sustainable forest management practices are essential for mitigating climate change while maintaining the access of households to renewable energy.
Changing the way wood is sourced and charcoal is made offers a high potential for reducing greenhouse gas emissions, it says, adding that a shift from traditional ovens or stoves to highly efficient modern kilns could reduce greenhouse gas emissions by 80 per cent. At the end-use level, a transition from traditional stoves to improved state-of-the-art stoves could reduce emissions by around 60 per cent.
"Wood based energy accounts for 27 per cent of the total primary energy supply in Africa, 13 per cent in Latin America and the Caribbean and 5 per cent in Asia and Oceania," according to FAO estimates.
Forests continue to be under threat from unsustainable use, environmental degradation, rapid urbanisation, population growth, and the impacts of climate change. Between 2010 and 2015, global forest area saw a net decrease of 3.3 million hectares per year.
__________________________________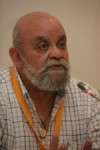 Baher Kamal, Egyptian-born, Spanish national secular journalist. He is founder and publisher of Human Wrongs Watch. Kamal is a pro-peace, non-violence, human rights, harmonious coexistence defender among human beings and with Nature, with more than 43 years of professional experience. With these issues in sight, he covered practically all professional posts, from correspondent to chief editor of dailies and international news agencies.
Go to Original – other-news.info
DISCLAIMER: The statements, views and opinions expressed in pieces republished here are solely those of the authors and do not necessarily represent those of TMS. In accordance with title 17 U.S.C. section 107, this material is distributed without profit to those who have expressed a prior interest in receiving the included information for research and educational purposes. TMS has no affiliation whatsoever with the originator of this article nor is TMS endorsed or sponsored by the originator. "GO TO ORIGINAL" links are provided as a convenience to our readers and allow for verification of authenticity. However, as originating pages are often updated by their originating host sites, the versions posted may not match the versions our readers view when clicking the "GO TO ORIGINAL" links. This site contains copyrighted material the use of which has not always been specifically authorized by the copyright owner. We are making such material available in our efforts to advance understanding of environmental, political, human rights, economic, democracy, scientific, and social justice issues, etc. We believe this constitutes a 'fair use' of any such copyrighted material as provided for in section 107 of the US Copyright Law. In accordance with Title 17 U.S.C. Section 107, the material on this site is distributed without profit to those who have expressed a prior interest in receiving the included information for research and educational purposes. For more information go to: http://www.law.cornell.edu/uscode/17/107.shtml. If you wish to use copyrighted material from this site for purposes of your own that go beyond 'fair use', you must obtain permission from the copyright owner.