(Português) O Encontro Bem-Aventurado da Pachamama com Gaia
ORIGINAL LANGUAGES, 17 Jul 2017
Leonardo Boff – TRANSCEND Media Service
15 julho 2017 – Quero apresentar as idéias, com as quais comungo, de um livro que sairá brevemente traduzido no Brasil: A Pachamama e o ser humano (Ediciones Colihue 2012) de Eugenio Raúl Zaffaroni bem conhecido no Brasil nos meios jurídicos. É um reconhecido magistrado argentino, ministro da Suprema Corte de 2003 a 2014 e professor emérito da Universidade de Buenos Aires.
O presente livro, a meu ver, se inscreve entre as melhores contribuições de ordem ecológica e filosófica  que se tem escrito ultimamente. Ele se situa na esteira da encíclica do Papa Francisco, também argentino, Laudato Si, sobre o cuidado da Casa Comum (2015). Zaffaroni aborda a questão da ecologia, em especial da violência social e particularmente contra os animais com uma informação admirável de ordem científica e filosófica.
O mais importante do livro é a crítica ao paradigma dominante, surgido com os pais fundadores da modernidade do século XVI e XVII que ex abrupto introduziram uma profunda cissura entre o ser humano e a natureza. O contrato natural, presente nas culturas desde tempos imemoriais, do Ocidente e do Oriente, sofreu um corte fatal e letal.
A Terra deixou de ser a Magna Mater dos antigos, a Pachamama dos andinos e a Gaia dos contemporâneos, portanto algo vivo e gerador de vida, para ser transformada numa coisa inerte (res extensa de Descartes), num balcão de recursos colocados à disposição da voracidade ilimitada dos seres humanos. Clássica é a formulação de René Descartes: o ser humano é o "maître et possesseur" da natureza, vale dizer, é o senhor e dono da natureza. Ele pode fazer dela o que que bem entender. E o fez.
A cultura moderna se construíu sobre a compreensão do ser humano como  dominus como senhor e dono de todas as coisas. Estas não possuem valor intrínseco, como vão afirmar mais tarde a Carta da Terra e com grande vigor a encíclica papal. Seu valor reside apenas em poder estar a serviço do  ser humano.
O projeto é o do poder entendido como capacidade de dominação sobre tudo e sobre todos, a partir de quem mais poder possui. No caso, os europeus que realizaram a  aventura do submetimento da natureza, da conquista do mundo, da colonização de inteiras nações, do genocídio, do ecocídio e da destruição de culturas ancestrais. E o fizeram usando a força brutal das armas, da espada e também da cruz. Hoje em dia com armas, capazes de extingir a espécie humana.
Zaffaroni rastreia o surgimento deste projeto civilizatório e o faz com grande riqueza bibliográfica. Enfrenta com coragem e grande liberdade crítica os presumidos corifeus do pensamento moderno como Hegel, Spencer, Darwin e Heidegger. Restrinjo-me às críticas que faz ao Hegel do Weltgeist (espírito do mundo). Sua filosofia prestou-se a ser a ideologia justificadora do etnocentrismo ao exaltar a cultura européia e rebaixar todas as demais. Herbert Spencer com seu biologismo estabeleceu a raça branca como superior e todas as demais, tidas como inferiores, o que acabou por legitimar o colonialismo e todo tipo de preconceito.
Zaffaroni aborda a questão do animal visto como sujeito de direitos. Enfatiza eie:"ao nosso juízo, o bem jurídico no delito de maus tratos a animais não é outro que o direito do próprio animal a não ser objeto de crueldade humana, para o qual é mister reconhecer-lhe o caráter de sujeito de direitos". O autor é duro na constatação "de que nos convertemos nos campeões biológicos da destruição intra-espécie e nos depredadores máximos extra-espécie". Sua proposta é clara:"Somente substituindo o saber do dominus (senhor) pelo de frater (irmão) podemos recuperar a dignidade humana" e sentirmo-nos irmados com os demais seres.
A América Latina foi a primeira a inaugurar um constituionalismo ecológico, inserindo nas constituições do Equador e da Bolívia os direitos da natureza e da Mãe Terra. Anteriormente, e também por primeiro, foi o México. a introduzir em sua constituição em 1917 os direitos sociais. Zaffaroni faz a apologia das virtuadalidades criadoras de harmonia do ser humano com a natureza que a visão andina do "bem viver e conviver"(sumac kawsay) comporta; também de Gaia, a Terra como um super-organismo vivo que se auto-regula para sempre produzir e reproduzir vida. A Pachamama  e Gaia  são dois caminhos que se encontram "numa feliz coincidênncia do centro e da periferia do poder planetário". Ambos são portadores de esperança de uma Terra, Casa Comum, na qual todos os seres são incluídos. Eles nos libertarão das ameaças apocalípticas do fim de nossa civilização e da vida.
Zaffaroni nos traz uma brilhante e convincente perspectiva, crítica severa por um lado, mas cheia de esperança por outro. Vale lê-lo, estudá-lo e incorporar em nossa compreensão  sua visão de uma ecologia holística e profundamente integradora de todos os elementos da natureza e do universo.
_________________________________________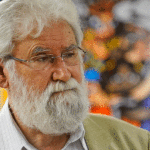 Leonardo Boff é um escritor, teólogo e filósofo brasileiro, professor emérito de ética e filosofia da religião da Universidade do Estado do Rio de Janeiro, recebedor do Prêmio Nobel Alternativo da Paz do Parlamento sueco [Right Livelihood Award]em 2001, membro da Iniciativa Internacional da Carta da Terra, e professor visitante em várias universidades estrangeiras como Basel, Heidelberg, Harvard, Lisboa e Salamanca. Expoente da Teologia da Libertação no Brasil, foi membro da Ordem dos Frades Menores, mais conhecidos como Franciscanos. É respeitado pela sua história de defesa pelas causas sociais e atualmente debate também questões ambientais. Colunista do Jornal do Brasil, escreveu os livros Francisco de Assis: Ternura e Vigor, Vozes 2000;  A Terra na palma da mão: uma nova visão do planeta e da humanidade,Vozes 2016;  Cuidar da Terra – proteger a vida: como escapar do fim do mundo, Record 2010;  A hospitalidade: direito e dever de todos, Vozes 2005; e Paixão de Cristo, paixão do mundo, Vozes 2001.
Go to Original – leonardoboff.wordpress.com
Tags:
Animal rights
,
Colonialism
,
Ecology
,
Gaia
,
Latin America Caribbean
,
Social violence
DISCLAIMER: The statements, views and opinions expressed in pieces republished here are solely those of the authors and do not necessarily represent those of TMS. In accordance with title 17 U.S.C. section 107, this material is distributed without profit to those who have expressed a prior interest in receiving the included information for research and educational purposes. TMS has no affiliation whatsoever with the originator of this article nor is TMS endorsed or sponsored by the originator. "GO TO ORIGINAL" links are provided as a convenience to our readers and allow for verification of authenticity. However, as originating pages are often updated by their originating host sites, the versions posted may not match the versions our readers view when clicking the "GO TO ORIGINAL" links. This site contains copyrighted material the use of which has not always been specifically authorized by the copyright owner. We are making such material available in our efforts to advance understanding of environmental, political, human rights, economic, democracy, scientific, and social justice issues, etc. We believe this constitutes a 'fair use' of any such copyrighted material as provided for in section 107 of the US Copyright Law. In accordance with Title 17 U.S.C. Section 107, the material on this site is distributed without profit to those who have expressed a prior interest in receiving the included information for research and educational purposes. For more information go to: http://www.law.cornell.edu/uscode/17/107.shtml. If you wish to use copyrighted material from this site for purposes of your own that go beyond 'fair use', you must obtain permission from the copyright owner.