(Français) Les fonds vautours planent toujours sur la Belgique
ORIGINAL LANGUAGES, 21 Aug 2017
Renaud Vivien | Invetig'Action – TRANSCEND Media Service
Deux ans après avoir voté sa loi contre les fonds vautours, la Belgique a encore un rôle à jouer, celui de promouvoir cette loi au sein des Nations unies et de l'Union européenne. Pourtant, elle ne le fait toujours pas.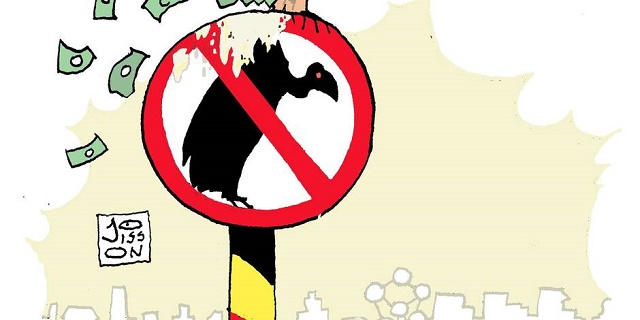 17 Aug 2017 – Le 12 juillet 2015, le Parlement fédéral prenait un acte exemplaire en votant à l'unanimité une loi contre les fonds vautours (1). Deux ans plus tard, la Belgique n'en a pas fini avec ces prédateurs de la finance puisque sa loi, pourtant soutenue par l'Onu ainsi que par quatre-vingts organisations de la société civile et plus d'une soixantaine de personnalités du monde académique, parlementaire, syndical, associatif, est aujourd'hui menacée. NML Capital, un fonds vautour enregistré dans les îles Caïmans et dirigé par un milliardaire dénommé Paul Singer, a en effet introduit un recours devant la Cour constitutionnelle pour la faire annuler, prouvant ainsi l'efficacité de cette réglementation anti-fonds vautours.
Des centaines de millions de victimes
Les fonds vautours sont des sociétés privées qui rachètent à prix cassé la dette des Etats en difficultés pour ensuite réclamer le paiement à la valeur d'origine à 100 %, majoré d'intérêts et de pénalités. Se nourrissant de la détresse financière des pays, ils enregistrent des profits qui représentent en moyenne trois à vingt fois leur investissement, ce qui équivaut à des rendements de 300 % à 2000 % (2).
Depuis plus de vingt ans, les fonds vautours ont déjà fait des centaines de millions de victimes parmi les populations d'Etats aussi différents que la République démocratique du Congo, l'Argentine, la Zambie, le Vietnam, le Liberia ou encore la Grèce. Par exemple, la Zambie a payé 17,4 millions de dollars au fonds Donegal pour une dette que ce dernier a rachetée pour seulement 3 millions. Le montant payé par la Zambie représentait les trois quarts du budget annuel qui était prévu pour le recrutement d'enseignants. NML Capital, ce fonds vautour qui entend aussi faire la loi en Belgique, a quant à lui remporté le jackpot contre l'Argentine en engrangeant un profit de 1 270 % sur le dos de la population, alourdissant du même coup le poids de la dette du pays.
La Belgique, victime collatérale
Si elle n'a pas fait l'objet d'une attaque des fonds vautours sur sa dette, la Belgique a cependant été le théâtre de leurs actions. Les tribunaux bruxellois ont été saisis à plusieurs reprises par les fonds vautours qui cherchaient à faire exécuter sur le sol belge des jugements rendus à l'étranger comme celui rendu à New York condamnant le Pérou à payer au fonds Elliott (dont NML Capital est l'une des filiales) 58 millions de dollars pour une dette rachetée seulement 11 millions de dollars. La Belgique a même été une victime collatérale en 2007 lorsqu'un autre vautour appartenant au même Paul Singer a saisi l'argent belge de la coopération au développement qui était destiné au Congo-Brazzaville, en exécution d'un jugement rendu aux Etats-Unis.
C'est pour mettre fin à ces pratiques immorales qui privent les populations de sommes essentielles pour leur assurer une vie décente que le Parlement a légiféré afin de limiter les montants que peuvent recevoir fonds vautours devant les tribunaux belges, suivant ainsi plusieurs recommandations de l'Onu et d'autres instances telles que les Assemblées parlementaires du Conseil de l'Europe et de l'Union européenne.
Une « disproportion manifeste »
Concrètement, avec cette loi, les fonds vautours ne pourront recevoir que ce qu'ils ont réellement payé pour racheter la dette de l'Etat attaqué même s'ils ont obtenu un jugement à l'étranger qui leur est favorable. Pour limiter le montant, le juge doit constater la réunion d'au moins deux éléments dont l'un est obligatoire. Si ces deux conditions sont réunies, la loi considère que le créancier cherche à obtenir un « avantage illégitime » et il sera donc privé du paiement de la partie abusive de sa créance.
Le critère obligatoire est l'existence d'une « disproportion manifeste » entre le prix payé par le fonds vautour pour racheter la dette et la somme qu'il réclame comme dans le cas de l'Argentine où NML Capital a obtenu 2,426 milliards de dollars pour une dette rachetée seulement à 177 millions. C'est précisément cette disproportion comparable à la notion de la « lésion » déjà applicable en droit belge qui explique les bénéfices plantureux qu'il retire. A côté de ce critère obligatoire, le juge doit en plus identifier l'existence d'une autre condition listée avec précision dans la loi et qui est caractéristique de l'action des fonds vautours comme : le fait qu'il a refusé de participer à la restructuration de la dette ; qu'il a racheté les créances sur l'Etat au moment où celui-ci était en défaut de paiement avéré ou imminent ; qu'il est domicilié dans un paradis fiscal ou encore que le paiement des montants réclamés portera atteinte aux conditions de vie de la population.
Schizophrénie
Cette loi limitée au territoire de la Belgique est évidemment insuffisante pour bloquer totalement les fonds vautours. Leurs attaques vont même se multiplier vu que tous les signaux d'alerte d'une nouvelle crise de la dette au Sud sont allumés… à moins que d'autres lois équivalentes soient rapidement prises dans un maximum de pays. C'est ce que demandent les signataires de l'Appel international pour défendre et internationaliser la loi belge contre les fonds vautours.
Parmi les signatures en Belgique, on trouve des organisations aussi diverses que le CADTM, la FGTB, la CNE, Oxfam-Magasins du monde, la Ligue des droits de l'Homme… Au niveau international ont notamment signé Antoine Deltour (lanceur d'alerte), Susan George, Adolfo Perez Esquivel (prix Nobel de la paix) ou encore des universitaires comme Thomas Piketty et James K. Galbraith.
La Belgique a donc encore un rôle à jouer, celui de promouvoir sa loi au sein des Nations unies et de l'Union européenne. Ce qu'elle ne fait toujours pas. Pire, les représentants de l'Etat belge s'abstiennent ou votent même contre les résolutions de l'Onu s'attaquant aux fonds vautours. Arrêtons cette schizophrénie !
Go to Original – investigaction.net
Tags:
Debt
,
Europe
,
Finance
,
Law
,
UN
,
Vulture funds
DISCLAIMER: The statements, views and opinions expressed in pieces republished here are solely those of the authors and do not necessarily represent those of TMS. In accordance with title 17 U.S.C. section 107, this material is distributed without profit to those who have expressed a prior interest in receiving the included information for research and educational purposes. TMS has no affiliation whatsoever with the originator of this article nor is TMS endorsed or sponsored by the originator. "GO TO ORIGINAL" links are provided as a convenience to our readers and allow for verification of authenticity. However, as originating pages are often updated by their originating host sites, the versions posted may not match the versions our readers view when clicking the "GO TO ORIGINAL" links. This site contains copyrighted material the use of which has not always been specifically authorized by the copyright owner. We are making such material available in our efforts to advance understanding of environmental, political, human rights, economic, democracy, scientific, and social justice issues, etc. We believe this constitutes a 'fair use' of any such copyrighted material as provided for in section 107 of the US Copyright Law. In accordance with Title 17 U.S.C. Section 107, the material on this site is distributed without profit to those who have expressed a prior interest in receiving the included information for research and educational purposes. For more information go to: http://www.law.cornell.edu/uscode/17/107.shtml. If you wish to use copyrighted material from this site for purposes of your own that go beyond 'fair use', you must obtain permission from the copyright owner.