Floods, Hurricanes, Droughts… When Climate Sets the Agenda
ENVIRONMENT, 18 Sep 2017
Baher Kamal – Inter Press Service-IPS
11 Sep 2017 – When officials and experts from all over the world started the first-ever environmental summit hosted by China, they were already aware that climate and weather-related disasters were already seriously beginning to set the international agenda – unprecedented floods in South Asia, strongest ever hurricanes Harvey and Irma, and catastrophic droughts striking the Horn of Africa, among the most impacting recent events.
In fact, Ordos, China has been the venue of the 13th summit of the United Nations Convention to Combat Desertification (UNCCD), which has been focusing over the period 6-16 September on ways to further mitigate and prevent the steadily advancing desertification and land degradation worldwide.
"Hunger crises will escalate unless we invest more in addressing root causes"
Officials and experts from 196 countries attending the UNCCD 13th session –known as COP 13- are now expected to agree on a 12-year Strategy to contain runaway land degradation that is threatening global food and water security.
Countries are also expected to announce their targets for land restoration, to agree on measures to address the related emerging threats of forced migration, sand and dust storms, and to agree on actions to strengthen the resilience of communities to droughts.
Desertification Everywhere
No wonder—globally, as many as 169 countries are affected by desertification, with China accounting for the largest population and area impacted, UNCCD warns.
Desertification is not just photogenic images of oceans of sand and dunes – it is a silent, invisible crisis that is destabilising communities on a global scale, according to UNCCD.
"As the effects of climate change undermine livelihoods, inter-ethnic clashes are breaking out within and across states and fragile states are turning to militarisation to control the situation."
"If we are to restore peace, security and international stability in a context where changing weather events are threatening the livelihoods of more and more people, survival options are declining and state capacities are overburdened, then more should be done to combat desertification, reverse land degradation and mitigate the effects of drought. Otherwise, many small-scale farmers and poor, land-dependent communities face two choices: fight or flight."
Famine in Africa, Again
Meanwhile, the most impacted continent by climate change and weather induced disasters – Africa, which contributes only 4 per cent of global greenhouse gas emissions – is now experiencing a scenario in its Eastern region of consecutive climate shocks causing back-to-back droughts that have left at least 8.5 million people in Ethiopia in dire need of food aid.
At the same time, severe drought has deepened in Somalia with the risk of famine looming on about half the population.
The death of livestock in the impacted areas has caused a breakdown in pastoral livelihoods, contributing to soaring hunger levels and alarming increases in malnutrition rates.
This is just a quick summary of the dramatic situation facing these two East African countries, which are home to a combined population of 113 million people (101,5 million in Ethiopia and 11,5 million in Somalia), and which are in need of additional urgent resources to prevent any further deterioration.
The situation has rapidly deteriorated, and the heads of the three Rome-based United Nations food agencies, at the conclusion of a four-day visit to the affected areas, called for greater investment in long-term activities that strengthen people's resilience to drought and the impacts of climate shocks.
"This drought has been going on for a long time and we have lost much of our livestock… If we didn't get food assistance, we would be in big trouble – but this is still not enough to feed us all," Hajiji Abdi, a community elder, last week said to José Graziano da Silva, director general of the UN Food and Agriculture Organization (FAO), Gilbert F. Houngbo, president of the International Fund for Agricultural Development (IFAD), and David Beasley, executive director of the World Food Programme (WFP).
Drought Does Not Need to Become an Emergency
The three UN food agencies chiefs made their plea after they visited projects that treat dwindling herds to limit further livestock deaths and met drought-affected people receiving food rations.
"It is essential to invest in preparedness and provide farmers and rural communities with knowledge and tools to safeguard themselves and their livelihoods. We've witnessed here that saving livelihoods means saving lives – it is people's best defense against drought," said Graziano da Silva.
"A drought does not need to become an emergency," said Houngbo, president of IFAD. "We know what works." In the Somali region, where there is investment in irrigation systems, water points, rural financial institutions, health and veterinary services and other long-term development projects, the communities can better sustain themselves and their livestock through this devastating drought. "This is what we need to build on," he added.
"We have seen clearly here that working together the three UN food agencies can achieve much more than alone," said Beasley, head of WFP.
'Hunger Knife-Edge'
In Ethiopia, it is estimated that 9,5 million are hungry. There, drought has dented crop and pasture output in southern regions. In the specific case of Somalia, the United Nations reports that 3,3 million people—that's one third of its estimated 11 million inhabitants—are now on a 'hunger knife-edge.'
In Somalia more than six million people are affected, of whom only about three million have been reached with food rations. See: Drought Pushes 1 in 3 Somalis to a Hunger Knife-Edge
Africa is prey to a steady process of advancing droughts and desertification, posing one of the most pressing challenges facing the 54 African countries, home to more than 1.2 billion people.
Right now, it is estimated that as much as two-thirds of Africa is already desert or dry lands.
While this land is vital for agriculture and food production, nearly three-fourths of it is estimated to be degraded.
The Killing Drought
According to the United Nations, droughts kill more people than any other single weather-related catastrophe, and conflicts among communities over water scarcity are gathering pace. Over 1 billion people today have no access to water, and demand will increase by 30 per cent by 2030.
The consequences are there: widespread poverty, hard socio-economic conditions, and many people dependent on natural resources for their livelihoods.
In such a dire situation, the choice is either to fight or flee. In fact, UNCCD estimates that some 135 million people may be displaced by 2045 as a result of desertification. See: Climate Migrants Might Reach One Billion by 2050
Drought is among the most devastating of natural hazards – crippling food production, depleting pastures, disrupting markets, and, at its most extreme, causing widespread human and animal deaths, according to FAO.
In recent years, droughts have resulted in some of the most high-profile humanitarian disasters – including the recent crises in the Horn of Africa (2011) and the Sahel (2012) regions, which threatened the lives and livelihoods of millions of people.
A Chinese Case
Meanwhile in China, participants in the Ordos summit are expected to announce their targets for land restoration, to agree on measures to address the related emerging threats of forced migration, sand and dust storms, and to agree on actions to strengthen the resilience of communities to droughts.
For now, the Asian giant, China, has set a target: to reduce by 50 per cent all of its desertified areas by 2020, said Zhang Jianlong, Chinese Minister of State Forestry Administration. "A fire burns harder when we all add some tinder."
China has developed industrial models to combat desertification, and reported "the area affected by desertification has declined for three inventory periods in a row, since 2004."
The world's most populated country has managed to avert the desert in some areas. In fact, only 20 years ago, the summit's venue, Ordos, the city and burial place of Ghengis Khan was an empty desert. Today it is a green, modern city.
_______________________________________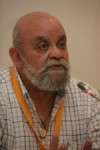 Baher Kamal, Egyptian-born, Spanish national secular journalist. He is founder and publisher of Human Wrongs Watch. Kamal is a pro-peace, non-violence, human rights, harmonious coexistence defender among human beings and with Nature, with more than 43 years of professional experience. With these issues in sight, he covered practically all professional posts, from correspondent to chief editor of dailies and international news agencies.
DISCLAIMER: The statements, views and opinions expressed in pieces republished here are solely those of the authors and do not necessarily represent those of TMS. In accordance with title 17 U.S.C. section 107, this material is distributed without profit to those who have expressed a prior interest in receiving the included information for research and educational purposes. TMS has no affiliation whatsoever with the originator of this article nor is TMS endorsed or sponsored by the originator. "GO TO ORIGINAL" links are provided as a convenience to our readers and allow for verification of authenticity. However, as originating pages are often updated by their originating host sites, the versions posted may not match the versions our readers view when clicking the "GO TO ORIGINAL" links. This site contains copyrighted material the use of which has not always been specifically authorized by the copyright owner. We are making such material available in our efforts to advance understanding of environmental, political, human rights, economic, democracy, scientific, and social justice issues, etc. We believe this constitutes a 'fair use' of any such copyrighted material as provided for in section 107 of the US Copyright Law. In accordance with Title 17 U.S.C. Section 107, the material on this site is distributed without profit to those who have expressed a prior interest in receiving the included information for research and educational purposes. For more information go to: http://www.law.cornell.edu/uscode/17/107.shtml. If you wish to use copyrighted material from this site for purposes of your own that go beyond 'fair use', you must obtain permission from the copyright owner.