The BRICS Strike Back
BRICS, 11 Sep 2017
6 Sep 2017 – The wide-ranging Xiamen Declaration, issued in conjunction with the just wrapped-up annual BRICS summit, shows that Brazil, Russia, India, China and South Africa, although facing internal challenges of their own, may be about to step up their collective game, big time.
And they won't be intimidated/derailed by the crumbling unipolar order.
Xiamen made it clear the BRICS are all-out engaged to "redress North-South development imbalances," with Chinese President Xi Jinping emphasizing the necessity of a more just international order, echoing President Putin's calls for a "fair multipolar world," and "against protectionism and new barriers to global trade."
Xi, the host at Xiamen, where he was once mayor, went out of his way to stress, "we five countries [should] play a more active part in global governance."
One of the key planks of what is a concerted geopolitical/geoeconomic drive will start to be implemented via an upcoming BRICS-wide customs union. It's all about connectivity – in trade, commerce, and finance. And that also dictates investment and business openings rolling in sync, as well as a sharper role for development funds and the BRICS's own New Development Bank (NDB).
Enter, thus, multiple South-South "dialogues," like those proposed in Xiamen with Mexico, Egypt, Thailand, Guinea, and Tajikistan.
The dialogues, which will inevitably evolve into business and investment deals, are at the core of 'BRICS Plus'; the overarching concept, proposed last March by Chinese Foreign Minister Wang Yi, for expanding South-South partnership/cooperation.
What this will mean, in the immediate future, is an even further, complex interpolation of BRICS Plus with the already converging New Silk Roads, a.k.a. Belt and Road Initiative (BRI); the Eurasia Economic Union (EAEU); and the Shanghai Cooperation Organization (SCO).
All these economic/political vectors are advancing in sync. The SCO may be essentially focused on security, countering jihadism or even solving border disputes, but it has also been developing the economic cooperation front. India and Pakistan have become SCO full members this year. Iran, Afghanistan and Turkey are observers, and will soon become full members. Egypt and post-war Syria want in. The SCO's geopolitical reach is fast becoming pan-Eurasian.
And that's reflected, for instance, in the Xiamen Declaration proposing an "Afghan-led and Afghan-owned" peace and national reconciliation process, "including the Moscow Format of consultations" and the "Heart of Asia-Istanbul process."
This means, essentially, the BRICS supporting not a surge of Pentagon troops but an all-Asian (and not Western) Afghan peace process brokered by the SCO, of which Afghanistan is an observer and future full member.
And this course of action once again graphically shows how the core of the BRICS is and will continue to be, what I call "RC": the Russia-China strategic partnership.
Triple Win!
It was RC, not by accident, that suggested the only possible solution for the Korean Peninsula stand off, that is "double freezing," put forward by the Russian and Chinese Foreign Ministry in early July. Pyongyang ceases all missile launches and nuclear tests, Washington/Seoul cease their monster military exercises. Needless to say, the 'War Party' in Washington, as well as Trump's generals, vetoed the idea.
Flagship project under the #BeltandRoad Initiative! China-built 688-km mega railway begins construction in Malaysia pic.twitter.com/eFlnKUID8L

— China Xinhua News (@XHNews) August 10, 2017
But just as the BRICS wrapped it all up in Xiamen, the action started at the Eastern Economic Forum in Vladivostok; once again, all about economic convergence, focusing on Russia, China, Japan, Vietnam and crucially, both Koreas.
Enter RC, once again, as peace negotiators, able to practice diplomacy with both Pyongyang and Seoul at an international forum. RC – with Russia in the forefront – solved the Syrian tragedy. While RC has a plan for both Afghanistan and North Korea, the unipolars only have sanctions and bombs.
I have sketched elsewhere other aspects of BRICS, such as the current internal politico-economic tragedy in Brazil, as well as outsiders India-Japan pushing to counteract the BRICS/BRI/SCO convergence via an Asia-Africa Growth Corridor (AAGC).
But the holy of the holies – and it's never enough to stress it – is what I call the Triple Win triad of the future: oil-yuan-gold. This is one of the prime outcomes of a strategy the BRICS have been discussing, behind closed doors, at their summits since the previous decade – when Lula was still Brazil's president: how to bypass the US dollar.
President Putin has hinted at "the excessive domination of the limited number of reserve currencies" – code for US dollar unipolarity. Beijing now is stepping up the game via a crude oil futures contract priced in yuan and convertible into gold on both the Shanghai and Hong Kong exchanges.
Putin: Old economic models based on 'protectionism and unlawful restrictions' cannot sustain global growth https://t.co/C5v1ZZgEPL pic.twitter.com/2ojW86gMiu

— RT (@RT_com) May 14, 2017
That might as well represent the burial ritual for the US sanctions dementia. It's a categorical imperative for Eurasia integration to be able to bypass any manifestations of this disease by trading energy in yuan or in their own, local, currencies.
In parallel, something RC, via the Central Bank of Russia and the People's Bank of China, have been developing all these years – ruble-yuan swaps – will spread out to other BRICS/BRI/SCO members. The concept of trading in their own currencies will reach, of course, all number of aspiring BRICS Plus members.
The late Zbig 'Grand Chessboard' Brzezinski Doctrine – preventing, by all means, the emergence of a peer competitor – has long ago been pronounced dead. What we see instead is the emergence not only of a peer competitor, but an alliance of peer competitors (RC), with a geo-economic pull all across the Global South.
More than enough for any unipolar brain to go nuclear.
______________________________________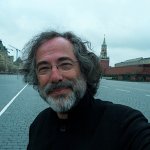 Pepe Escobar is a Brazilian independent geopolitical analyst. He is a frequent contributor to websites and radio and TV shows ranging from the US to East Asia. He is the former roving correspondent for Asia Times Online. He has been a foreign correspondent since 1985, and has lived in London, Paris, Milan, Los Angeles, Washington, Bangkok and Hong Kong. Even before 9/11 he specialized in covering the arc from the Middle East to Central and East Asia, with an emphasis on Big Power geopolitics and energy wars. He is the author of "Globalistan" (2007), "Red Zone Blues" (2007), "Obama does Globalistan" (2009) and "Empire of Chaos" (2014), all published by Nimble Books. His latest book is "2030", also by Nimble Books, out in December 2015.
DISCLAIMER: The statements, views and opinions expressed in pieces republished here are solely those of the authors and do not necessarily represent those of TMS. In accordance with title 17 U.S.C. section 107, this material is distributed without profit to those who have expressed a prior interest in receiving the included information for research and educational purposes. TMS has no affiliation whatsoever with the originator of this article nor is TMS endorsed or sponsored by the originator. "GO TO ORIGINAL" links are provided as a convenience to our readers and allow for verification of authenticity. However, as originating pages are often updated by their originating host sites, the versions posted may not match the versions our readers view when clicking the "GO TO ORIGINAL" links. This site contains copyrighted material the use of which has not always been specifically authorized by the copyright owner. We are making such material available in our efforts to advance understanding of environmental, political, human rights, economic, democracy, scientific, and social justice issues, etc. We believe this constitutes a 'fair use' of any such copyrighted material as provided for in section 107 of the US Copyright Law. In accordance with Title 17 U.S.C. Section 107, the material on this site is distributed without profit to those who have expressed a prior interest in receiving the included information for research and educational purposes. For more information go to: http://www.law.cornell.edu/uscode/17/107.shtml. If you wish to use copyrighted material from this site for purposes of your own that go beyond 'fair use', you must obtain permission from the copyright owner.
One Response to "The BRICS Strike Back"