(Português) A ideologia é como a sombra: sempre nos acompanha
ORIGINAL LANGUAGES, 30 Oct 2017
Leonardo Boff – TRANSCEND Media Service
24 out 2017 – O tema da ideologia está em pauta: ideologia de gênero, política, econômica, religiosa etc.Tentemos tirar a limpo esta questão.
Todos têm uma determinada ideologia. Quer dizer, cada um se faz uma ideia (daí ideologia) da vida e do mundo. Tanto o pipoqueiro da esquina, quanto a atendende do telefone ou o professor universitário. Esta é inevitável, porque somos seres pensantes com ideias. Querer uma escola sem ideologia é não entender nada de ideologia.
Cada grupo social ou classe projeta uma ideologia, uma visão geral das coisas. A razão é que a cabeça pensa a partir de onde os pés pisam. Se alguém tens os pés na favela, tem uma certa ideia de mundo e de sociedade. Se alguém tem os pés num apartamenteo de luxo junto à praia, tem outra ideia do mundo e da sociedade. Conclusão: não só o indivíduo, mas também cada grupo social ou classe, inevitavelmente elaboram sua visão da vida e do mundo a partir de seu lugar social.
Cada ideologia pessoal ou social, bem como todo saber, tem por detrás interesses, nem sempre explicitados. O interesse do operário é aumentar o seu salário. O do padrão, o de aumentar o seu lucro. O interesse de um morador da favela é sair daquela situação e ter sua casa decente. O interesse do morador de um apartamento de classe media é poder manter esse status social, sem ser ameaçado pela ascensão de gente do andar de baixo. Os interesses não convergem porque se aumenta o salário, diminui o lucro e vive-versa. Aqui se instaura um conflito.
O interesse escondido atrás do discurso ideológico deve ser qualificado: ele pode ser legítimo e importa explicitá-lo. Por exemplo: tenho interesse que esse grupo de famílias crie uma pequena cooperativa de produtos orgânicos, de hortaliças, tomates, milho etc. Esse interesse é legítimo e pode ser dito publicamente. O interesse pode ser ilegítimo e é mantido oculto para não prejudicar quem o propõe. Exemplo: há grupos que combatem o nu artístico para, na verdade, encobrirem a homofobia, a supremacia da raça branca e a perseguição aos grupos LGBT. Ou um politico de um partido neoliberal cujo projeto é diminuir salarios, reduzir as aposentadorias e privatizar bens públicos apresenta-se como alguém que vai lutar pelos direitos dos trabalhadores, dos aposentados e defender a riqueza do Brasil. Ele ideologicamente oculta os reais interesses partidários para não perder votos. Essa ocultação é a ideologia como falsidade e ele, um hipócrita.
A ideologia é o discurso do poder especialmente do poder dominante. O poder é dominante porque ele domina várias áreas sociais. As elites brasileira têm tanto poder a ponto de comprarem as demais elites. Pelo fato de serem dominantes, impõem sua ideia sobre a crise brasileira, culpando o Estado como ineficiente e perdulário, os líderes como corruptos e a política como o mundo do sujo. Por outro lado, exaltam as virtudes do mercado, as vantagens das privatizações e a necessidade de reduzir as reservas florestais da Amazônia para permitir o avanço do agro-negócio. Aqui se oculta conscientemente a corrupção do mercado onde atuam as grandes empresas que subtraem milhões dos impostos devidos, mantém caixa dois, promovem juros altos que favorecem o sistema especulativo financeiro que drena dinheiro público, tirado do povo, para os bolsos de minorias, que, no caso brasileiro, são seis bilionários, possuindo igual riqueza que 100 milhões de brasileiros pobres. Essas elites ocultam as agressões ecológicas, a desnacionalização da indústria e fazem propaganda do  Agro  porque é pop. Praticam deslavada ideologia como enganação. Há redes de televisão que são máquinas produtoras de ideologia de ocultação, negando ao povo, dados sobre a gravidade da situação atual, gerando espectadores alienados, pois creem em tais versões irreais. Para encobrir sua dominação, apoiam projetos que beneficiam crianças ou secundam grandes eventos artísticos para parecerem benfeitores públicos. Por detrás ocultam falctruas e apoiam abertamente determinados candidatos, satanizando a imagem do principal opositor.
Há também a ideologia dos sem-poder, dos sem terra e sem teto e outros que para se sustentaram, elaboram discursos de resistência e de esperança. Mas essa ideologia é benéfica pois os ajuda a viver e a lutar.
A ideologia é como uma sombra: sempre nos acompanha. Para superar as ilegítimas, faz-mister desmascará-la e trazer à luz os interesses escusos. E quando falamos a partir de um determinado lugar social, convém expliciatar no discuro nossa ideologia. Conscientizada, a ideologia se legitima e democraticamente pode ser discutida ou aceita.
_____________________________________________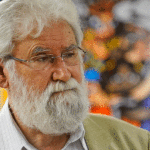 Leonardo Boff é um escritor, teólogo e filósofo brasileiro, professor emérito de ética e filosofia da religião da Universidade do Estado do Rio de Janeiro, recebedor do Prêmio Nobel Alternativo da Paz do Parlamento sueco [Right Livelihood Award]em 2001, membro da Iniciativa Internacional da Carta da Terra, e professor visitante em várias universidades estrangeiras como Basel, Heidelberg, Harvard, Lisboa e Salamanca. Expoente da Teologia da Libertação no Brasil, foi membro da Ordem dos Frades Menores, mais conhecidos como Franciscanos. É respeitado pela sua história de defesa pelas causas sociais e atualmente debate também questões ambientais. Colunista do Jornal do Brasil, escreveu os livros Francisco de Assis: Ternura e Vigor, Vozes 2000;  A Terra na palma da mão: uma nova visão do planeta e da humanidade,Vozes 2016;  Cuidar da Terra – proteger a vida: como escapar do fim do mundo, Record 2010;  A hospitalidade: direito e dever de todos, Vozes 2005; e Paixão de Cristo, paixão do mundo, Vozes 2001.
Go to Original – leonardoboff.wordpress.com
DISCLAIMER: The statements, views and opinions expressed in pieces republished here are solely those of the authors and do not necessarily represent those of TMS. In accordance with title 17 U.S.C. section 107, this material is distributed without profit to those who have expressed a prior interest in receiving the included information for research and educational purposes. TMS has no affiliation whatsoever with the originator of this article nor is TMS endorsed or sponsored by the originator. "GO TO ORIGINAL" links are provided as a convenience to our readers and allow for verification of authenticity. However, as originating pages are often updated by their originating host sites, the versions posted may not match the versions our readers view when clicking the "GO TO ORIGINAL" links. This site contains copyrighted material the use of which has not always been specifically authorized by the copyright owner. We are making such material available in our efforts to advance understanding of environmental, political, human rights, economic, democracy, scientific, and social justice issues, etc. We believe this constitutes a 'fair use' of any such copyrighted material as provided for in section 107 of the US Copyright Law. In accordance with Title 17 U.S.C. Section 107, the material on this site is distributed without profit to those who have expressed a prior interest in receiving the included information for research and educational purposes. For more information go to: http://www.law.cornell.edu/uscode/17/107.shtml. If you wish to use copyrighted material from this site for purposes of your own that go beyond 'fair use', you must obtain permission from the copyright owner.