Nations without Nationality – An 'Unseen' Stark Reality
HUMAN RIGHTS, 13 Nov 2017
Baher Kamal – Inter Press Service-IPS
10 Nov 2017 – Here's another 'unseen' stark reality—that of millions of people around the world who are deprived of their identity, living without nationality. Their total number is by definition unknown and their only 'sin" is that they belong to an ethnic, religious or linguistic minority in the country where they have often lived for generations.
These millions of human beings are victims of continued discrimination, exclusion and persecution, states a UN refugee agency's new report, calling for "immediate action" to secure equal nationality rights for all.
"Stateless people are just seeking the same basic rights that all citizens enjoy. But stateless minorities, like the Rohingya, often suffer from entrenched discrimination and a systematic denial of their rights," said UN High Commissioner for Refugees Filippo Grandi on the launch of the report, This Is Our Home: Stateless minorities and their search for citizenship on the beginning of November.
This report explains the circumstances that have led to them not being recognised as citizens, drawing on discussions with four stateless or formerly stateless minority groups. The findings in this report underscore the critical need for minorities to enjoy the right to nationality.
"Imagine being told you don't belong because of the language you speak, the faith you follow, the customs you practice or the colour of your skin. This is the stark reality for many of the world's stateless. Discrimination, which can be the root cause of their lack of nationality, pervades their everyday lives – often with crippling effects," says Grandi.
The report notes that more than 75 per cent of the world's known stateless populations belong to minority groups. "Left unaddressed, their protracted marginalisation can build resentment, increase fear and, in the most extreme cases, lead to instability, insecurity and displacement."
Even Before the Ongoing Rohingya Crisis
Based on research prior to late August when hundreds of thousands of Rohingya – the world's "biggest stateless minority" – began fleeing Myanmar to Bangladesh, the report reminds that their situation is nonetheless illustrative of the problems that years of discrimination, protracted exclusion and their impact on citizenship status can lead to.
"In recent years, important steps have been taken to address statelessness worldwide. However new challenges, like growing forced displacement and arbitrary deprivation of nationality, threaten this progress. States must act now and they must act decisively to end statelessness," Grandi stressed.
The report shows that, for many minority groups, the cause of statelessness is difference itself: their histories, their looks, their language, and their faith.
"At the same time, statelessness often exacerbates the exclusion that minority groups face, profoundly affecting all aspects of their life – from freedom of movement to development opportunities, and from access to services to the right to vote."
What Statelessness Is All About
According to the UN, statelessness can exacerbate the exclusion that minorities already face, further limiting their access to education, health care, legal employment, freedom of movement, development opportunities and the right to vote.
"It creates a chasm between affected groups and the wider community, deepening their sense of being outsiders: of never belonging."
In May and June 2017, UNHCR spoke with more than 120 individuals who belong to stateless or formerly stateless minority groups in three countries: the Karana of Madagascar, Roma and other ethnic minorities in the former Yugoslav Republic of Macedonia, and the Pemba and Makonde of Kenya. These are the key findings of UNHCR's consultations:
Discrimination, Lack of Documentation
Discrimination and exclusion of ethnic, religious or linguistic minority groups often lies at the heart of their statelessness, adds UNHCR. At the same time, their statelessness can lead to further discrimination, both in in practice and in law: at least 20 countries maintain nationality laws in which nationality can be denied or deprived in a discriminatory manner.
"Discrimination against the stateless minorities consulted manifests itself most clearly in their attempts to access documentation needed to prove their nationality or their entitlement to nationality, such as a national ID card or a birth certificate."
Lack of such documentary proof can result in a vicious circle, where authorities refuse to recognize an otherwise valid claim to nationality.
"The authorities told me that I had to go to Kosovo to get a certificate that I was not a citizen of Kosovo. But how could I travel there without documents?" asks Sutki Sokolovski, a 28-year-old ethnic Albanian man. His mother, who abandoned him as a child was from Kosovo (S/RES/1244(1999)), but he was born in the former Yugoslav Republic of Macedonia and has lived there his entire life.
httpv://www.youtube.com/watch?v=RWC_BhzVNcM
"I felt like I was a slave. Now I feel like I have been born again," says 51-year-old Amina Kassim, a formerly stateless member of the Makonde community in Kenya. Credit: UNHCR/Roger Arnold.
Poverty
The UN body explains that because of their statelessness and lack of documentation, the groups consulted are typically excluded from accessing legal or sustainable employment, or obtaining the kinds of loans or licenses that would allow them to make a decent living. This marginalisation can make it difficult for stateless minorities to escape an on-going cycle of poverty.
Examples among other testimonies included: "The biggest problem is the poverty caused by my statelessness. A stateless person cannot own property. I feel belittled and disgraced by the situation that I am in," notes Shaame Hamisi, 55 from the stateless Pemba community in Kenya.
Fear
All the groups consulted spoke of their fear for their physical safety and security on account of being stateless. Being criminalized for a situation that they are unable to remedy has left psychological scars and a sense of vulnerability among many.
"They [police] know what we do, where we go. They ask for our IDs, when we say we don't have any, we are arrested and beaten," says Ajnur Demir, 26, from the Roma community from the former Yugoslav Republic of Macedonia.
Stateless Children
On this, a 3 November 2015 UN report – I am Here, I Belong: The Urgent Need to End Childhood Statelessness— had already warned in a report that stateless children across the world share the same feelings of discrimination, frustration and despair.
According to that report, urgent action is needed before statelessness "sets in stone" problems haunting their childhood.
"In the short time that children get to be children, statelessness can set in stone grave problems that will haunt them throughout their childhoods and sentence them to a life of discrimination, frustration and despair," said the by then the UN High Commissioner for Refugees (UNHCR) António Guterres and now UN Secretary General, adding that no child should be stateless.
"Stateless young people are often denied the opportunity to receive school qualifications, go to university and find a decent job. They face discrimination and harassment by authorities and are more vulnerable to exploitation. Their lack of nationality often sentences them and their families and communities to remain impoverished and marginalised for generations."
What future for them… and for humankind?
Any Solution?

Ensuring equal access to nationality rights for minority groups is one of the key goals of UNHCR's #IBelong Campaign to End Statelessness by 2024.

To achieve this, UNHCR urges all States to take the following steps, in line with Actions 1, 2, 4, 7 and 8 of UNHCR's Global Action Plan to End Statelessness:

• Facilitate the naturalisation or confirmation of nationality for stateless minority groups resident on the territory provided that they were born or have resided there before a particular date, or have parents or grandparents who meet these criteria.
• Allow children to gain the nationality of the country in which they were born if they would otherwise be stateless.
• Eliminate laws and practices that deny or deprive persons of nationality on the basis of discriminatory grounds such as race, ethnicity, religion, or linguistic minority status.
• Ensure universal birth registration to prevent statelessness.
• Eliminate procedural and practical obstacles to the issuance of nationality documentation to those entitled to it under law.

SOURCE: UNHCR
_______________________________________________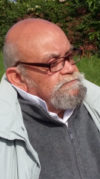 Baher Kamal, Egyptian-born, Spanish national secular journalist. He is founder and publisher of Human Wrongs Watch. Kamal is a pro-peace, non-violence, human rights, harmonious coexistence defender among human beings and with Nature, with more than 43 years of professional experience. With these issues in sight, he covered practically all professional posts, from correspondent to chief editor of dailies and international news agencies.
DISCLAIMER: The statements, views and opinions expressed in pieces republished here are solely those of the authors and do not necessarily represent those of TMS. In accordance with title 17 U.S.C. section 107, this material is distributed without profit to those who have expressed a prior interest in receiving the included information for research and educational purposes. TMS has no affiliation whatsoever with the originator of this article nor is TMS endorsed or sponsored by the originator. "GO TO ORIGINAL" links are provided as a convenience to our readers and allow for verification of authenticity. However, as originating pages are often updated by their originating host sites, the versions posted may not match the versions our readers view when clicking the "GO TO ORIGINAL" links. This site contains copyrighted material the use of which has not always been specifically authorized by the copyright owner. We are making such material available in our efforts to advance understanding of environmental, political, human rights, economic, democracy, scientific, and social justice issues, etc. We believe this constitutes a 'fair use' of any such copyrighted material as provided for in section 107 of the US Copyright Law. In accordance with Title 17 U.S.C. Section 107, the material on this site is distributed without profit to those who have expressed a prior interest in receiving the included information for research and educational purposes. For more information go to: http://www.law.cornell.edu/uscode/17/107.shtml. If you wish to use copyrighted material from this site for purposes of your own that go beyond 'fair use', you must obtain permission from the copyright owner.