Helen Caldicott on Our Denial of the Threat of Nuclear Armageddon
WEAPONS OF MASS DESTRUCTION, 4 Dec 2017
Mark Karlin interviews Helen Caldicott | Democratic World Federalists – TRANSCEND Media Service
29 Nov 2017 – For a while, it may have seemed that the threat of nuclear war had diminished. But Donald Trump's vow to increase and "upgrade" the United States nuclear arsenal, tensions between the US and North Korea, and the unsecured stockpiles of aging weapons around the globe make it clear we still need to be concerned about this apocalyptic danger. Since the corporate media give short shrift to the peril of nuclear weapons, most world residents are unaware of how close we are to nuclear annihilation. So argues advocate and physician Dr. Helen Caldicott, editor of Sleepwalking to Armageddon: The Threat of Nuclear Annihilation, in this interview.
Mark Karlin: Despite Donald Trump's insinuation that he might launch a first-strike nuclear attack on North Korea, the anti-nuclear weapons movement is still relatively quiescent. Do you have thoughts as to why most people on the Earth are "sleepwalking to Armageddon"?
Helen Caldicott: Yes. It's because the US media has totally failed in its duty to educate and inform the American people about the current state of world affairs, including the current US plans for a winnable nuclear war and the huge nuclear arsenals still being maintained by Russia and America. As Thomas Jefferson said so long ago, "An informed democracy will behave in a responsible fashion." Of the 16,400 nuclear bombs in the world, Russia and the US own 94 percent — only they can destroy most life on Earth, so in reality, these two nations are today's real terrorists.
Do you think the fact that the 2017 Nobel Peace Prize was awarded to the International Campaign to Abolish Nuclear Weapons will bring the issue more to the forefront?
No I don't. However, their strategy is wise and relatively subliminal. Already, 122 nations have committed to the pledge of nuclear abolition. This massive support will no doubt place pressure upon the NATO countries that harbor US tactical nuclear weapons — the Netherlands, Turkey, Germany, Italy and Belgium — to forgo these commitments. This, then, will place further pressure upon other nuclear armed nations to abolish their nuclear stocks, including India, Pakistan, France, Britain, China, North Korea and Israel. Only then will international condemnation be so great that Russia and the US will be forced to contemplate abandoning their nuclear arsenals once and for all. Whether we have time before all hell breaks loose, nobody knows.
You state that the United States will spend $1 trillion over the next 30 years modernizing its nuclear arsenal. What exactly does that mean?
It means exactly that. In order for the New Strategic Arms Reduction Treaty (New START) to pass the Senate, Obama promised then-Senator Jon Kyl that he would authorize the spending of $1 trillion over the next 30 years to replace every single nuclear weapon, missile, aircraft carrier, submarine, ship and plane.
How are corporations stirring the pot of militarizing international relations? Clearly, the military corporations have huge influence upon the House and Senate by funding the campaigns of the representatives, so in effect, most Congress people and senators … in a fundamental sense do not represent the health, well-being and lives of their constituents.
You comment that "an order to launch [nuclear weapons] in US missile silos is the length of a tweet." How long does it take to launch a nuclear weapon?
Three minutes once the presidential order has been received. This is why the men in the missile silos are called Minutemen. [As described by former Minuteman ICBM launch control officer Bruce Blair here.]
What are some of the promising forms of resistance to nuclear weapons that are taking shape?
There are young people in many countries involved in the UN ban treaty; however, I see very little awareness in the general public about the fact that we are closer to nuclear war than we have ever been, and this according to former Secretary of Defense William Perry, retired Gen. James Cartwright and others highly knowledgeable and experienced in this area. Most people are in fact practicing psychic numbing and denial.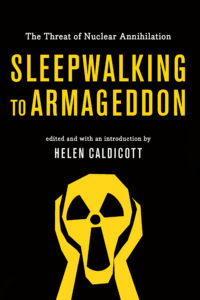 Go to Original – dwfed.org
DISCLAIMER: The statements, views and opinions expressed in pieces republished here are solely those of the authors and do not necessarily represent those of TMS. In accordance with title 17 U.S.C. section 107, this material is distributed without profit to those who have expressed a prior interest in receiving the included information for research and educational purposes. TMS has no affiliation whatsoever with the originator of this article nor is TMS endorsed or sponsored by the originator. "GO TO ORIGINAL" links are provided as a convenience to our readers and allow for verification of authenticity. However, as originating pages are often updated by their originating host sites, the versions posted may not match the versions our readers view when clicking the "GO TO ORIGINAL" links. This site contains copyrighted material the use of which has not always been specifically authorized by the copyright owner. We are making such material available in our efforts to advance understanding of environmental, political, human rights, economic, democracy, scientific, and social justice issues, etc. We believe this constitutes a 'fair use' of any such copyrighted material as provided for in section 107 of the US Copyright Law. In accordance with Title 17 U.S.C. Section 107, the material on this site is distributed without profit to those who have expressed a prior interest in receiving the included information for research and educational purposes. For more information go to: http://www.law.cornell.edu/uscode/17/107.shtml. If you wish to use copyrighted material from this site for purposes of your own that go beyond 'fair use', you must obtain permission from the copyright owner.