Philippines Suspends Dengue Vaccination after Drug Firm's Warning
HEALTH, 11 Dec 2017
Felipe Villamor – The New York Times
2 Dec 2017 — The Philippines suspended its school-based dengue immunization program on Friday after the French pharmaceutical giant Sanofi warned that its flagship vaccine, Dengvaxia, had been found to pose health risks in people not previously infected.
The suspension came after health experts expressed worries about Sanofi's announcement this week.
The company said further clinical studies had revealed that, in those who had previously had dengue, the vaccine could prevent repeat infection. But for those who had not had dengue, and were vaccinated and later became infected, "more cases of severe disease could occur," Sanofi said in the advisory.
With more than 740,000 elementary school students in the Philippines having already received Dengvaxia vaccinations, the government decided to halt the program for the time being.
The Philippine health secretary, Francisco Duque, said the program would be "on hold while review consultations are on the way." He added that the government would seek help from medical experts outside the Philippines, including from the World Health Organization.
Dengue is the most widespread mosquito-borne disease in the world, with nearly 400 million people infected every year. There are four dengue viruses, or serotypes, and most people who are infected recover and become immune to the first serotype they had. In some cases, a later infection with a different serotype can lead to a severe hemorrhagic fever. About 25,000 people die every year from hemorrhagic fevers arising from the disease.
Mr. Duque said that, with an average of 200,000 people infected with dengue every year in the Philippines, vaccination was "essential."
He said that the Department of Health would be stepping up its monitoring efforts to ensure public safety and that the department's legal division was studying what to do with the Sanofi contract and how to deal with the hundreds of thousands of children who may have been put at risk.
Mr. Duque said that government officials had been asked to coordinate with community health experts to identify and monitor the children. He said a post-vaccination surveillance program would last for five years.
"I hope that this development will not in any way affect the expanded program of immunization because there are countless number of lives that have been saved," Mr. Duque said, adding that 7 billion Philippine pesos, or about $140 million, had been budgeted for all government vaccination programs for the year, up from 340 million pesos in 2006.
He would not say when the program was likely to be restarted or what steps would be necessary to allow resumption.
"We need to go back quite a long way to really put the facts together," Mr. Duque said. "Until that is available, we can't answer all your questions with definitive responses."
He said the vaccines that were now in stock would not be allowed to be sold unless the labels were changed to reflect the latest advisory.
Sanofi representatives in Manila were not immediately available to comment on Friday.
The Philippines became the first country in Asia to approve the commercial sale of Dengvaxia, in December 2015. Dengvaxia is the first dengue vaccine developed by Sanofi.
Health advocates in the Philippines first raised the alarm over Dengvaxia when the government announced in April last year that it would be used in the school immunization program despite the fact that it was a relatively new drug with possible unknown effects. But the government continued, budgeting about $70 million for the program.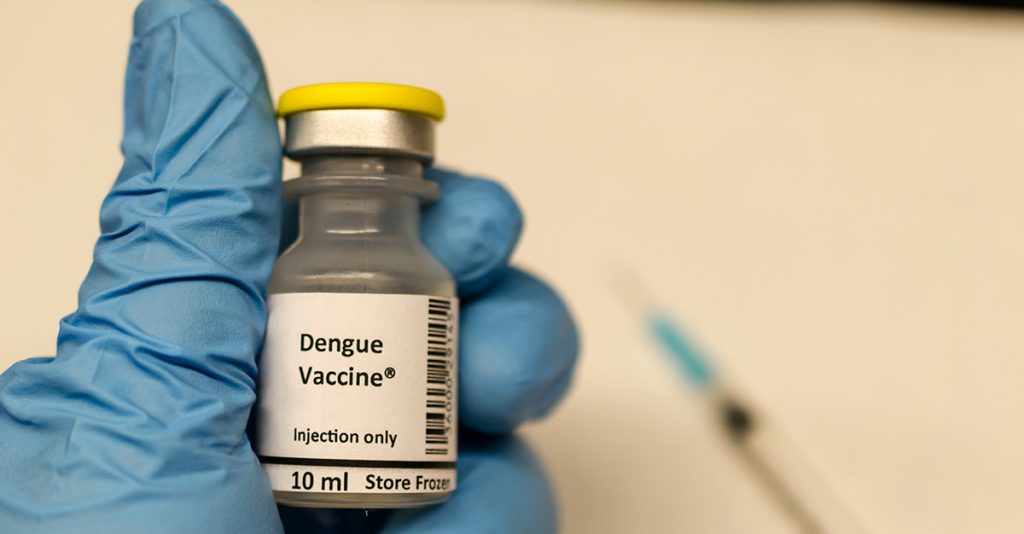 The government has defended its use of the vaccine, saying that the treatment had undergone extensive studies and stressing that it was approved for use by the World Health Organization. The first hint that there could be something wrong was in April last year, when an 11-year-old boy with congenital heart disease died after receiving a Dengvaxia shot, but the government worked to distance the drug from the death.
Nancy Binay, a legislator in the Philippine Senate, said she was alarmed at the drug's potential impact on public health and urged the health authorities and Sanofi to "launch a nationwide medical advisory and information drive" to contact parents whose children had been given Dengvaxia.
The recently released Sanofi medical report was "deeply shocking and disturbing," Senator Binay said.
She said it was "sad" that the health department ignored the warnings about the lack of patient safety and research integrity in the Dengvaxia tests. "Safety should always be the paramount concern when it comes to any immunization program," she said.
Senator Binay called on the pharmaceutical giant to explain what it meant when it warned of "severe disease."
"We don't want the warning to the public to come too little, too late," she said. "Obviously, there were shortfalls and gaps in the vaccine's safety profile, and I believe Sanofi is morally and ethically obliged to inform the public what severe diseases came out in their clinical tests."
Dr. Anthony Leachon, an independent director at PhilHealth, a government medical insurance body, said the Philippine medical community had expressed alarm at the government's use of the vaccine.
He said that as early as last year medical experts had told the government that there was "lingering uncertainty" about the long-term effects of the vaccine, but that their concerns had apparently been ignored.
"Evidence from manufacturer's trials shows that there may be a paradoxical increase in the incidence of severe dengue beginning a few years after children are vaccinated, and possibly continuing for the rest of their lives," Dr. Leachon said.
The clinical trials on the dengue vaccine were designed specifically to assess this "and sadly, this danger has been confirmed," he said.
"Many parents, teachers and health care workers claim they were never fully informed about the benefits and potential side effects of the vaccine," Dr. Leachon added.
___________________________________________
Denise Grady contributed reporting from New York.
A version of this article appears in print on December 2, 2017, on Page A7 of the New York edition with the headline: Philippines Suspends Dengue Shots at Schools After Drug Maker's Warning.
DISCLAIMER: The statements, views and opinions expressed in pieces republished here are solely those of the authors and do not necessarily represent those of TMS. In accordance with title 17 U.S.C. section 107, this material is distributed without profit to those who have expressed a prior interest in receiving the included information for research and educational purposes. TMS has no affiliation whatsoever with the originator of this article nor is TMS endorsed or sponsored by the originator. "GO TO ORIGINAL" links are provided as a convenience to our readers and allow for verification of authenticity. However, as originating pages are often updated by their originating host sites, the versions posted may not match the versions our readers view when clicking the "GO TO ORIGINAL" links. This site contains copyrighted material the use of which has not always been specifically authorized by the copyright owner. We are making such material available in our efforts to advance understanding of environmental, political, human rights, economic, democracy, scientific, and social justice issues, etc. We believe this constitutes a 'fair use' of any such copyrighted material as provided for in section 107 of the US Copyright Law. In accordance with Title 17 U.S.C. Section 107, the material on this site is distributed without profit to those who have expressed a prior interest in receiving the included information for research and educational purposes. For more information go to: http://www.law.cornell.edu/uscode/17/107.shtml. If you wish to use copyrighted material from this site for purposes of your own that go beyond 'fair use', you must obtain permission from the copyright owner.