Trump-Mideast: Much More than a 'Kiss of Death' to Palestinians
PALESTINE - ISRAEL, 11 Dec 2017
Baher Kamal – Inter Press Service-IPS
7 Dec 2017 – US President Donald Trump's decision to recognise Jerusalem as Israel's capital does not represent only a 'kiss of death' to the two-State solution, but also a strong blow in the face of 57 Muslim countries, let alone igniting fire in this easily inflammable region, providing more false arguments to criminal terrorist groups to escalate their brutal attacks, in addition to taking a step further in Washington's new conflict with Iran and the 'restructuring' of the Middle East.
These are the main conclusions both Middle East analysts and international policy experts reached as soon as Trump announced on 6 December 2017 his decision to move the US Embassy from Tel Aviv to Jerusalem, thus recognising as capital of Israel this Holy City, home to essential shrines of Judaism, Christianity and Islam.
The 'Old City' of Jerusalem has been steadily considered by Palestinians to become the capital of their future State, should all international agreements –including the United Nations General Assembly—implement their commitment for the two-State solution, one Israeli and one Palestinian.
Israeli captured Arab East Jerusalem from Jordan in the 1967 Middle East war and since then has gradually annexed against all international protests and non-recognition. The 'Old City' in Jerusalem hosts Al Aqsa Mosque, the third holiest site in Islam after Mecca and Medina.
Palestinian leaders have already warned that Trump's move could have dangerous consequences, calling for massive popular mobilisations that are feared to lead to new bloodshed in the occupied West Bank and Hamas-ruled Gaza Strip.
"This is much more than a kiss of death to the longstanding international consensus to establish two-States as the sole feasible solution," a former Egyptian high-ranking military official told IPS under condition of anonymity.
"[Trump's] decision will add more dangerous fuel to the current rekindled flame over hegemony dispute between Shias lead by Iran and Sunnis lead by Saudi Arabia and other Gulf States, which fire President Trump has now contributed to strongly blow on."
According to the retired high military official who participated in secret regional negotiations over the Middle East conflict, "The US has visibly shown its strategy to support the Sunni States in the Arab Gulf… Just see president Trump's new weapons sale deal –worth 100 billion dollars—with the Saudi regime, and its tacit support –and even physical involvement—in the ongoing genocidal war against Yemen."
Gulf Sunni Arab countries are home to a high percentage of Shias who have been systematically ruled by Sunni regimes. In some of them, like Bahrain, it is estimated that the Shias represent up to 60 per cent of the total population in spite of which they are considered minorities.
Oil, that "Black Gold"
The Egyptian analyst would not exclude a new armed conflict between the Gulf Arab Sunni states and Shia Iran. Such an armed conflict would break the already fragile stability in the region, leading to a strong rise in oil prices.
"This eventually would clearly benefit the US fossil energy sector, would weaken the oil-dependent European economies, let alone striking a strong blow to the also foreign oil-dependent China."
Hatred, Terrorism
Another immediate, dangerous consequence of President Trump's decision is a feared new wave of terrorist attacks against US, Israel and Western interests worldwide.
In fact, the Palestinian radical movement Hamas, which rules Gaza, has already urged Arabs and Muslims worldwide to "undermine U.S. interests in the region" and to "shun Israel."
On this, Lebanese Muslim Shia cleric A. Khalil, expressed to IPS his "deep fear that the [Trump's] decision will help criminal terrorist groups, falsely acting in the name of Islam, to exploit the furious anger of lay people against the US-led aggression against Muslims in Afghanistan, Iraq, Libya, Yemen… to commit more and more brutal, inhumane attacks."
This will tragically and dangerously unleash a new wave of hatred and Islamophobia that will only add fuel to popular anger, to the benefit of terrorist groups, added the cleric.
For his part, Ahmed El-Tayeb, the Grand Imam of Egypt's Al-Azhar – which is considered the world's highest institution of Sunni Islamic learning– announced on 5 December 2017 that Al-Azhar rejects Trump's decision to recognise Jerusalem as the capital of Israel.
"The US president's decision denies the rights of Palestinians and Arabs to their holy city; it ignores the feelings of one-and-a-half-billion Muslims as well as millions of Arab Christians who have a connection to Jerusalem's churches and monasteries," he said in a statement issued following Trump's announcement.
Egypt's Coptic Orthodox Church and Al-Azhar issued statements warning of the "serious potential consequences" of Trump's plan to recognise Jerusalem as Israel's capital and to relocate the US embassy there.

"Politically Correct" Words
Meanwhile, politicians have reacted to president Trump's decision to recognise Jerusalem as the official capital of Israel. Here some examples:
Mahmoud Abbas, president of Palestinian Authority, alerted of its "dangerous consequences," while Ismail Haniyeh, Hamas chief, talked about "igniting the sparks of rage."
Egypt's President Abdel Fattah al-Sisi stressed his country's firm stance on preserving the legal status of Jerusalem within the framework of international references and relevant UN resolutions, stressing the need to ensure that the situation in the region is not complicated by measures that undermine the chances of peace in the Middle East.
Saudi Arabia expressed "grave and deep concern," while King Abdullah II of Jordan warned of "dangerous repercussions."
Haider al-Abadi, Iraqi prime minister expressed "utmost concern," and Ahmed Aboul-Gheit, secretary general of the Arab League, which groups all 22 Arab countries, characterised Trump's decision as a "dangerous measure."
Turkish President Recep Tayyip Erdogan said Jerusalem is a "red line for Muslims," threatening cutting relations with Israel.
And Antonio Guterres, the UN secretary general, opposed Trump's "unilateral action," while Frederica Mogherini, the European Union's foreign policy representative, called for resolving Jerusalem's status through negotiations.
Will words and "politically correct" statements reverse this new situation? Most likely they will not, at least if you judge by what's happened over the last 98 years, i.e. since the then British Empire released its 1919 Balfour Declaration granting Israel a national home in Palestine.
______________________________________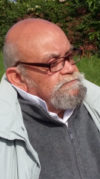 Baher Kamal, Egyptian-born, Spanish national secular journalist. He is founder and publisher of Human Wrongs Watch. Kamal is a pro-peace, non-violence, human rights, harmonious coexistence defender among human beings and with Nature, with more than 43 years of professional experience. With these issues in sight, he covered practically all professional posts, from correspondent to chief editor of dailies and international news agencies.
Join the BDS-BOYCOTT, DIVESTMENT, SANCTIONS campaign to protest the Israeli barbaric siege of Gaza, illegal occupation of the Palestine nation's territory, the apartheid wall, its inhuman and degrading treatment of the Palestinian people, and the more than 7,000 Palestinian men, women, elderly and children arbitrarily locked up in Israeli prisons.
DON'T BUY PRODUCTS WHOSE BARCODE STARTS WITH 729, which indicates that it is produced in Israel. DO YOUR PART! MAKE A DIFFERENCE!
7 2 9: BOYCOTT FOR JUSTICE!
DISCLAIMER: The statements, views and opinions expressed in pieces republished here are solely those of the authors and do not necessarily represent those of TMS. In accordance with title 17 U.S.C. section 107, this material is distributed without profit to those who have expressed a prior interest in receiving the included information for research and educational purposes. TMS has no affiliation whatsoever with the originator of this article nor is TMS endorsed or sponsored by the originator. "GO TO ORIGINAL" links are provided as a convenience to our readers and allow for verification of authenticity. However, as originating pages are often updated by their originating host sites, the versions posted may not match the versions our readers view when clicking the "GO TO ORIGINAL" links. This site contains copyrighted material the use of which has not always been specifically authorized by the copyright owner. We are making such material available in our efforts to advance understanding of environmental, political, human rights, economic, democracy, scientific, and social justice issues, etc. We believe this constitutes a 'fair use' of any such copyrighted material as provided for in section 107 of the US Copyright Law. In accordance with Title 17 U.S.C. Section 107, the material on this site is distributed without profit to those who have expressed a prior interest in receiving the included information for research and educational purposes. For more information go to: http://www.law.cornell.edu/uscode/17/107.shtml. If you wish to use copyrighted material from this site for purposes of your own that go beyond 'fair use', you must obtain permission from the copyright owner.