(Português) Seda, diamantes e couro produzidos em laboratório são alternativa ética à exploração animal
ORIGINAL LANGUAGES, 29 Jan 2018
ANDA Agência de Notícias de Direitos Animais – TRANSCEND Media Service
Todos os anos, aproximadamente 150 milhões de quilates de diamantes são extraídos da Terra
28 jan 2018 – É uma indústria marcada por sua relação com diamantes de sangue, com a guerra, a exploração e com um grande impacto ambiental imortalizado pelo filme "Blood Diamond", de 2006, estrelado por Leonardo DiCaprio.
Porém, os diamantes ainda são um dos itens mais procurados no mercado de luxo. O setor valia cerca de US$ 80 bilhões em 2016, aponta o De Beers, e quase metade da demanda mundial é dos EUA.
Porém, algumas startups estão desenvolvendo alternativas éticas. Em 2015, DiCaprio anunciou que estava investindo na Diamond Foundry do Silicon Valley, que produz as pedras preciosas em laboratórios. Feitas a partir de carbono, diamantes sintéticos, elas são quimicamente idênticas às verdadeiras, mas podem ser produzidas em apenas semanas.
Os diamantes são criados em laboratórios para uso industrial desde a década de 1950, mas, somente nos últimos anos, foi desenvolvida a tecnologia necessária para a produção de pedras grandes e puras que podem ser usadas para joias. A demanda está subindo rapidamente nos EUA e em outras regiões.
"Provavelmente 90% do que vendemos são diamantes CVD", diz Diane Nightingale. Juntamente com seu marido Stephen, ela co-fundou a Nightingale, um joalheira sob medida, no Reino Unido, em 2013.
Nightingale diz que os hábitos do setor de joias levam muito tempo para mudar no Reino Unido. "Entre os dois primeiros anos, provavelmente as vendas [de diamantes CVD] aumentaram em 100%. Os joalheiros da rua estão desconfiados até agora, mas nossos clientes mais jovens realmente abraçaram [o conceito] ", explica.
É uma ruptura que o setor tradicional de diamantes não tem acolhido com os braços abertos. A De Beers gastou dezenas de milhões de dólares para desenvolver a tecnologia capaz de identificar pedras artificiais que parecem autênticas.
Porém, a indústria da moda parece mais aberta a alternativas éticas aos materiais luxuosos. Recentemente, Stella McCartney anunciou uma colaboração com a empresa californiana Bolt Threads, que desenvolveu um polímero à base de proteínas que pode ser transformado em seda de aranha, como parte de uma mostra no Museu de Arte Moderna (MoMA,) em Nova York.
O co-fundador da Bolt Threads, Dan Widmaier, iniciou o negócio com dois colegas PHD que queriam solucionar o "problema de seda de aranha" há muitos anos. Em relação ao meio ambiente, a seda também é geralmente produzida por vermes de seda em fermento vivos que ficam dentro de casulos e foi considerada o segundo pior material em termos de impacto ambiental, atrás do couro.
De acordo com o The Guardian, a Bolt Threads anunciou uma parceria com a Mountain Meadow Wool Mill, misturando microseda com lã norte-americana, e abriu uma fábrica com capacidade de produzir 10 toneladas de seu próprio material por ano, o equivalente a 100 mil camisas.
"O que nos impulsiona é a ideia de que há grandes problemas neste planeta que precisam ser solucionados. Tentaremos  fazer a nossa parte para resolver o máximo possível", diz Widmaier.
Outea empresa que faz parte de um setor crescente que combina a biologia, a tecnologia e a moda, conhecida como biofabricação, é a Modern Meadow. Ele produz couro, após produzir colágeno com fermento geneticamente modificado. É a segunda empresa de biotecnologia do fundador Andras Forgacs, que iniciou a companhia de San Diego Organovo em 2007, como uma pioneira na impressão de tecido humano para uso médico. Em 2011, Forgacs começou a ser procurado por empresas de couro.
"Elas disseram: 'soubemos que você pode fazer pele, você pensou em fazer couro?", disse.
"Foi uma oportunidade convincente para nós – o couro é um mercado de matérias-primas de US$ 100 bilhões. A indústria está muito interessada e muito aberta. Porém, o prazo para o desenvolvimento dessas tecnologias é longo", completou.
A empresa espera revelar sua série completa de couro biofabricado – chamada Zoa – neste ano.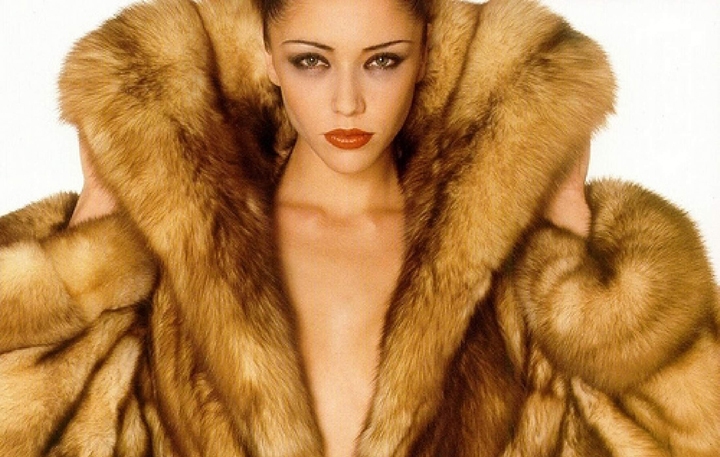 Devido à poluição e aos abusos dos animais na indústria do couro, estima-se que uma grande quantidade de vacas precisaria ser morta para atender a demanda por couro até 2025. Por isso, uma alternativa genuína ao couro no laboratório, salvaria a vida de milhares de animais.
Renée Cuoco, gerente do Centro de Moda Sustentável da London College of Fashion, diz que o interesse, reconhecimento e compreensão sobre o assunto tem sido significativo, particularmente entre os novos estilistas: ""Não estou surpresa em ver marcas de luxo interessadas neste tipo de inovação. Existe um elemento de risco quando se trata de crueldade animal".
Cuoco pede cautela e observa que há mais trabalho a ser feito além dos avanços tecnológicos no setor de luxo. "Queremos prestar mais atenção aos valores ambientais, sociais e culturais da indústria, não apenas ao valor financeiro. Enquanto a indústria se basear na velocidade e no crescimento, essas inovações não terão o verdadeiro impacto de que necessitamos", concluiu.
________________________________________________

A imprensa não apenas informa. Ela forma conceitos. Modifica ideias. Influencia decisões. Define valores. Participa das grandes mudanças sociais e políticas trazendo o mundo para o indivíduo pensar, agir e ser. É justamente este o objetivo da ANDA – Agência de Notícias de Direitos Animais: informar para transformar. A ANDA difunde na mídia os valores de uma nova cultura, mais ética, mais justa e preocupada com a defesa e a garantia dos direitos animais. É o primeiro portal jornalístico do mundo voltado exclusivamente a fatos e informações do universo animal. Com profissionalismo, seriedade e coragem, a ANDA abre um importante canal com jornalistas de todas as mídias e coloca em pauta assuntos que até hoje não tiveram o merecido espaço ou foram mal debatidos na imprensa.
DISCLAIMER: The statements, views and opinions expressed in pieces republished here are solely those of the authors and do not necessarily represent those of TMS. In accordance with title 17 U.S.C. section 107, this material is distributed without profit to those who have expressed a prior interest in receiving the included information for research and educational purposes. TMS has no affiliation whatsoever with the originator of this article nor is TMS endorsed or sponsored by the originator. "GO TO ORIGINAL" links are provided as a convenience to our readers and allow for verification of authenticity. However, as originating pages are often updated by their originating host sites, the versions posted may not match the versions our readers view when clicking the "GO TO ORIGINAL" links. This site contains copyrighted material the use of which has not always been specifically authorized by the copyright owner. We are making such material available in our efforts to advance understanding of environmental, political, human rights, economic, democracy, scientific, and social justice issues, etc. We believe this constitutes a 'fair use' of any such copyrighted material as provided for in section 107 of the US Copyright Law. In accordance with Title 17 U.S.C. Section 107, the material on this site is distributed without profit to those who have expressed a prior interest in receiving the included information for research and educational purposes. For more information go to: http://www.law.cornell.edu/uscode/17/107.shtml. If you wish to use copyrighted material from this site for purposes of your own that go beyond 'fair use', you must obtain permission from the copyright owner.