The Fragrance of Loss
REVIEWS, 29 Jan 2018
Mary Barnet – TRANSCEND Media Service
The Fragrance of Loss by Udaya R. Tennakoon, Copyright© Udaya R. Tennakoon, ISBN: 978-81-8253-056-0, First Edition: 2017, Cyberwit.net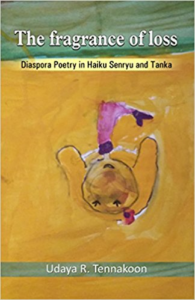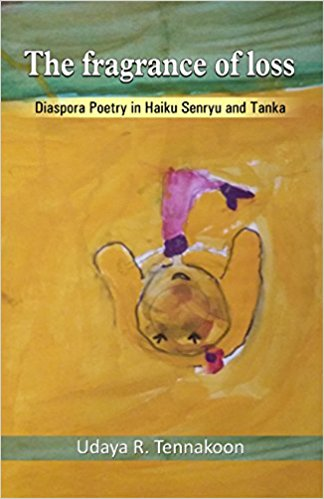 Speaking a language other than his mother tongue Sinhala he sees his journey and arrival into a land that cannot seem to fulfill his dreams.   It follows that his poems are those of himself and the other refugees who surround him. His A refugee's Night is on "a snowy bench and no more," a rendition of the penniless traveler or the homeless. It is the pain of loss.
But Udaya sees further and in "the lonely fish [that] swims freely" (An Autumn Morning) he sees that the fish may be a meal for "the crane that [freely] sunbathes." In his loneliness and anger he sees the ultimate truth : one man may devour another.  He must "suppress excessive anger."  His commands perhaps to all, but including himself : "Do not let your blood boil" (The Anger).   Tennakoon, like his fellow refugees and potentially all the Homeless is always angry and must struggle to contain his anger until he find a place in the nation he have adopted.
There are, however, some poems of hope and less stark beauty as in this Haiku :
Apple Flowers

End of winter born
Apple flowers turn to fruit
A pregnant mother
Udaya R. Tennakoon of Sri Lanka travels as part of those who escape their country whether because of war, famine, drought etc. They seem to try to reach Europe, as Udaya reached Zurich, but they spread out over many nations in a great Diaspora.  As he describes in this Haiku they are like "hidden fish" who spread out in "waves" from different lands :
Hidden Fish

Clear Water in Lake
Melting color by the waves
Hidden fish gather
Mr. Tennakoon reveals in his Senryu that even a bird's freedom can be transitory.  "A door to open and close" is an "Invisible prison". These are his words in his Haiku A beautiful cage. Such is a refugee camp and any nation's border. And in Life and Space we find rooms harboring loss where life finds "it's own tomb."  It reaches even into marital life and penetrates the "ideal couple" as if "the light is on." It brings the world that has abandoned them, that loss to destroy even their marital intimacy.
In another Senryu Tears of other Tennakoon cries in the midst of a "news channel" which has special meaning to him. Even with eyes closed he hears the sounds of loss, of war and the sobbing voices of his fellow refugees, the losses inflicted by the Diaspora.
Tears of other

Eyes hidden
Sad tears dropping on cheeks
A news channel keeps on
The stark life of all the poor, with the same desires as the prosperous, is revealed in Tennakoon's Tanka as follows :
Consumption

Unsold foods on racks
Reduced prices for sale

Today it expires
Desired dish to night I love
A bundle insists to buy
In the Tanka Earthquake I think Udaya speaks quite simply to all.  He is sharing the feelings of a Nepalese and gives his "sorrow to Italy" ! He has become although still refugee, now European !
Udaya R. Tennakoon is a disciplined author and excellent throughout. I strongly advise you to read this book. I look forward to his next conquest of one or more of the different styles of poetry.
______________________________________________
Mary Barnet, American poet, published 86 Sonnets for the 21st Century in 2015 & is being nominated for a second time for a Pushcart Prize. Her first book, The New American: Selected Poems (Gilford Press 2006) was nominated for a Nobel Prize. It has been reviewed by Adam Donaldson Powell who calls the poems "carefully tailored pearls." Janet Brennan, in her review of The New American, calls it "intelligent and stunning poetry." Grace Cavalieri says Mary is "a light to many Poets and to the World." 

Udaya R. Tennakoon – Lives in Switzerland. Poet/ Diaspora Writer, Journalist, Dramatist, Peace, Human Rights and Political Activist. Master of Art in Peace and Conflict Transformation. More about the poet may follow this link
This article originally appeared on Transcend Media Service (TMS) on 29 Jan 2018.
Anticopyright: Editorials and articles originated on TMS may be freely reprinted, disseminated, translated and used as background material, provided an acknowledgement and link to the source, TMS: The Fragrance of Loss, is included. Thank you.
If you enjoyed this article, please donate to TMS to join the growing list of TMS Supporters.


This work is licensed under a CC BY-NC 4.0 License.