Pentagon Trained Syria's Al Qaeda "Rebels" [Terrorists] in the Use of Chemical Weapons, Confirmed by CNN
SYRIA IN CONTEXT, 26 Mar 2018
Prof Michel Chossudovsky – Global Research
The Western Media Refutes Their Own Lies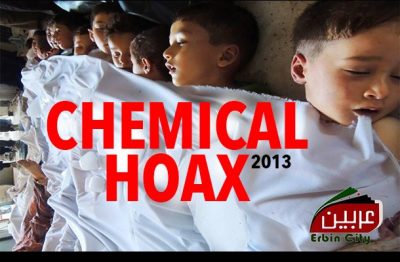 Update, 19 March 2018
This article was first published in April 2017 following the accusations directed against the Syrian government of using chemical weapons against its own people.
In recent developments, Moscow has provided evidence that the U.S is training Al Qaeda affiliated "militants groups" in the use of chemical. A March 17, Russia's Ministry of Defense  states the following:
"We have reliable information at our disposal that US instructors have trained a number of militant groups in the vicinity of the town of At-Tanf, to stage provocations involving chemical warfare agents in southern Syria. …  The provocations will be used as a pretext by the United States and its allies to launch strikes on military and government infrastructure in Syria.'
In a bitter irony, Moscow's allegations directed against the U.S. are confirmed by CNN. 
While the Western media casually upholds Washington's narrative which consists in blaming Bashar Al Assad of killing his own people, coincidently they also refute their  own lies. Not only do they confirm that the Pentagon has been training the terrorists in the use of chemical weapons for more than five years. they also acknowledge the existence of a not so secret "US-backed plan to launch a chemical weapon attack on Syria and blame it on Assad's regime" 
London's Daily Mail in a 2013 article confirmed the existence of an Anglo-American project endorsed by the White House (with the assistance of Qatar) to wage a chemical weapons attack on Syria and place the blame on Bashar Al Assad.
Trump's earlier decision to strike a Syrian airbase (April 2017) in retaliation for Assad's alleged use of chemical weapons against his own people confirms that the "False Flag" Chemical Weapons attack scenario first formulated under Obama is still "on the table".  Our analysis (including a large body of Global Research investigative reports) confirms unequivocally that Trump is lying, the Western media is lying and most of America's allies are also lying.
The following Mail Online article was published and subsequently removed. Note the contradictory discourse: "Obama issued warning to Syrian president Bashar al Assad", "White House gave green light to chemical weapons attack".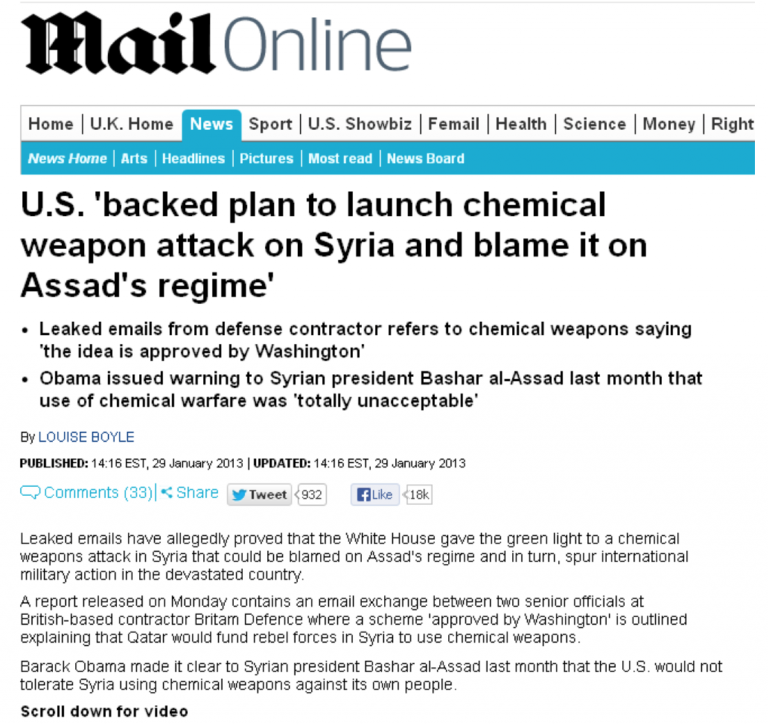 This Mail Online report published in January 2013 was subsequently removed from Mail Online. For further details click here
Was the Mail Online report "fake" or based on unsubstantiated evidence? In this regard, what has to be emphasized is that US sponsored training of rebels in the use of chemical weapons had been confirmed by two earlier CNN reports.
The Pentagon's Training of  "Rebels" (aka Al Qaeda Terrorists) in the Use of Chemical Weapons
CNN accuses Bashar Al Assad of killing his own people while also acknowledging that the "rebels" are not only in possession of chemical weapons, but that these "moderate terrorists" affiliated with Al Nusra are trained in the use of chemical weapons by specialists on contract to the Pentagon.
 The CNN report by Barbara Starr below dated September 2013 ultimately confirms Russia's allegations.  

In a twisted logic, the Pentagon's mandate was to ensure that the rebels aligned with Al Qaeda would not acquire or use WMD, by actually training them in the use of chemical weapons (sounds contradictory):
Moreover, in an earlier report dated December 9 2012, CNN confirms that:
"The training [in chemical weapons], which is taking place in Jordan and Turkey, involves how to monitor and secure stockpiles and handle weapons sites and materials, according to the sources. Some of the contractors are on the ground in Syria working with the rebels to monitor some of the sites, according to one of the officials.
The nationality of the trainers was not disclosed, though the officials cautioned against assuming all are American. (CNN, December 09, 2012, emphasis added)
The above report by CNN's award winning journalist Elise Labott (relegated to the status a CNN blog), refutes CNN's numerous accusations directed against Bashar Al Assad.
Who is doing the training of terrorists in the use of chemical weapons?  From the horse's mouth: CNN

Sources: U.S. helping underwrite Syrian rebel training on securing chemical weapons
And these are the same terrorists (trained by the Pentagon) who are the alleged target of  Washington's counterterrorism bombing campaign initiated by Obama in August 2014:
"The Pentagon scheme established in 2012 consisted in equipping and training Al Qaeda rebels in the use of chemical weapons, with the support of military contractors hired by the Pentagon, and then holding the Syrian government responsible  for using the WMD against the Syrian people.

What is unfolding is a diabolical scenario –which is an integral part of military planning– namely a situation where opposition terrorists advised by Western defense contractors are actually in possession of chemical weapons.

This is not a rebel training exercise in non-proliferation. While president Obama states that "you will be held accountable" if "you" (meaning the Syrian government) use chemical weapons, what is contemplated as part of this covert operation is the possession of chemical weapons by the US-NATO sponsored terrorists, namely "by our" Al Qaeda affiliated operatives, including the Al Nusra Front which constitutes the most effective Western financed and trained fighting group, largely integrated by foreign mercenaries. In a bitter twist, Jabhat al-Nusra, a US sponsored "intelligence asset", was recently put on the State Department's list of terrorist organizations.

The West claims that it is coming to the rescue of the Syrian people, whose lives are allegedly threatened by Bashar Al Assad. The truth of the matter is that the Western military alliance is not only supporting the terrorists, including the Al Nusra Front, it is also making chemical weapons available to its proxy "opposition" rebel forces.

The next phase of this diabolical scenario is that the chemical weapons in the hands of Al Qaeda operatives will be used against civilians, which could potentially lead an entire nation into a humanitarian disaster.

The broader issue is: who is a threat to the Syrian people? The Syrian government of Bashar al Assad or the US-NATO-Israel military alliance which is recruiting "opposition" terrorist forces, which are now being trained in the use of chemical weapons." (Michel Chossudovsky, May 8, 2013, minor edit)
_____________________________________________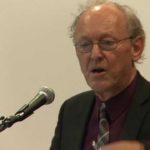 Michel Chossudovsky is an award-winning author, Professor of Economics (emeritus) at the University of Ottawa, Founder and Director of the Centre for Research on Globalization (CRG), Montreal and Editor of the globalresearch.ca website. He is the author of The Globalization of Poverty and The New World Order (2003) and America's "War on Terrorism"(2005). His most recent book is entitled Towards a World War III Scenario: The Dangers of Nuclear War (2011).
Go to Original – globalresearch.ca
DISCLAIMER: The statements, views and opinions expressed in pieces republished here are solely those of the authors and do not necessarily represent those of TMS. In accordance with title 17 U.S.C. section 107, this material is distributed without profit to those who have expressed a prior interest in receiving the included information for research and educational purposes. TMS has no affiliation whatsoever with the originator of this article nor is TMS endorsed or sponsored by the originator. "GO TO ORIGINAL" links are provided as a convenience to our readers and allow for verification of authenticity. However, as originating pages are often updated by their originating host sites, the versions posted may not match the versions our readers view when clicking the "GO TO ORIGINAL" links. This site contains copyrighted material the use of which has not always been specifically authorized by the copyright owner. We are making such material available in our efforts to advance understanding of environmental, political, human rights, economic, democracy, scientific, and social justice issues, etc. We believe this constitutes a 'fair use' of any such copyrighted material as provided for in section 107 of the US Copyright Law. In accordance with Title 17 U.S.C. Section 107, the material on this site is distributed without profit to those who have expressed a prior interest in receiving the included information for research and educational purposes. For more information go to: http://www.law.cornell.edu/uscode/17/107.shtml. If you wish to use copyrighted material from this site for purposes of your own that go beyond 'fair use', you must obtain permission from the copyright owner.
2 Responses to "Pentagon Trained Syria's Al Qaeda "Rebels" [Terrorists] in the Use of Chemical Weapons, Confirmed by CNN"