(Italiano) Israele, 200 armi nucleari puntate sull'Iran
ORIGINAL LANGUAGES, 21 May 2018
Manlio Dinucci – Centro Studi Sereno Regis
16 maggio 2018 – La decisione degli Stati uniti di uscire dall'accordo sul nucleare iraniano stipulato nel 2015 da Teheran con i 5 membri permanenti del Consiglio di sicurezza dell'Onu più la Germania provoca una situazione di estrema pericolosità non solo per il Medio Oriente.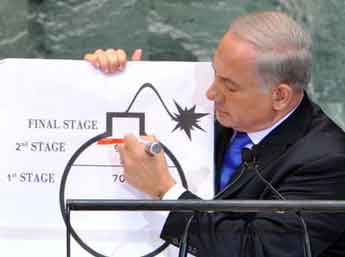 Per capire quali implicazioni abbia tale decisione, presa sotto pressione di Israele che definisce l'accordo «la resa dell'Occidente all'asse del male guidato dall'Iran», si deve partire da un fatto ben preciso: Israele ha la Bomba, non l'Iran.
Sono oltre cinquant'anni che Israele produce armi nucleari nell'impianto di Dimona, costruito con l'aiuto soprattutto di Francia e Stati Uniti. Esso non viene sottoposto a ispezioni poiché Israele, l'unica potenza nucleare in Medioriente, non aderisce al Trattato di non-proliferazione delle armi nucleari, che invece l'Iran ha sottoscritto cinquant'anni fa.
Le prove che Israele produce armi nucleari sono state portate oltre trent'anni fa da Mordechai Vanunu, che aveva lavorato nell'impianto di Dimona: dopo essere state vagliate dai maggiori esperti di armi nucleari, furono pubblicate dal giornale The Sunday Times il 5 ottobre 1986.
Vanunu, rapito a Roma dal Mossad e trasportato in Israele, fu condannato a 18 anni di carcere duro e, rilasciato nel 2004, sottoposto a gravi restrizioni. Israele possiede oggi (pur senza ammetterlo) un arsenale stimato in 100-400 armi nucleari, tra cui mini-nukes e bombe neutroniche di nuova generazione, e produce plutonio e trizio in quantità tale da costruirne altre centinaia.
Le testate nucleari israeliane sono pronte al lancio su missili balistici, come il Jericho 3, e su cacciabombardieri F-15 e F-16 forniti dagli Usa, cui si aggiungono ora gli F-35. Come confermano le numerose ispezioni della Aiea, l'Iran non ha armi nucleari e si impegna a non produrle sottoponendosi in base all'accordo a stretto controllo internazionale. Comunque scrive l'ex segretario di stato Usa Colin Powell il 3 marzo 2015 in una email venuta alla luce «quelli a Teheran sanno bene che Israele ha 200 armi nucleari, tutte puntate su Teheran, e che noi ne abbiamo migliaia».
Gli alleati europei degli Usa, che formalmente continuano a sostenere l'accordo con l'Iran, sono sostanzialmente schierati con Israele. La Germania gli ha fornito quattro sottomarini Dolphin, modificati così da poter lanciare missili da crociera a testata nucleare. Germania, Francia, Italia, Grecia e Polonia hanno partecipato, con gli Usa, alla più grande esercitazione internazionale di guerra aerea nella storia di Israele, la Blue Flag 2017.
L'Italia, legata a Israele da un accordo di cooperazione militare (Legge n. 94, 2005), vi ha partecipato con caccia Tornado del 6° Stormo di Ghedi, addetto al trasporto delle bombe nucleari Usa B-61 (che tra non molto saranno sostituite dalle B61-12). Gli Usa, con F-16 del 31st Fighter Wing di Aviano, addetti alla stessa funzione.
Le forze nucleari israeliane sono integrate nel sistema elettronico Nato, nel quadro del «Programma di cooperazione individuale» con Israele, paese che, pur non essendo membro della Alleanza, ha una missione permanente al quartier generale della Nato a Bruxelles. Secondo il piano testato nella esercitazione Usa-Israele Juniper Cobra 2018, forze Usa e Nato arriverebbero dall'Europa (soprattutto dalle basi in Italia) per sostenere Israele in una guerra contro l'Iran.
Essa potrebbe iniziare con un attacco israeliano agli impianti nucleari iraniani, tipo quello effettuato nel 1981 a Osiraq in Iraq. In caso di rappresaglia iraniana, Israele potrebbe far uso di un'arma nucleare mettendo in moto una reazione a catena dagli esiti imprevedibili.
________________________________________
L'arte della guerra. La rubrica settimanale a cura di Manlio Dinucci
Fonte: Il manifesto, 15.05.2018
Go to Original – serenoregis.org
DISCLAIMER: The statements, views and opinions expressed in pieces republished here are solely those of the authors and do not necessarily represent those of TMS. In accordance with title 17 U.S.C. section 107, this material is distributed without profit to those who have expressed a prior interest in receiving the included information for research and educational purposes. TMS has no affiliation whatsoever with the originator of this article nor is TMS endorsed or sponsored by the originator. "GO TO ORIGINAL" links are provided as a convenience to our readers and allow for verification of authenticity. However, as originating pages are often updated by their originating host sites, the versions posted may not match the versions our readers view when clicking the "GO TO ORIGINAL" links. This site contains copyrighted material the use of which has not always been specifically authorized by the copyright owner. We are making such material available in our efforts to advance understanding of environmental, political, human rights, economic, democracy, scientific, and social justice issues, etc. We believe this constitutes a 'fair use' of any such copyrighted material as provided for in section 107 of the US Copyright Law. In accordance with Title 17 U.S.C. Section 107, the material on this site is distributed without profit to those who have expressed a prior interest in receiving the included information for research and educational purposes. For more information go to: http://www.law.cornell.edu/uscode/17/107.shtml. If you wish to use copyrighted material from this site for purposes of your own that go beyond 'fair use', you must obtain permission from the copyright owner.