Nobel Peace Laureate Suu Kyi Actively Attempting to Manipulate UN
NOBEL LAUREATES, 20 Jun 2018
Dr. Maung Zarni – Anadolu Post
Myanmar's leader is doing her best to cover up her country's international crimes against Rohingya people.
16 Jun 2018 – In the first meeting on June 13 between Myanmar State Counsellor Aung San Suu Kyi and Christine Schraner Burgener, the Burmese urged the freshly-minted Special Envoy on Myanmar for the UN Secretary General to understand "the real situation" about the Rakhine State, from which 700,000 Rohingyas fled, in what the Secretary General himself characterized as "ethnic cleansing".
The phrase "the real situation" rings alarm bells in my head. It was all déjà vu.
For 13 years ago, 'the real situation' (of Myanmar) were the very words Lt. Gen. Myint Swe, the then Chief of Myanmar's military intelligence services, used when he urged me to convey their approach to the world — in my writings, media appearances, and meetings with politicians and diplomats.
The chief spook and I were meeting one-on-one for the first time at the Dagon Hall of the old War Office in Yangon, with only his deputy, Col. Mya Tun Oo — now the Joint Chief of the Armed Forces — present in the meeting, as the notetaker.
Then, I had just returned to my country of birth after nearly 17 years of active U.S.-based opposition to the Burmese military rule. I rationalized my return — and support — for the generals as a citizen's effort to help the embattled military leadership under Western sanctions so that our country could be re-integrated into the wider world community, particularly from the West, which had attempted to isolate the post-Cold War Burma on the grounds of the Burmese military's egregious violations of human rights. The general was my official host who arranged my safe and voluntary return and resumption of Myanmar citizenship.
In due course, I came to realize what the spy chief meant by "the real situation". He simply wanted me to be the mouthpiece for the military and help amplify the military's version of Burmese affairs and events; for, in his own words, "the world doesn't believe us", having implied that I, as a western educated Burmese, would be more credible.
Whether the military's "real situation" corresponded to the lived experiences of the people or not was of no concern to the spy chief (and the entire military leadership).
I have since ended my support for the "reformist" military leadership, whom I had initially given the benefit of the doubt.
The reality is, the same military leaders went on to slaughter Buddhist monks in the non-violent "Saffron Revolt" of 2007, calling for more compassionate policies to address the country's economic woes and blocked emergency aid to several million Cyclone Nargis victims in 2008. My host general was centrally involved in these sordid turn of events that were marked by the military-government's brutality and inhumanity.
Ex-Lt.Gen. Myint Swe is still around and is now the powerful military-backed Vice-President in the military-NLD partnership that jointly runs the country today.
A year ago, after the first wave of "security clearance" operations against the newly emerging "Muslim insurgents" led to the less-reported exodus of nearly 100,000 Rohingyas in 2016, Vice President Myint Swe chaired the national Inquiry Commission on the violence in the Maung Daw Township, Rakhine, for Aung San Suu Kyi's NLD government, and proceeded to unequivocally exonerate Myanmar's security forces whose brutalities were well-documented. The Myanmar troops, the National Commission concluded, acted in accordance with the rules of engagement and the law of the land.
It is in fact painful to watch national leaders, politicians and generals (and ex-generals) treat facts and truths as if they were a rubber band that can be manipulated into any elastic shape or length.
Because of her active dismissal and denial of the ugly truths about the military, which her father had founded three years prior to her birth, Suu Kyi has been denounced worldwide, from His Holiness the Dalai Lama to S. Africa's retired Archbishop of Cape Town Desmond Tutu and fellow women Nobel laureates to editorial boards of the world's leading newspapers, including the Washington Post, the Times, the Guardian and the New York Times. Worse still, leading lights of international law and human rights including Milosevic's prosecutor Sir Geoffrey Nice of Britain and UN Special Rapporteur on human rights in Myanmar Professor Yanghee Lee have raised the very real possibility that the former icon of nonviolence may find herself in the dock together with the senior military leaders, her partners in power.
In the last six years, that is, since the two bouts of large-scale violence against Rohingyas — in June and October of 2012 — during which Myanmar's decades-old systematic state persecution of this Muslim minority community came to the world's attention, Aung San Suu Kyi's leadership performance has gone from bad to worse, from studied silence to willful ignorance to proactive denial and dismissal of well-documented international crimes, which seniormost UN human rights officials and envoys view as having 'hallmarks of a genocide' or 'strongly suspected' as 'acts of genocide'.
On her 67th birthday — 18 June 2012 — I had the great pleasure of sharing a televised Rule of Law Roundtable with the iconic Burmese leader whom the Burmese public revere and address as "Mother" (of the People). (Other panelists included Sir Geoffrey Nice, Oxford University Law Professor Nicola Lacey and LSE Professors Mary Kaldor and Christine Chinkin.) Because just a few days prior to the LSE roundtable, Suu Kyi flunked the media test about her knowledge of the emerging crisis in Western Myanmar — she could not answer a basic question by a U.S. National Public Radio journalist Anthony Kuhn: "Do you know if Rohingyas are your people, Myanmar people?" — she sent instructions via the British Foreign Office to the LSE organizers that she was in effect unprepared to address Rohingya questions. I was pre-assigned to respond to any Rohingya question, which has since come to define the country.
From adopting the strategy of studied silence six years ago, Aung San Suu Kyi now engages in varying acts of adamant denial, outright dismissal, intentional distortions, and disingenuous obfuscation about the Rohingya, all with the express intention of telling the world "the real situation" on the ground.
Her recent exclusive interview with NHK, Japan's national broadcaster as well as a Myanmar-friendly TV station, for the first time in five years is a case in point. She falsely frames what Professor Amartya Sen — Suu Kyi's old teacher at Delhi University and a close friend of her late husband Michael Aris — called "the slow genocide", which began several decades ago. Disingenuously, Suu Kyi mischaracterizes Myanmar military's institutionalized persecution of Rohingyas, a well-documented fact since the late 1970's, as "a communal conflict" dating back "several centuries" while saying "very few people in the world know the (intricate) historical issues".
Studies after studies of past genocides have established the fact that genocides, from the Holocaust to Rwanda and Bosnia, are not military or violent conflicts of communities that could be placed on a moral parity: they are, with no exceptions, state-directed large-scale crimes — now illegalized by the 1948 Genocide Convention — targeted to erase the presence of ethnic, religious, racial or national minorities, which are typically misframed by the perpetrating groups, both state and societies, as "a threat to nationhood or national security".
She is now in the process of forming yet another inquiry commission in order to establish facts about the "real situation" in Rakhine, which the ICC Prosecutor's Office in The Hague is convinced is one involving crimes against humanity targeting the Rohingya ethnic minority.
While the rest of the world see Myanmar as systematically committing egregious international crimes — whatever their legal names — and the UN attempts to seek access to the crime sites, her NLD government has openly defied the UN Human Rights Council's mandate to send the International Fact Finding Mission since its establishment in 2016. Instead, Suu Kyi established the Rakhine Commission with Kofi Annan as its chair and proceeded to use it as a public relations shield against strident global criticisms rightly directed at both her leadership and the country.
Furthermore, the former human rights icon did not shy away from resorting to acts of bullying and threats against anyone who dares raise the issue of Myanmar's crimes against Rohingyas.
According to UN Special Rapporteur Yanghee Lee, Aung San Suu Kyi personally threatened that "you know, if you continue with the UN's (pre-human rights) line you won't be able to come back here (Myanmar)" — a threat she followed through: Professor Lee has been barred from entering the country for the rest of her tenure. Aung San Suu Kyi is also the Foreign Minister who ultimately decides who is to be issued visas and who is to be denied them.
Suu Kyi now argues that her government has carried out constructive activities to move the Rakhine situation forward in accord with the Kofi Annan-led Rakhine Commission's recommendations. But from its inception, the Annan commission was, by its own official admission, mandated not to examine any allegations of human rights abuses in the Rakhine state, or alleged violations of international treaties and bodies of law by Myanmar such as the Genocide Convention, which Myanmar ratified in 1956, or the Child Rights Convention. She officially barred the Annan Commission from calling Rohingyas by their group name.
Despite the easily accessible official documentations that offer irrefutable evidence in support of Rohingyas' claim that they belong in Myanmar as an integral ethnic minority who enjoyed full and equal citizenship even in the early years of the military rule in the 1960's and the early 1970's, the Ministry of Information under Suu Kyi's control just banned the Washington-based U.S. Government's Radio Free Asia TV from broadcasting on Myanmar channels for the latter's continued use of the word Rohingya. The RFA board of directors issued an official statement describing her government as "Orwellian," and highlighted the fact that the Myanmar government is trying to "deny the existence of a people" starting with the attempts to "erase its group identity".
In the aforementioned NHK interview, Suu Kyi, a former prisoner of conscience and victim of state persecution for 15 years, also defended the state's detention of two local Buddhist journalists on the grounds that they are violators of "state official secrets" just because they uncovered the first mass grave of Rohingyas with photographic evidence and eyewitness stories.
For 15 years as a Burmese activist foot soldier, I held her in highest esteem, and followed her policies of isolating and sanctioning our country to the letter. None of Suu Kyi's acts of deception, distortions and denial of facts on the ground surprises me. It was these negative qualities of Suu Kyi which I discerned as early as 2004 which compelled me to break ranks with her NLD party, turn my back on her as the opposition leader and seek alternative paths to pushing for political liberalization in my country of birth — specifically working with the generals considered "potential reformers".
While the tragic turn of events has vindicated my withdrawal of support for and cooperation with both the generals and NLD leadership, it is excruciating to watch the two bitter enemies now colluding, not on the path towards democratization or a peaceful end to the world's longest civil war (between Myanmar armed forces and non-Rohingya ethnic resistance groups such as Kachin, Karen, etc.) but in covering up our country's crimes against humanity and genocide against the Rohingya Muslims.
It is not difficult to discern Suu Kyi's underlying utilitarian logic which runs something like "we have the whole country's future to be concerned about, not just a small population of Muslims in one region". The former icon of human rights now holds, in unconcealed contempt, the world that previously rallied for her human rights and is now standing up for Rohingyas' right to life and belonging, and for that matter, human rights for all Myanmar people including journalists.
For the record, my own public opposition 30 years ago to the military rule and its hallmark rights abuses was inspired by her heroic example of privileging principles of truth and liberalism.
Today, I want Aung San Suu Kyi to be held accountable for her willful collusion with Myanmar military leaders in the latter's crimes against an entire ethnic community. Suu Kyi's crimes are no longer her studied silence or failure to extend her government's primary responsibility to extend the benefit of "peace and security" to the Rohingya people.
The last thing the UN officials and envoys on Myanmar should do is to allow themselves to be used as "conveyers" of Suu Kyi's version of "the real situation". As infectious as it is, the international actors are best advised to not embrace Suu Kyi's utilitarian discourse of economic development, poverty alleviation, centuries-old civilizational conflicts, and incremental approach to addressing the crisis in Rakhine.
In the face of Myanmar's ongoing international crimes against Rohingyas as a people, inside Myanmar and in the refugee camps in Bangladesh — all under Suu Kyi's watch, and with her complicity — the UN needs to stop promoting Myanmar's lies — such as bypassing the calls for ICC-led accountability in order to support its "fragile democratic transition".
The UN must not allow Suu Kyi to form yet another whitewash "inquiry commission" within Myanmar's fundamentally dysfunctional criminal justice system equipped with neither conceptual tools for atrocity crimes nor judicial independence.
No political regime, civilian or military, that commissions international crimes against its own national minorities should be given the benefit of the doubt when its smooth-talking Oxford-educated politician says it is on the path towards incremental liberalization and constructive resolution of the crisis confronting a people whose existence she herself denies.
________________________________________________

A Buddhist humanist from Burma, Maung Zarni is a member of the TRANSCEND Network for Peace Development Environment, former Visiting Lecturer with Harvard Medical School, specializing in racism and violence in Burma and Sri Lanka, and Non-resident Scholar in Genocide Studies with Documentation Center – Cambodia.  His analyses have appeared in leading newspapers including the New York Times, The Guardian and the Times. Among his academic publications on Rohingya genocide are The Slow-Burning Genocide of Myanmar's Rohingyas (Pacific Rim Law and Policy Journal), An Evolution of Rohingya Persecution in Myanmar: From Strategic Embrace to Genocide, (Middle East Institute, American University), and Myanmar's State-directed Persecution of Rohingyas and Other Muslims (Brown World Affairs Journal, forthcoming). He holds a PhD (U Wisconsin at Madison) and a MA (U California), and has held various teaching, research and visiting fellowships at the universities in Asia, Europe and USA including Oxford, LSE, UCL Institute of Education) , National-Louis, Malaya, and Brunei. He is the recipient of the "Cultivation of Harmony" award from the Parliament of the World's Religions (2015).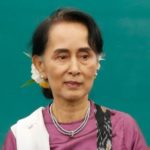 The Nobel Peace Prize 1991 was awarded to Aung San Suu Kyi "for her non-violent struggle for democracy and human rights."
DISCLAIMER: The statements, views and opinions expressed in pieces republished here are solely those of the authors and do not necessarily represent those of TMS. In accordance with title 17 U.S.C. section 107, this material is distributed without profit to those who have expressed a prior interest in receiving the included information for research and educational purposes. TMS has no affiliation whatsoever with the originator of this article nor is TMS endorsed or sponsored by the originator. "GO TO ORIGINAL" links are provided as a convenience to our readers and allow for verification of authenticity. However, as originating pages are often updated by their originating host sites, the versions posted may not match the versions our readers view when clicking the "GO TO ORIGINAL" links. This site contains copyrighted material the use of which has not always been specifically authorized by the copyright owner. We are making such material available in our efforts to advance understanding of environmental, political, human rights, economic, democracy, scientific, and social justice issues, etc. We believe this constitutes a 'fair use' of any such copyrighted material as provided for in section 107 of the US Copyright Law. In accordance with Title 17 U.S.C. Section 107, the material on this site is distributed without profit to those who have expressed a prior interest in receiving the included information for research and educational purposes. For more information go to: http://www.law.cornell.edu/uscode/17/107.shtml. If you wish to use copyrighted material from this site for purposes of your own that go beyond 'fair use', you must obtain permission from the copyright owner.