Confront Digital Oligarchs and Defend Net Neutrality
MEDIA, 30 Jul 2018
Amy Goodman and Denis Moynihan – Democracy NOW!
19 Jul 2018 – Imagine if Comcast or Verizon or AT&T, or any other "internet service providers" (ISPs), had the authority to decide what websites you could visit, or what video chat program you must use to call friends or family. Imagine if they manipulated the speed that websites load, giving preference to content providers that paid extra to be in an internet "fast lane." Imagine if they prevented you from watching videos on any site except YouTube, or barred you from using Skype. These ISPs provide the connection to the internet, but they shouldn't be able to control how you use the internet. This core quality of the internet, that it is open, is called "net neutrality."
Current internet regulations just put in place by the Trump administration do away with net neutrality.
One of President Donald Trump's key policy objectives, as stated by former White House adviser Stephen Bannon, is to "deconstruct the administrative state." At the Federal Communications Commission, Chairman Ajit Pai has been busily eliminating regulations that govern the U.S. media system, including Obama-era net neutrality protections. Pai replaced those with his own, Orwellian-sounding "Restoring Internet Freedom" regulations, empowering the big ISPs to do just the opposite.
In May, responding to a groundswell of opposition to the net neutrality rollback, the U.S. Senate passed a "resolution of disapproval" under the Congressional Review Act, which allows Congress to override regulations put forth by federal agencies. Such resolutions need to pass the Senate, the House, and then be signed by the president in order to become law. Three Senate Republicans joined all 49 Senate Democrats in passing the resolution. Now the resolution must pass in the Republican-controlled House of Representatives. This week, the House effort, initiated by Democrats, picked up its first, crucial House Republican co-signer, Mike Coffman, R-Colo. Net neutrality proponents see his newfound support as evidence that grass-roots organizing is working, and vow to step up the pressure on others.
"Coffman indicated his support came from constituent pressure," said Craig Aaron, president and CEO of Free Press, after hearing of Coffman's decision. "More members of Congress are going to be hearing from people in the weeks ahead. We're working with our partners to organize in-district drop-ins, local rallies and meetings with small businesspeople who care about the open internet."
Immediately after President Barack Obama's FCC passed the net neutrality rules in 2015, the telecom industry sued in federal court to get rid of them. The D.C. Court of Appeals ultimately upheld the regulations. That important ruling included a dissent written by Judge Brett Kavanaugh, the man Trump just nominated to the U.S. Supreme Court.
In that dissent, Kavanaugh made the extraordinary claim that net neutrality violates the First Amendment rights of the ISPs. "The threshold question," he wrote in his dissent, "is whether the First Amendment applies to Internet service providers when they exercise editorial discretion and choose what content to carry and not to carry. The answer is yes." Corporations are not people. Kavanaugh's views on net neutrality should definitely be a focus at his Senate confirmation hearing.
"Net neutrality rules protect everyone's right to a free and open internet," Free Press Action Fund Policy Director Matt Wood said. "They safeguard free expression, entrepreneurship and education, especially for people of color, LGBTQIA communities, immigrants, dissidents, artists and upstart businesses most likely to face discrimination based on the political and commercial whims of broadband providers. The repeal of these rights … is a loss for our democracy and our country, but one we will fight to set right by winning them back."
People are looking for alternative sources of information in this complex world. They are getting savvier at pursuing the news sources they want, when and how they want it — on websites, through audio and video podcasting, and on mobile platforms. They critique, share, excerpt and repost the content they appreciate, adding their insights and running circles around the old networks while building their own trusted online communities. Many contribute reporting, joining the global ranks of the increasingly important citizen (and noncitizen) journalists.
All this was enabled because the internet has been free and unfettered, driven by net neutrality, making web sources like democracynow.org as readily available as the sites of the major media corporations. These large ISP corporations, however, are trying to control the internet, to restrict the free flow of information, to restore their historical role of for-profit arbiter of what we can and cannot read, watch or hear. Preserving net neutrality will thwart the digital oligarchs, keeping the internet open and free.
________________________________________________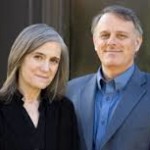 Amy Goodman is the host of "Democracy Now!" a daily international TV/radio news hour airing on more than 900 stations in North America. She is the author of Breaking the Sound Barrier, recently released in paperback and now a New York Times best-seller.
Denis Moynihan is the co-founder of Democracy Now! Since 2002, he has participated in the organization's worldwide distribution, infrastructure development, and the coordination of complex live broadcasts from many continents. He lives in Denver where he is developing a new noncommercial community radio station.
The original content of this program is licensed under a Creative Commons Attribution-Noncommercial-No Derivative Works 3.0 United States License.
Go to Original – democracynow.org
DISCLAIMER: The statements, views and opinions expressed in pieces republished here are solely those of the authors and do not necessarily represent those of TMS. In accordance with title 17 U.S.C. section 107, this material is distributed without profit to those who have expressed a prior interest in receiving the included information for research and educational purposes. TMS has no affiliation whatsoever with the originator of this article nor is TMS endorsed or sponsored by the originator. "GO TO ORIGINAL" links are provided as a convenience to our readers and allow for verification of authenticity. However, as originating pages are often updated by their originating host sites, the versions posted may not match the versions our readers view when clicking the "GO TO ORIGINAL" links. This site contains copyrighted material the use of which has not always been specifically authorized by the copyright owner. We are making such material available in our efforts to advance understanding of environmental, political, human rights, economic, democracy, scientific, and social justice issues, etc. We believe this constitutes a 'fair use' of any such copyrighted material as provided for in section 107 of the US Copyright Law. In accordance with Title 17 U.S.C. Section 107, the material on this site is distributed without profit to those who have expressed a prior interest in receiving the included information for research and educational purposes. For more information go to: http://www.law.cornell.edu/uscode/17/107.shtml. If you wish to use copyrighted material from this site for purposes of your own that go beyond 'fair use', you must obtain permission from the copyright owner.