(Português) Brasil: Grande Frente de Valores Ético-Sociais
ORIGINAL LANGUAGES, 5 Nov 2018
Leonardo Boff – TRANSCEND Media Service
1 nov 2018 – Estamos vivendo tempos política e socialmente dramáticos. Nunca se viu em nossa história ódio e raiva tão difundidos, principalmente através das mídias sociais. Foi eleito para presidente uma figura amedrontadora que encarnou a dimensão de sombra e do recalcado de nossa história. Ele contaminou boa parte de seus eleitores. Essa figura conseguiu trazer à tona o dia-bólico (que separa e divide) que sempre acompanha o sim-bólico (o que une e congrega) de uma forma tão avassaladora que o dia-bólico inundou a consciência de muitos e enfraqueceu o sim-bólico a ponto de dividir famílias, romper com amigos e liberar a violência verbal e também física. Especialmente ela se dirige contra minorias políticas que, na verdade, são maiorias numéricas, como a população negra, além de indígenas, quilombolas e outros de condição sexual diferenciada.
Precisamos de uma liderança ou um colegiado de líderes, com o carisma capaz de pacificar,de trazer paz e harmonia social: uma pessoa de síntese. Esta não será o presidente eleito, pois lhe faltam todas estas características. Ao contrario, reforça a dimensão de sombra, presente em todos nós, mas que pela civilidade, pela ética, pela moral e pela religião a controlamos sob a égide da dimensão de luz. Os antropólogos nos ensinam que todos nós somos sapiens e simultaneamente demens, ou na linguagem de Freud, somos perpassados pelo princípio de vida (eros) e pelo princípio de morte (thanatos)..
O desafio de cada pessoa e de qualquer sociedade é ver como se equilibram estas energias que não podem ser negadas, dando a hegemonia ao sapiens e ao princípio de vida Caso contrário nos devoraríamos uns aos outros.
Nos tempos atuais em nosso pais perdemos este ponto de equilíbrio. Se quisermos conviver e construir uma sociedade minimamente humana, devemos potenciar a força da positividade fazendo o contraponto à força da negatividade. É urgente desentranhar a luz, a tolerância, a solidariedade, o cuidado e o amor à verdade que estão enraizados em nossa essência humana. Como faze-lo?
Os sábios da humanidade, sem esquecer a sabedoria dos povos originários, nos testemunham que há um só caminho e não há outro. Ele foi bem formulado pelo poverello de Assis quando cantou:
onde houver ódio que eu leve o amor, onde houver discórdia que eu leve a união, onde houver trevas que eu leve a luz e onde houver erro que eu leve a verdade.
Especialmente a verdade foi sequestrada pelo ex-capitão, dentro de um discurso de ameaças e de ódio, contrário ao espírito de Jesus, transformando a verdade numa amedrontadora falsidade e injúria. Aqui cabem os versos do grande poeta espanhol António Machado:
"Tua verdade, não: a Verdade. E vem comigo buscá-la. A tua, guarda-a contigo".
A verdade genuina nos deve unir e não separar, pois ninguém tem a posse exclusiva dela. Todos participamos dela, de um modo ou de outro sem espírito de posse.
Junto com uma frente política ampla em defesa da democracia e dos direitos sociais precisamos agregar uma outra frente ampla, de todas as tendências políticas, ideológicas e espirituais, ao redor de valores, capazes de nos tirar da presente crise.
Isso é importante: devemos usar aquelas ferramentas que eles jamais poderão usar: como o amor, a solidariedade, a fraternidade, o direito de cada um de possuir um pedacinho de Terra, da Casa Comum que Deus destinou a todos, de uma moradia decente, de cultivar a com-paixão para com os sofredores, o respeito, a compreensão, a renúncia a todo espírito de vingança, o direito de ser feliz e a verdade transparente. Valem os três "ts"do Papa Francisco: Terra, Teto e Trabalho, como direitos fundamentais.
Devemos atrair os fiéis das igrejas pentecostais através desses valores que são também evangélicos, em contra de seus pastores que são verdadeiros lobos. Ao se darem conta destes valores que os humanizam e os aproximam do Deus verdadeiro que está acima e dentro de todos mas cujo nome verdadeiro é amor e misericórdia, e não de ameaças de inferno, os fiéis se libertarão da servidão de um discurso que visa mais o bolso das pessoas do que o bem de suas almas.
O ódio não se vence com mais ódio, nem a violência com mais violência ainda. Só a mãos que se entrelaçam com outras mãos, só os ombros que se oferecem aos combalidos, só o amor incondicional nos permitirão gestar, nas palavras do injustamente odiado Paulo Freire, uma sociedade menos malfada onde não seja tão difícil o amor.
Aqui se encontra o segredo que faria do Brasil uma grande nação nos trópicos, que poderá ajudar n irrefreávell processo de mundialização a ganhar um rosto humano, jovial, alegre, hospitaleiro, tolerante terno e fraterno.
_________________________________________________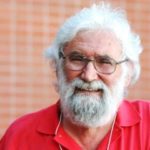 Leonardo Boff é um escritor, teólogo e filósofo brasileiro, professor emérito de ética e filosofia da religião da Universidade do Estado do Rio de Janeiro, recebedor do Prêmio Nobel Alternativo da Paz do Parlamento sueco [Right Livelihood Award]em 2001, membro da Iniciativa Internacional da Carta da Terra, e professor visitante em várias universidades estrangeiras como Basel, Heidelberg, Harvard, Lisboa e Salamanca. Expoente da Teologia da Libertação no Brasil, foi membro da Ordem dos Frades Menores, mais conhecidos como Franciscanos. É respeitado pela sua história de defesa pelas causas sociais e atualmente debate também questões ambientais. Colunista do Jornal do Brasil, escreveu os livros Francisco de Assis: Ternura e Vigor, Vozes 2000;  A Terra na palma da mão: uma nova visão do planeta e da humanidade,Vozes 2016;  Cuidar da Terra – proteger a vida: como escapar do fim do mundo, Record 2010;  A hospitalidade: Direito e dever de todos, Vozes 2005; Paixão de Cristo, paixão do mundo, Vozes 2001; Brasil: Concluir a refundação ou prolongar a dependência, Vozes 2018.
Go to Original – leonardoboff.wordpress.com
DISCLAIMER: The statements, views and opinions expressed in pieces republished here are solely those of the authors and do not necessarily represent those of TMS. In accordance with title 17 U.S.C. section 107, this material is distributed without profit to those who have expressed a prior interest in receiving the included information for research and educational purposes. TMS has no affiliation whatsoever with the originator of this article nor is TMS endorsed or sponsored by the originator. "GO TO ORIGINAL" links are provided as a convenience to our readers and allow for verification of authenticity. However, as originating pages are often updated by their originating host sites, the versions posted may not match the versions our readers view when clicking the "GO TO ORIGINAL" links. This site contains copyrighted material the use of which has not always been specifically authorized by the copyright owner. We are making such material available in our efforts to advance understanding of environmental, political, human rights, economic, democracy, scientific, and social justice issues, etc. We believe this constitutes a 'fair use' of any such copyrighted material as provided for in section 107 of the US Copyright Law. In accordance with Title 17 U.S.C. Section 107, the material on this site is distributed without profit to those who have expressed a prior interest in receiving the included information for research and educational purposes. For more information go to: http://www.law.cornell.edu/uscode/17/107.shtml. If you wish to use copyrighted material from this site for purposes of your own that go beyond 'fair use', you must obtain permission from the copyright owner.