(Français) 100e anniversaire de la révolution spartakiste: Réflexions autour de l'œuvre de Rosa Luxemburg
ORIGINAL LANGUAGES, 14 Jan 2019
Jacques Kmieciak | Investig'Action – TRANSCEND Media Service
Ce mercredi 9 janvier 2019 à Grenay (1), près de Lens (Pas-de-Calais), à l'occasion des cent ans de la révolution spartakiste, la projection du documentaire de Marcel Bluwal consacré à Rosa Luxemburg (2) offrira l'occasion à Dominique Villaeys-Poirré de revenir sur le parcours de cette militante anti-impérialiste et théoricienne du marxisme.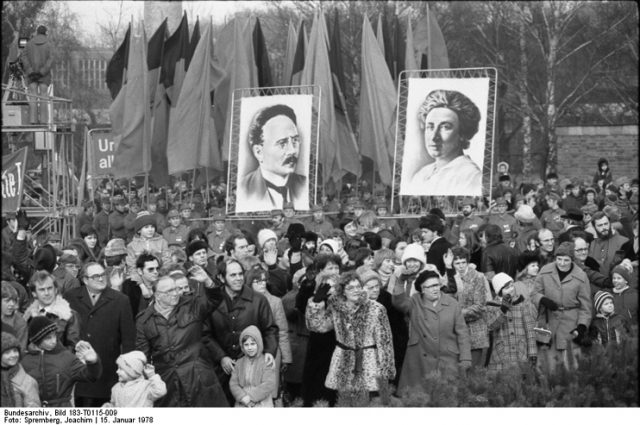 7 Jan 2019 – Il y a cent ans, en janvier 1919, la social-démocratie écrase dans le sang à Berlin le soulèvement spartakiste. Fondateur du Parti communiste allemand (KPD), Karl Liebknecht et Rosa Luxemburg sont assassinés. L'espoir de l'instauration en Allemagne d'une « République des conseils », s'évanouit. Spécialiste de Rosa Luxemburg (1871 – 1919), Dominique Villaeys-Poirré (3) évoquera son parcours et ses idées dans le cadre d'un « Cinésandwichs ». Originaire du Dunkerquois, Dominique Villaeys-Poirré, elle-même engagée de longue date sur le front anticapitaliste et anti-impérialiste, se dit heureuse à l'idée de revenir « dans une région réputée pour son engagement en faveur de la libération du partisan communiste Georges Ibrahim Abdallah » (4).
Le refus du nationalisme
L'intérêt qu'elle porte à l'itinéraire de Rosa Luxembourg est ancien. Il remonte aux années 1980. « A l'époque, j'ai découvert L'Internationale, le journal qu'elle a fondé au début de la Première Guerre mondiale, et qui ne connaîtra qu'un numéro en raison de son emprisonnement. J'y appréhende son engagement sans faille contre la boucherie de 1914/18. Son refus du nationalisme fera d'elle un des opposants majeurs à la guerre. Pourtant, elle aurait eu toutes les raisons d'être nationaliste, puisque la Pologne dont elle était originaire (elle est née à Zamosc alors sous occupation russe), vivait sous la domination de trois empires », commente-t-elle. Dominique Villaeys-Poirré se rapproche alors de Gilbert Badia, le « grand spécialiste communiste de Rosa Luxemburg ». Elle analyse en profondeur la manière dont Rosa Luxemburg appréhende l'impérialisme. Un impérialisme « qui se développe, dans les années 1890 , au moment même où elle entre en politique », rappelle-t-elle.
Les apports théoriques
Au cours du débat qui suivra la projection du documentaire de Marcel Bluwal censuré lors de sa sortie en 1973 (5), Dominique Villaeys-Poirré compte bien revenir sur le mouvement des « gilets jaunes » en France en l'analysant à l'aune de la révolution allemande de 1918-19. « Rosa Luxemburg peut apporter des éléments de réflexion », estime celle pour qui l'assassinat de Rosa Luxemburg sonne le glas « de toute la révolution allemande, ne l'oublions pas ». Et la conférencière d'imaginer aussi « pouvoir souligner, dans le foisonnement de ses apports à l'action et à la pensée révolutionnaire, les combats menés par Rosa Luxemburg contre le réformisme au sein du mouvement ouvrier (elle a 28 ans quand elle écrit son premier texte majeur Réforme sociale ou révolution ?), le colonialisme ou encore le militarisme ». Sans oublier de mentionner « l'incroyable courage personnel de Rosa Luxemburg qui affronte directement le pouvoir impérial, dénonce sans détour le développement impérialiste et la guerre, préconise la grève générale et participe à la révolution de 1905 ; ce qui la conduit cinq fois en prison ». Et Dominique Villaeys-Poirré de mettre en avant l'universalité de cette grande figure du féminisme. Une « universalité qui fait de ses lettres de prison de 1916 à 1918, un inestimable témoignage humain ».
NOTES:
(1) Rosa Luxemburg de Marcel Bluwal, ce mercredi 9 janvier 2019 à 19h, à l'espace Ronny-Coutteure, 28 Bis Bd des Flandres à Grenay. Soirée « Cinésandwichs » (pâté, fromage, boissons offerts) organisée à l'initiative du pôle culturel de ville de Grenay en partenariat avec les Rencontres audiovisuelles. Entrée libre. Réservation indispensable au 03 21 45 69 50.
(2) À l'occasion du centenaire la naissance de Rosa Luxemburg, Marcel Bluwal et Georges Hourdin ont entrepris d'évoquer la vie et l'œuvre de cette femme singulière qui fut l'une des principales figures des luttes révolutionnaires allemandes et, partant, du mouvement ouvrier tout entier. Ponctuée par les étapes d'un voyage à Berlin effectué par les auteurs sur les lieux mêmes où vécut et mourut Rosa Luxemburg, cette émission fait appel à plusieurs éléments : une très riche documentation iconographique, des lectures des textes théoriques de Rosa Luxemburg et des lettres qu'elle écrivit lors de ses nombreux séjours en prison et des entretiens avec des spécialistes et des militants communistes. Source : film-documentaire.fr.
(3) Dominique Villaeys-Poirré alimente un blog axé sur le parcours et l'œuvre théorique de Rosa Luxemburg. Le lien : comprendre-avec-rosa-luxemburg.over-blog.com. Actuellement, elle coordonne le tome 6 (consacré au colonialisme, au militarisme, et à l'impérialisme) des œuvres complètes de Rosa Luxemburg publiées par les Éditions Agone et le collectif Smolny (5 tomes sont déjà parus).
(4) Arrêté à Lyon en 1984, le partisan communiste libanais Georges Ibrahim Abdallah est le plus ancien prisonnier politique de l'Hexagone. En 2012, il était élevé au rang de « citoyen d'honneur » à Calonne-Ricouart et Grenay, deux communes de l'ex-Bassin minier du Pas-de-Calais.
(5) Voir le témoignage de Marcel Bluwal. Le lien : https://m.ina.fr/video/I00016981/marcel-bluwal-sur-les-miserables-et-rosa-luxemburg-video.html.
Go to Original – investigaction.net
DISCLAIMER: In accordance with title 17 U.S.C. section 107, this material is distributed without profit to those who have expressed a prior interest in receiving the included information for research and educational purposes. TMS has no affiliation whatsoever with the originator of this article nor is TMS endorsed or sponsored by the originator. "GO TO ORIGINAL" links are provided as a convenience to our readers and allow for verification of authenticity. However, as originating pages are often updated by their originating host sites, the versions posted may not match the versions our readers view when clicking the "GO TO ORIGINAL" links. This site contains copyrighted material the use of which has not always been specifically authorized by the copyright owner. We are making such material available in our efforts to advance understanding of environmental, political, human rights, economic, democracy, scientific, and social justice issues, etc. We believe this constitutes a 'fair use' of any such copyrighted material as provided for in section 107 of the US Copyright Law. In accordance with Title 17 U.S.C. Section 107, the material on this site is distributed without profit to those who have expressed a prior interest in receiving the included information for research and educational purposes. For more information go to: http://www.law.cornell.edu/uscode/17/107.shtml. If you wish to use copyrighted material from this site for purposes of your own that go beyond 'fair use', you must obtain permission from the copyright owner.