Jerusalem and Foreign Embassies: Legal, Political, and Diplomatic Implications
PALESTINE - ISRAEL, 7 Jan 2019
Richard Falk | Global Justice in the 21st Century – TRANSCEND Media Service
6 Jan 2019 – This is a modified interview with Rodrigo Craveiro, Correio Braziliense, Jan 2019
Q1—A few days ago Prime Minister Benjamin Netanyahu met with president of Honduras and with Mike Pompeo in Brasilia to discuss establishing of an Israel embassy  in Tegucigalpa and the transfer of Hondurean embassy from Tel Aviv to Jerusalem. Pompeo then travelled to Colombia to try to convince the government in Bogota to relocate its embassy in Jerusalem. How do you interpret these efforts and their implications?
A: It seems obvious that Israel is trying to induce enough governments to move their embassy to Jerusalem so as to weaken the legal, political, and diplomatic weight of the General Assembly Resolution of 22 December 2017 [Res. ES-10/L.22] that declared such an initiative by the United States to be 'null and void' by a vote of 128-9 (with 35 abstentions), finding the proposed move unlawful and lacking any political effect. Such a one-sided pushback by the UN was undertaken as an angry reaction to the announced decision of the U.S. Government to make such a move in defiance of the international consensus that had for 50 years overwhelmingly supported the consensus of governments that the future of Jerusalem would be determined by diplomatic negotiations between the parties, and any premature recognition of Jerusalem as Israel's capital would be inappropriate and disruptive. This challenge to this UN consensus has definitely become a high priority for Israel's foreign policy, at least so long as Netanyahu remains Prime Minister.
It may also be relevant that the upcoming Israeli elections on April 9th, and Netanyahu's troubles at home with corruption charges directed at him and his wife, provide an added incentive to show that he has achieved positive results from the perspective of the Zionist Project to extend Israel's national sovereignty to Jerusalem, as well as to most of the remaining portions of 'the promised land' supposedly belonging to Israel by biblical entitlement and historic tradition. Such Israeli expansionist ambitions and actions are encroachments on the inalienable right of self-determination belonging to the Palestinian people.
The U.S. motivations are related, but somewhat different. Of course, during the Trump presidency Israel can do no wrong, and what Israel wants, the U.S. does despite political opposition and moral opprobrium. The embassy move is a prime example of American unilateralism with respect to Jerusalem. Additionally, the U.S. Government wants to be less diplomatically isolated on a global level, and thus appear less disruptive when it so acts. This issue also provides the Trump leadership with an opportunity to create alternative alliance networks to outmaneuver the kind of regional groupings that have existed in the past. Independent of this issue, American foreign policy seeks to substitute a network of likeminded autocratic leaders for such traditional solidarities as NATO or the OAS, or for that matter, the UN. In this connection it is notable that such traditional American allies as Britain, France, Germany, and Japan voted for the UN resolution condemning the U.S. proposed action with respect to Jerusalem, and this reciprocated by acting independently of Washington's strongly declared preferences.
 Q2– What would be real symbolism of transfering embassies from Tel Aviv to Jerusalem? Why such maneuvers are being considered so polemical? 
A: In my view, the real significance of the embassy move, aside from it being consistent with other steps viewed as displaying the extreme nature of Trump's support for Israel's approach to resolving decades of tension with the Palestinian people and their national movement, is to demonstrate that U.S. foreign policy will not be constrained by multilateral diplomacy or the positions prevailing in international institutions, and especially the UN. This ultra-nationalist approach to policymaking and problem solving is an overt rejection of cooperative approaches to difficult collective challenges in international relations that had previolusly enjoyed Washington's support ever since the end of World War II.
On another level, the embassy move is supportive of Israel's rejection of a political compromise with Palestine, and Tel Aviv's current strategy that seems to hover between allowing the present unresolved future to go on indefinitely, while the settlements expand in Jerusalem and the West Bank, and taking advantage of its present position to achieve, or at least declare, an Israeli victory and Palestinian defeat. In this regard, the status of Jerusalem is part of a broader context of settlement expansion, excessive force in responding to Palestinian resistance, Knesset legislation in which Israel is proclaimed to be a state belonging exclusively to the Jewish people, who alone are entitled to national self-determination, and a denial of refugee status to descendants of Nakba refugees.
These moves are treated as so controversial because they are seen as imposing an ordeal without an end in sight upon the Palestinian people as a whole, including those languishing in refugee camps throughout the Middle East, in exile, and as a discriminated minority in Israel itself. Israel as an apartheid state cannot maintain such structures of racial domination without relying on these oppressive and discriminatory patterns of governance. In this regard Israel has moved in the eyes of the world from being 'the only democracy in the Middle East' to being 'the only apartheid state in the Middle East.' Erasing this perception is part of what is at stake by such efforts to confer legitimacy on its territorial expansionism and its ethnic hegemony.
__________________________________________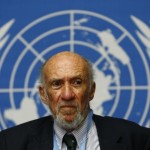 Richard Falk is a member of the TRANSCEND Network, an international relations scholar, professor emeritus of international law at Princeton University, author, co-author or editor of 40 books, and a speaker and activist on world affairs. In 2008, the United Nations Human Rights Council (UNHRC) appointed Falk to a six-year term as a United Nations Special Rapporteur on "the situation of human rights in the Palestinian territories occupied since 1967." Since 2002 he has lived in Santa Barbara, California, and taught at the local campus of the University of California in Global and International Studies, and since 2005 chaired the Board of the Nuclear Age Peace Foundation. His most recent book is Achieving Human Rights (2009).
Go to Original – richardfalk.wordpress.com
Join the BDS-BOYCOTT, DIVESTMENT, SANCTIONS campaign to protest the Israeli barbaric siege of Gaza, illegal occupation of the Palestine nation's territory, the apartheid wall, its inhuman and degrading treatment of the Palestinian people, and the more than 7,000 Palestinian men, women, elderly and children arbitrarily locked up in Israeli prisons.
DON'T BUY PRODUCTS WHOSE BARCODE STARTS WITH 729, which indicates that it is produced in Israel. DO YOUR PART! MAKE A DIFFERENCE!
7 2 9: BOYCOTT FOR JUSTICE!
DISCLAIMER: The statements, views and opinions expressed in pieces republished here are solely those of the authors and do not necessarily represent those of TMS. In accordance with title 17 U.S.C. section 107, this material is distributed without profit to those who have expressed a prior interest in receiving the included information for research and educational purposes. TMS has no affiliation whatsoever with the originator of this article nor is TMS endorsed or sponsored by the originator. "GO TO ORIGINAL" links are provided as a convenience to our readers and allow for verification of authenticity. However, as originating pages are often updated by their originating host sites, the versions posted may not match the versions our readers view when clicking the "GO TO ORIGINAL" links. This site contains copyrighted material the use of which has not always been specifically authorized by the copyright owner. We are making such material available in our efforts to advance understanding of environmental, political, human rights, economic, democracy, scientific, and social justice issues, etc. We believe this constitutes a 'fair use' of any such copyrighted material as provided for in section 107 of the US Copyright Law. In accordance with Title 17 U.S.C. Section 107, the material on this site is distributed without profit to those who have expressed a prior interest in receiving the included information for research and educational purposes. For more information go to: http://www.law.cornell.edu/uscode/17/107.shtml. If you wish to use copyrighted material from this site for purposes of your own that go beyond 'fair use', you must obtain permission from the copyright owner.