(Português) Quem está por trás da chegada da CNN ao Brasil?
ORIGINAL LANGUAGES, 28 Jan 2019
Rute Pina | Brasil de Fato – TRANSCEND Media Service
Sobrinho do bispo evangélico Edir Macedo, dono da TV Record e da IURD-Igreja Universal do Reino de Deus, e empresário mineiro lideram projeto para licenciar marca de TV.
16 jan 2019 – A chegada do canal de televisão CNN ao Brasil foi divulgada na última segunda-feira (14). Sobrinho do bispo Edir Macedo, o jornalista Douglas Tavolaro, e o segundo empresário que mais investiu nas últimas eleições, Rubens Menin, encabeçam o projeto.
O canal estadunidense, no entanto, não vai operar no Brasil. A negociação para trazer a marca CNN para o país ocorreu por meio de um licenciamento com a Turner International, responsável pelas operações da CNN fora dos EUA.
Douglas Tavolaro: o CEO sobrinho de Edir Macedo
O CEO da CNN Brasil será o jornalista Douglas Tavolaro, que foi vice-presidente da TV Record por 14 anos. Ele é coautor da biografia de Edir Macedo — seu tio, líder da Igreja Universal do Reino de Deus e dono da emissora.
A Record, segundo canal de televisão mais assistido no país, alinhou-se editorialmente ao novo governo e foi a escolhida por Jair Bolsonaro (PSL) para a primeira entrevista exclusiva após a divulgação do resultado das eleições.
Em outubro, durante o pleito presidencial, o Sindicato dos Jornalistas Profissionais no Estado de São Paulo (SJSP) denunciou a pressão e assédio moral da direção da emissora para que o noticiário beneficiasse Bolsonaro em detrimento do candidato Fernando Haddad (PT). Tavolaro estava na vice-presidência do setor de jornalismo no período.
Paulo Zocchi, presidente do SJSP, afirma que houve "manipulação aberta" do noticiário para favorecer o então candidato do PSL, poucos dias após Edir Macedo anunciar apoio público a Bolsonaro.
"Órgãos de comunicação eventualmente podem ter posição política, editorialmente falando. Na nossa opinião, nada mais claro e razoável que tomem mesmo porque, assim, a posição do órgão fica explícita", defende Zocchi. "Mas o fato é que a Record passou a adotar um posicionamento em que o noticiário passou a ter um viés consagrado a apoiar Bolsonaro e criticar os demais candidatos."
"Na home do Portal R7, nesse período, tinha um padrão que eram quatro matérias de destaque: duas favoráveis ao Bolsonaro e duas críticas ao Haddad. Esse era o padrão", lembra o sindicalista.
Segundo Zocchi, que apurou as denúncias pelo sindicato, a orientação vinha das chefias da empresa. "Isso foi uma posição, eu entendo, feita diretamente pelos donos da empresa, mas evidentemente o Douglas [Tavolaro] tinha responsabilidade nisso, na medida em que ele era o diretor editorial", pontua.
Como presidente do sindicato, Zocchi comemora a contratação de novos profissionais pela CNN Brasil em um momento crítico para o mercado. Estima-se que 400 jornalistas integrem a equipe do canal. "A gente espera que todos sejam contratados regularmente e que eles sigam a lei trabalhista. E, pelo sindicato, vamos representar as pessoas e defender direitos."
Além de escrever a biografia de Edir Macedo, Tavolaro também assina a produção executiva do filme Os Dez Mandamentos, versão cinematográfica da novela produzida pela TV Record. Em abril de 2016, o longa-metragem se tornou o filme nacional com mais ingressos vendidos desde 1970, quando a Embrafilme começou a medir a bilheteria do cinema nacional. Mas muitas sessões aconteceram com salas vazias, fato atribuído às vendas coletivas para igrejas.
No meio jornalístico, a saída de Tavolaro para a CNN Brasil foi recebida com surpresa, já que ele era cotado para assumir a presidência da Record.
Rubens Menin: o conselheiro investidor
O anúncio da chegada da CNN Brasil foi feito pelo empresário Rubens Menin pelo Twitter. Ele fará parte do Conselho Administrativo e será investidor do canal.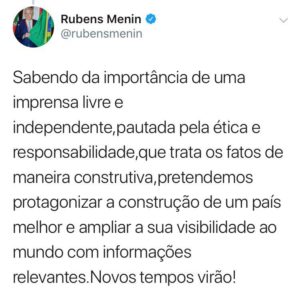 Menin está à frente da MRV Engenharia, que patrocinou o filme Nada a Perder, biografia de Edir Macedo baseado no livro de Tavolaro.
Além de financiar filmes, o líder da construtora mineira MRV Engenharia foi o segundo empresário que mais injetou dinheiro em candidaturas nas eleições 2018. A construtora investiu mais de R$ 2,6 milhões na campanha de 23 candidatos que concorriam aos poderes legislativo e executivo. Os dois candidatos que mais receberam doações foram Aguinaldo Ribeiro (PP-PB) e Bruno Araújo (PSDB-PE). Ribeiro foi eleito como deputado federal.
Sócios e familiares de Menin também doaram para campanhas políticas nas últimas eleições. A sua filha, Maria Fernandes Menin, doou R$ 300 mil para o senador de Minas Gerais, Antonio Anastasia (PSDB), que se candidatou ao cargo de governador, mas não foi eleito.
Trabalho escravo
Menin foi atuante em tentativas do meio empresarial para barrar a chamada "lista suja" do trabalho escravo. A MRV Engenharia foi flagrada cinco vezes, entre 2011 e 2014, por explorar mão de obra escrava. Segundo a Repórter Brasil, foram 203 trabalhadores resgatados em quatro anos em construções ligadas à empresa.
No final de 2014, a Associação Brasileira de Incorporadoras Imobiliárias (Abrainc) conseguiu suspender no Supremo Tribunal Federal (STF) a publicação da lista. Menin era o presidente da entidade, na época.
Além da MRV, a família Menin controla o Banco Inter e a Log Commercial Properties.
O que é a CNN
A Cable News Network (CNN) é um canal de televisão criado em 1980 que tem sede em Atlanta, nos EUA. É conhecido por sua cobertura de notícias breaking news ou seja, factual e 24 horas.
Nos EUA, a CNN tem feito uma cobertura crítica ao governo do republicano Donald Trump.
A Turner International é dona da marca para operações fora do país. Ela atua no Brasil e é afiliada da AT&T, que, por sua vez, comanda a SKY no Brasil, o que pode ser um entrave, já que a legislação brasileira não permite que transmissores também tenham canal a cabo.
Aqui, a Turner era responsável pelo canal Esporte Interativo que, em 2018, foi extinto e cerca de 250 profissionais foram demitidos.
__________________________________________________
Edição: Pedro Ribeiro Nogueira
Go to Original – brasildefato.com.br
DISCLAIMER: The statements, views and opinions expressed in pieces republished here are solely those of the authors and do not necessarily represent those of TMS. In accordance with title 17 U.S.C. section 107, this material is distributed without profit to those who have expressed a prior interest in receiving the included information for research and educational purposes. TMS has no affiliation whatsoever with the originator of this article nor is TMS endorsed or sponsored by the originator. "GO TO ORIGINAL" links are provided as a convenience to our readers and allow for verification of authenticity. However, as originating pages are often updated by their originating host sites, the versions posted may not match the versions our readers view when clicking the "GO TO ORIGINAL" links. This site contains copyrighted material the use of which has not always been specifically authorized by the copyright owner. We are making such material available in our efforts to advance understanding of environmental, political, human rights, economic, democracy, scientific, and social justice issues, etc. We believe this constitutes a 'fair use' of any such copyrighted material as provided for in section 107 of the US Copyright Law. In accordance with Title 17 U.S.C. Section 107, the material on this site is distributed without profit to those who have expressed a prior interest in receiving the included information for research and educational purposes. For more information go to: http://www.law.cornell.edu/uscode/17/107.shtml. If you wish to use copyrighted material from this site for purposes of your own that go beyond 'fair use', you must obtain permission from the copyright owner.