Snoring of The Other
TRANSCEND MEMBERS, 18 Mar 2019
Anthony Judge | Laetus in Praesens – TRANSCEND Media Service
A Politically Relevant Psycho-Spiritual Metaphor?
Submission to the International Conference on "Engaging The Other": the Power of Compassion (Kalamazoo, October 2006)
Preamble
The snoring of The Other keeps me awake — preventing me from getting back to sleep
Political affirmation — a metaphorical response to The Other
I, and my people, are suffering from an immense historical wrong — whatever others may declare
I am defending the innocent — and, by extension, my own family — and their desire to live (and sleep) in peace
I therefore have every reason to believe I am right and honourable in my actions against others — furthermore, all concrete evidence I receive supports my understanding
I celebrate the integrity, devotion, courage and heroism of my compatriots in that defence against others — may our cause prevail
I deplore the consequent tragedy of unnecessary death and destruction amongst others — most unfortunately in the case of innocents
The faith by which my identity is defined provides me with specific theological justification for such action — theologians only appear to be misguided if it is the Divine Will that this be so
Bystanders question the appropriateness of what I do against others — but offer no viable, concrete remedy for my situation
I believe that those amongst us with the greatest intelligence have explored every possibility of an appropriately peaceful solution — despite their complicity in the development of weapons of increasing sophistication and destructive capacity (which I have duly acquired)
I do not believe — despite the declarations of others — that I am being used, unknowingly, by people with less honourable agendas
Learning
I have done all that is humanly possible to dialogue with The Other — but the snoring continues
I never snore — I do not receive any evidence to the contrary and assume that those believing otherwise are misinformed
How can I awaken The Other — so that I can finally get some sleep?
The purpose of the "taoist" exercise below is to use the Middle East crisis as a metaphor to explore the challenge of responding appropriately to the disruption caused by snoring to the peaceful sleep of others — whilst at the same time using snoring to indicate the value of disruption in awakening those who would prefer to "sleep" despite the severe challenges faced by some.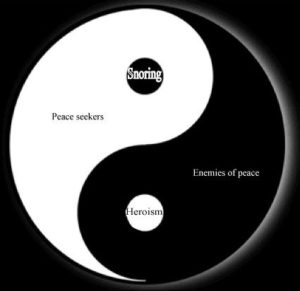 In a taoist context, both features of the image are limited complementary perceptions from a psycho-spiritual perspective. The Other is a variant of the Shadow according to the psycho-therapeutical understandings of Jungian psychology — the disowned or unconscious self. As ecxpressed by Lynne Forrest (The Dark Twin Within):
It is a part of the unconscious mind which is mysterious and often disagreeable to the conscious mind — although relatively close to it. And yet it is also often that orphaned part of us that holds the key to wholeness. We cannot learn to love and accept ourselves until we come to terms with this dark twin.
The shadow is our dark twin. It's the part of us that we have spent a tremendous amount of energy trying to repress, even exterminate. We believe it to be not only unacceptable, but despicable. Carl Jung defined the shadow simply as that in us that we most don't want to be.
The relevance of the metaphor can be further explored in the light of the work of Paul C. Rosenblatt (Two in a Bed: the social system of couple bed sharing, 2006) who devotes a chapter of his study to the challenge of snoring and sleep apnea in relationships between couples. Snoring is acknowledged to be a factor in divorce — the third most cited reason for marital breakdown [more | more | more]. Snoring is also associated with reduced frequency of sexual intercourse. Of special interest metaphorically in relationship to the challenges of the Middle East is that Rosenblatt's study extends to the challenges of "sheet stealing" whilst asleep.
It has long been recognized that, if only genetically, those in conflict in the Middle East are closely related as semitic peoples speaking semitic languages. In that geopolitical context they are confronted with the challenge of being "in bed together" metaphorically. As noted by Robert Sack (Sleeping Together, Sleeping Apart): For couples, sleeping togethe signifies a sexual bond. For political rivals, it is a metaphor for alliance.
To continue reading Go to Original – laetusinpraesens.org
DISCLAIMER: The statements, views and opinions expressed in pieces republished here are solely those of the authors and do not necessarily represent those of TMS. In accordance with title 17 U.S.C. section 107, this material is distributed without profit to those who have expressed a prior interest in receiving the included information for research and educational purposes. TMS has no affiliation whatsoever with the originator of this article nor is TMS endorsed or sponsored by the originator. "GO TO ORIGINAL" links are provided as a convenience to our readers and allow for verification of authenticity. However, as originating pages are often updated by their originating host sites, the versions posted may not match the versions our readers view when clicking the "GO TO ORIGINAL" links. This site contains copyrighted material the use of which has not always been specifically authorized by the copyright owner. We are making such material available in our efforts to advance understanding of environmental, political, human rights, economic, democracy, scientific, and social justice issues, etc. We believe this constitutes a 'fair use' of any such copyrighted material as provided for in section 107 of the US Copyright Law. In accordance with Title 17 U.S.C. Section 107, the material on this site is distributed without profit to those who have expressed a prior interest in receiving the included information for research and educational purposes. For more information go to: http://www.law.cornell.edu/uscode/17/107.shtml. If you wish to use copyrighted material from this site for purposes of your own that go beyond 'fair use', you must obtain permission from the copyright owner.