Bangladesh Can Make Myanmar Pay for Crimes against Rohingya
ASIA-UPDATES ON MYANMAR ROHINGYA GENOCIDE, 15 Jul 2019
Maung Zarni | Anadolu Agency – TRANSCEND Media Service
Dhaka should move International Court of Justice to force Myanmar to pay reparations to for hosting victims of genocide.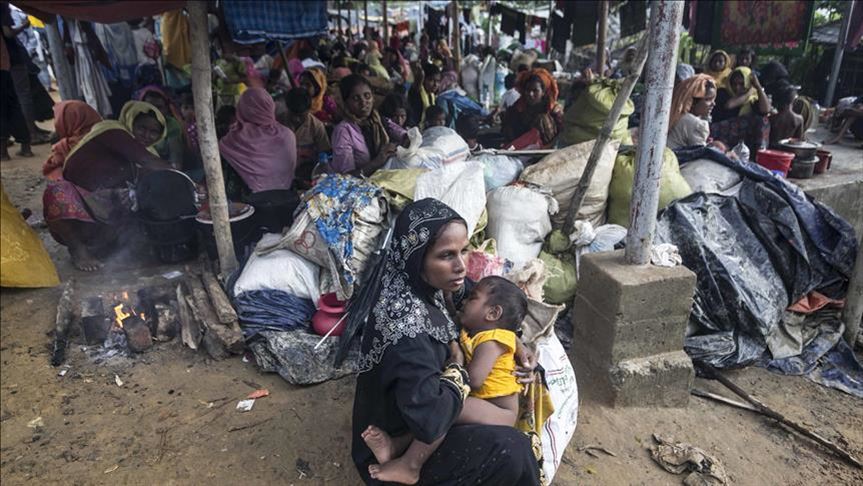 8 Jul 2019 – Last week, UN International Independent Fact-Finding Mission's Chris Sidoti, Bangladesh's high commissioner to the U.K. and prominent experts from Bangladesh, gathered in London to tackle an overlooked, but pressing issue: the challenges of repatriating 1.2 million Rohingya refugees to their homes in Myanmar.
This comes in the back drop of Bangladesh's Foreign Minister AK Abdul Momen reportedly accusing Myanmar of "lying" about the status of the repatriation of Rohingya refugees to their places of origin.
Although the two countries signed a repatriation agreement in October 2018, according to the UN and other international observers, the favorable conditions for the returning Rohingya are non-existent.
Of the 800 expected villages promised as a part of the repatriation efforts, only two villages with favorable conditions are believed to be existed.
Herein lies the problem: the long-term, large-scale presence of the Rohingya people in Bangladesh is unsustainable.
The government of Bangladesh has been struggling to address the existential need of the world's second largest refugee population. Abul Kalam, refugee relief and repatriation commissioner stated: "22% of the fund appeal (out of a total of $920 million annual appeal for the Joint Response Plan (JRP) for the Rohingya humanitarian crisis) has been met."
Bangladesh simply lacks the resources to cope with the burden of having to shelter and feed 1.2 million Rohingya genocide survivors. It is also unfair to Dhaka to be left to handle a huge refugee burden alone without adequate financial support from the international community.
Moreover, allowing the Rohingya to permanently settle in Bangladesh would validate the genocidal regime in Myanmar. Since February 1978, following military dictator Gen. Ne Win's premeditated campaign to erase western Myanmar of any Rohingya presence, Myanmar has engaged in an atrocious campaign of terror against the residential population of northern Rakhine state.
In doing so, Myanmar's successive regimes, civilian and military alike, have resorted to all the violent, institutional and legal means at their disposal. Over the last four decades, Myanmar has relentlessly shifted the official justifications for its state-directed persecution of Rohingya.
Long-held fears of Rohingya
Among the evolving justifications are "concerns for Muslims' demographic dominance" in
 western Myanmar, "communal conflict", "terror threat" — as Aung San Suu Kyi put it to Indian Prime Minister Narendra Modi in October 2017, "security clearance operations", or "unfinished business from WWII" as put by Suu Kyi's military partner Gen. Min Aung Hlaing.
In the national imagination of the Burmese public, their government's genocidal project is about restoring Rakhine to its original, purely "Buddhist", state and ridding the region of "Bengali" interlopers.
The question that the Bangladeshi leadership, and those meeting in London last week, ought to confront is the following: Why would the neighbor that systematically destroyed nearly 400 villages in a matter of weeks, thereby seizing the vast and important western Myanmar region of northern Rakhine, cooperate with Dhaka on the repatriation of almost three quarters of the entire Rohingya population?
With this cultural, political and societal backdrop in mind, recognizing the long-held fears of the Rohingya people for rights and safety will be crucial to understanding why this voluntary scheme has not been successful so far.
As long as Myanmar has done nothing to assuage Rohingya's well-founded fear of renewed state-directed mass-violence and deportation, any plans for repatriation will remain implausible. No Rohingya in their right mind will voluntarily return to Myanmar. Not without international protection, restored citizenship and basic human rights.
So, what are Dhaka's strategic options? The first is one of three major proposals from Bangladeshi Prime Minister Sheikh Hasina — the creation of the "safe zone" inside northern Rakhine state in Myanmar.
I for one, think the establishment of a safe zone where Rohingya can return, live under the protection of a coalition of international actors, armed or unarmed, is a potentially viable plan to address the needs of returning Rohingya as well as Dhaka's need to repatriate the vast number of Rohingya refugees.
Needless to say, Myanmar will violently oppose the idea. Some Burmese officials have already publicly dismissed the safe zone proposal on grounds of sovereignty.
Interim possibility
Secondly, Dhaka should pursue one interim possibility: Force Myanmar to pay reparations to Bangladesh for hosting the victims of the genocide.
This demand should be part of the set of "immediate measures" that Dhaka, a state party to the Convention on the Prevention and Punishment of the Crime of Genocide, can ask from the International Court of Justice (ICJ). Dhaka can make this legal demand unilaterally via the ICJ, or jointly with other state parties such as Malaysia, which also shoulders the burden of hosting an estimated 200,000 Rohingya on its soil.
Alternatively, Dhaka can join the Gambia-led initiative by the Organization of Islamic Cooperation (OIC), to mount a legal challenge to demand justice and accountability for the genocide.
The UN already recommended in 2018 that military leaders should face genocide charges and this month, Prosecutor Fatou Bensouda has asked judges on the International Criminal Court to open a full investigation into these allegations.
Ultimately, why not find a way for Bangladesh, which has shouldered the financial burden of supporting over 1 million Rohingya refugees, to obtain compensation from Myanmar? Dhaka should include an annual payment of $1 billion from Myanmar in the OIC's move to challenge Myanmar at the ICJ.
Introducing an economic deterrent may yet discourage other states from engaging in ethnic cleansing and forced deportation of minority ethnic groups. The other 150 states — which are party to the Genocide Convention, still unprepared to participate meaningfully to end Myanmar's ongoing genocide — should do their part in backing a legal challenge at the ICJ.
On July 1, the Dutch parliament passed with 2/3 majority votes a motion requesting the government to explore possible legal proceedings against Myanmar before the ICJ for violating its obligations under the Genocide Convention. Bangladeshi parliamentarians should follow the suit.
Myanmar, as the perpetrating state, must be made to pay for its crimes. Literally.
___________________________________________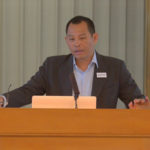 A Buddhist humanist from Burma, Maung Zarni is a member of the TRANSCEND Network for Peace Development Environment, former Visiting Lecturer with Harvard Medical School, specializing in racism and violence in Burma and Sri Lanka, and Non-resident Scholar in Genocide Studies with Documentation Center – Cambodia. Zarni is coordinator for Strategic Affairs for Free Rohingya Coalition and an adviser to the European Centre for the Study of Extremism, Cambridge, UK. His analyses have appeared in leading newspapers including the New York Times, The Guardian and the Times. Among his academic publications on Rohingya genocide are The Slow-Burning Genocide of Myanmar's Rohingyas (Pacific Rim Law and Policy Journal), An Evolution of Rohingya Persecution in Myanmar: From Strategic Embrace to Genocide, (Middle East Institute, American University), and Myanmar's State-directed Persecution of Rohingyas and Other Muslims (Brown World Affairs Journal). He co-authored, with Natalie Brinham, Essays on Myanmar Genocide. Zarni holds a PhD (U Wisconsin at Madison) and a MA (U California), and has held various teaching, research and visiting fellowships at the universities in Asia, Europe and USA including Oxford, LSE, UCL Institute of Education) , National-Louis, Malaya, and Brunei. He is the recipient of the "Cultivation of Harmony" award from the Parliament of the World's Religions (2015).
Tags:
Activism
,
Asia
,
Asia and the Pacific
,
Buddhism
,
Burma/Myanmar
,
Conflict
,
Ethnic Cleansing
,
Genocide
,
Geopolitics
,
History
,
Human Rights
,
Humanitarianism
,
Indigenous Rights
,
Justice
,
Military
,
Power
,
Racism
,
Religion
,
Rohingya
,
Social justice
,
Solutions
,
United Nations
,
Violence
,
Violent conflict
,
War
DISCLAIMER: The statements, views and opinions expressed in pieces republished here are solely those of the authors and do not necessarily represent those of TMS. In accordance with title 17 U.S.C. section 107, this material is distributed without profit to those who have expressed a prior interest in receiving the included information for research and educational purposes. TMS has no affiliation whatsoever with the originator of this article nor is TMS endorsed or sponsored by the originator. "GO TO ORIGINAL" links are provided as a convenience to our readers and allow for verification of authenticity. However, as originating pages are often updated by their originating host sites, the versions posted may not match the versions our readers view when clicking the "GO TO ORIGINAL" links. This site contains copyrighted material the use of which has not always been specifically authorized by the copyright owner. We are making such material available in our efforts to advance understanding of environmental, political, human rights, economic, democracy, scientific, and social justice issues, etc. We believe this constitutes a 'fair use' of any such copyrighted material as provided for in section 107 of the US Copyright Law. In accordance with Title 17 U.S.C. Section 107, the material on this site is distributed without profit to those who have expressed a prior interest in receiving the included information for research and educational purposes. For more information go to: http://www.law.cornell.edu/uscode/17/107.shtml. If you wish to use copyrighted material from this site for purposes of your own that go beyond 'fair use', you must obtain permission from the copyright owner.