The Special Feature of Human Existence
SPIRITUALITY, 29 Jul 2019
Radhanath Swami – TRANSCEND Media Service
According to how we invest in our karmic life, we will get a particular type of body. There are millions of species of life. Each one facilitates a particular opportunity to get the reactions of our particular karma. The law of nature is that we become who we associate with. So according to the modes of nature we associate with, our consciousness is influenced, which creates the destiny of our soul to live in a particular species of life. After travelling through all those species of life, one is given the great fortune of human existence. It is so rare and a precious opportunity for self-realization.
In all the lower species the soul is trapped within the cage of maya's modes of nature and there is no way out of that cage. To be imprisoned with no opportunity for freedom creates many miseries. But when we come to this human form of life by God's causeless mercy, He opens the door to that cage and not only that, He personally descends into this world again and again to call us. 'Come, the door is open. Be free of this material entanglement which is the cause of repeated birth and death.' That is the special feature of human existence.
In all other species the door of the cage is closed and they are trapped. But in the human species the door is open. God personally comes; He sends his avatars, sons, scriptures to tell us to come out into the free liberated world of love. But at the same time, maya keeps putting all kinds of food in the cage in the form of sensual and mental satisfactions to keep us there.  But the nature of this food always creates acidity and indigestion. Maya gives that trapped bird in the cage the same food she has always been giving you in your lower species bodies. She simply adds a few flavoured spices especially for human satisfaction. But the door to the cage is open. Wake up, foolish souls. But the foolish soul says, 'No, I have this, how can I give this up?' Some people even recognize that God is calling me out, but I just need to finish this last meal. In this way, the sacred texts describe the greatest tragedy is when the spirit soul takes this human form of life and does not sincerely pursue the life of self-realization.
If we just give up this so-called enjoyment of material pleasure we can come out of the cage into the spiritual sky. There we will find our eternal home in the abode of the Lord, where all the essential desires of the soul are eternally and completely fulfilled. The essential need of every living entity is to love and to be loved. But the love of this world is a source of great disappointment and frustration because all experiences in this world, and the objects of this world, are temporary. Therefore, the soul is constantly looking for something more, but due to ignorance does not really know what they are looking for. Everyone is looking for God. That is the soul's eternal longing – to feel God's unlimited love upon them and to naturally reciprocate and offer our unlimited thirst to love Him.
To love God means to spontaneously and naturally love every living being without discrimination. This state of consciousness is the level by which, we can achieve real peace. There is no other way because all other ideas of peace and happiness are superficial misconceptions based on ignorance.
God has so mercifully appeared in His name, which when chanted sincerely, cleanses the heart. If you take the pure water (the soul), which has been mixed with the mud (three modes of material nature), which creates dirty water (these dualities and misconceptions and artificial designations), and you filter it (chanting God's names), you bring it back to its original transparent state.
________________________________________________________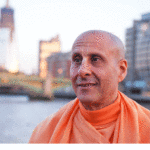 Radhanath Swami is a Vaishnava sanyassin (a monk in a Krishna-bhakti lineage) and teacher of the devotional path of Bhakti-yoga. He is author of The Journey Home, a memoir of his search for spiritual truth, and the New York Times bestseller The Journey Within. His teachings draw from the sacred texts of India such as the Bhagavad-gita, Srimad Bhagavatam and Ramayana, and aim to reveal the practical application of the sacred traditions, while focusing on the shared essence which unites apparently disparate religious or spiritual paths. Born Richard Slavin, on December 7, 1950, in his teens he came to confront a deep sense of alienation from suburban Chicago life and the civil injustices of mid-century America. At the age of nineteen, while on a summer trip to Europe, his internal struggles culminated in a commitment to search for God wherever it might lead him. Meditating on the Isle of Crete, he felt a supernatural calling and the next morning set off alone to find spiritual India. The Journey Home documents his odyssey as a penniless hitch-hiker though Greece, Turkey, Iran, Afghanistan, Pakistan and finally India. There he lived as a wandering ascetic, first amongst the forest dwelling Himalayan yogis and later amongst a wide variety of gurus and spiritual practitioners throughout India and Nepal. Ultimately, he was led to the holy town of Vrindavan, where he found the teacher he was searching for in A.C. Bhaktivedanta Swami Prabhupada (1896-1977) the founder of the International Society for Krishna Consciousness (ISKCON).
Go to Original – radhanathswami.com
Tags:
Radhanath Swami
,
Spirituality
DISCLAIMER: The statements, views and opinions expressed in pieces republished here are solely those of the authors and do not necessarily represent those of TMS. In accordance with title 17 U.S.C. section 107, this material is distributed without profit to those who have expressed a prior interest in receiving the included information for research and educational purposes. TMS has no affiliation whatsoever with the originator of this article nor is TMS endorsed or sponsored by the originator. "GO TO ORIGINAL" links are provided as a convenience to our readers and allow for verification of authenticity. However, as originating pages are often updated by their originating host sites, the versions posted may not match the versions our readers view when clicking the "GO TO ORIGINAL" links. This site contains copyrighted material the use of which has not always been specifically authorized by the copyright owner. We are making such material available in our efforts to advance understanding of environmental, political, human rights, economic, democracy, scientific, and social justice issues, etc. We believe this constitutes a 'fair use' of any such copyrighted material as provided for in section 107 of the US Copyright Law. In accordance with Title 17 U.S.C. Section 107, the material on this site is distributed without profit to those who have expressed a prior interest in receiving the included information for research and educational purposes. For more information go to: http://www.law.cornell.edu/uscode/17/107.shtml. If you wish to use copyrighted material from this site for purposes of your own that go beyond 'fair use', you must obtain permission from the copyright owner.