What Comes after Bahrain?
PALESTINE - ISRAEL, 8 Jul 2019
Richard Falk | Global Justice in the 21st Century – TRANSCEND Media Service
6 Jul 2019 – Is There an 'After' after the Kushner Show in Bahrain?
This interview was published by Tasmin New Agency on 2 Jul 2019 conducted by Mohammad Hassani. The text below has been somewhat modified.
Q1: Bahrain hosted the so-called "Peace to Prosperity" conference to discuss what the US has described as the economic part of President Donald Trump's "deal of the century", a plan which aims to consign the Palestinian cause to oblivion. The Palestinian leadership boycotted the meeting on June 25 and 26 in Manama, leading critics to question the credibility of the event. In your opinion, what goals are the US and Israel pursuing by holding the conference? Would they reach their goals?
The 'workshop' in Bahrain should never have been evaluated without considering the overall approach taken by the Trump presidency to Israel and Palestine. The relationship to Israel pre-Trump had been one of leaning toward Israel while purporting to be 'an honest broker,' a thinly disguised partisanship. Since Trump became president the U.S. has dispensed with thin disguise, and become the avowed partner of Israel and adversary of Palestinian goals. It manifested this shift in several concrete unprovoked policy shifts that were deliberately punitive toward the Palestinians. Such behavior was a strange prelude to a proclaimed 'diplomatic' initiative hyperbolically called 'the deal of the century.' Washington's behavior clearly signaled an end to diplomacy based on agreement and consent of the parties, substituting coercion on behalf of the favored party and seeking submission by its adversary.
From such a perspective it should be understood that the purpose of 'Peace to Prosperity' is neither peace nor prosperity, but securing an Israeli 'victory' and a Palestinian surrender with respect to the political agenda of achieving basic national rights, especially the right of self-determination. Thus, the Manama meeting is a success to the extent it made the proposed bargain of economic normalization in exchange for political defeat seem of material benefit to the governments of the region and had some attraction for the Palestinian Authority and segments of the Palestinian people. The reactions to the event seem very subdued suggesting that the Kushner/Trump initiative has had very little, if any, political impact so far. The secondary objective is one of public relations, being able to blame the anticipated failure to achieve 'the deal of the century' on the Palestinians. I fear the Western mainstream media will lend some support to this outrageous claim, which confuses the rejection of American ultimatum, preceded by a series of pro-Israel policy moves (Jerusalem, settlements, UNRWA funding, closing the PLO information office Washington, endorsing Golan and West Bank annexations) hostile to the Palestinians as signaling this Trump shift from pro-Israeli partisanship of the Obama era to pro-Israeli coercive diplomacy currently practices by Washington.
Against this background, it is disingenuous for Israeli apologists such as Dershowitz and others to urge the Palestinians to listen with an open mind to what the Trump 'peace initiative' is proposing. To lend legitimacy to such coercive diplomacy would be a sign of weakness and an expression of illegitimacy by representatives of the Palestinian people. It would have been seen as an expression of Palestinian hopelessness. Instead, if their refusal to participate in such a macabre charade is linked to the resistance struggle in Gaza embodied in the Great March of Return, it is a moment for those of us in solidarity with the Palestinian struggle to lend greater support to nonviolent initiatives, including the BDS campaign.
Q2: Some analysts say that the Trump administration's focus on an economic plan, led by his son-in-law and senior adviser Jared Kushner, is a strategic mistake that could stymie the peace negotiations even before they begin. What is your assessment of the US approach to the conflict and the future of the plan? Is it practical at all?
The Trump/Kushner 'plan' is not looking toward genuine diplomatic negotiations. It is trying to impose a one-sided Israeli victory, and treat the conflict as resolved. This overlooks the robustness of Palestinian resistance, dramatized by the Great March of Return in Gaza, and by the growing global solidarity movement, as featuring the BDS (Boycott, Divestment, and Sanctions) Campaign. It should be appreciated that such a campaign managed over time delegitimized South Africa's apartheid regime to such an extent that it collapsed. Such a soft power Palestinian victory can still be expected if this combination of resistance, solidarity, and patience persist in a manner that imposes sufficient costs on Israel for its reliance on an apartheid structure to achieve its 'security' at the expense of Palestinian basic rights. The hope of most activists is that Israeli leaders and citizens will recalculate their interests so as to accept a political compromise based on the equality of rights of the two peoples coexisting with mutual respect in historic Palestine. Remember that all of the anti-colonial victories of the 20th century were achieved by the weaker side militarily and geopolitically.
Q3: Israeli occupation forces have killed 84 Palestinians during the first half of 2019, including eight women and 19 children, according to local media reports. On Friday, Israeli forces once again opened fire on Palestinians taking part in the peaceful "Great March of Return" protests, along the separation fence between the besieged Gaza Strip and occupied territories. According to media reports, more than 270 people, including 52 children, have been killed since the demonstrations began in March 2018. Most of the dead and the thousands wounded were unarmed civilians against whom Israel was using excessive force. Why has the international community, particularly the Western mainstream media, made a muted response to the Tel Aviv regime's crimes against Palestinians so far?
Israel reliance on excessive force and collective punishment to deal with the Great March of Return, and its grievances and lawful demands, should be treated as violations of international humanitarian law of a severity that amounts to crimes against humanity. It is a shocking reflection of media bias that it accords massive attention to human rights violations in Turkey of a relatively lesser character, while ignoring and even rationalizing much more serious violations by Israel. Although Western liberals have counseled Palestinians to rely on nonviolence in their opposition to Israel, such reliance as in the Great March has been consistently met with brutal force by Israel and by virtual silence in the world media, by the governments of the world, and even by the United Nations. It is a case of geopolitics eclipsing moral and legal accountability exposing the lack of political will to protect the innocent and vulnerable from abuse by the vindictive and militarily powerful.
The growing movement of global solidarity as reinforced by Palestinian acts of resistance to apartheid structures of oppression is the sole basis for a peaceful future for both peoples, Palestinians and Israeli Jews.
__________________________________________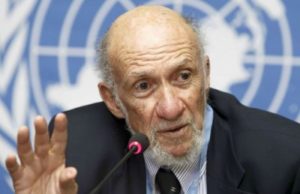 Richard Falk is a member of the TRANSCEND Network, an international relations scholar, professor emeritus of international law at Princeton University, Distinguished Research Fellow, Orfalea Center of Global Studies, UCSB, author, co-author or editor of 40 books, and a speaker and activist on world affairs. In 2008, the United Nations Human Rights Council (UNHRC) appointed Falk to a six-year term as a United Nations Special Rapporteur on "the situation of human rights in the Palestinian territories occupied since 1967." Since 2002 he has lived in Santa Barbara, California, and taught at the local campus of the University of California in Global and International Studies, and since 2005 chaired the Board of the Nuclear Age Peace Foundation. His most recent book is Achieving Human Rights (2009).
Go to Original – richardfalk.wordpress.com
Tags:
Apartheid
,
Conflict
,
Fatah
,
Gaza
,
Geopolitics
,
Hamas
,
History
,
Human Rights
,
Indigenous Rights
,
International Relations
,
Israel
,
MATW
,
MENA
,
Media
,
Military
,
Nakba
,
Nonviolence
,
Occupation
,
Oslo Accords
,
Palestine
,
Palestine/Israel
,
Politics
,
Power
,
Racism
,
Religion
,
Social justice
,
Torture
,
UN
,
Violence
,
Wall
,
War
,
West
,
West Bank
,
World
,
Zionism
Join the BDS-BOYCOTT, DIVESTMENT, SANCTIONS campaign to protest the Israeli barbaric siege of Gaza, illegal occupation of the Palestine nation's territory, the apartheid wall, its inhuman and degrading treatment of the Palestinian people, and the more than 7,000 Palestinian men, women, elderly and children arbitrarily locked up in Israeli prisons.
DON'T BUY PRODUCTS WHOSE BARCODE STARTS WITH 729, which indicates that it is produced in Israel. DO YOUR PART! MAKE A DIFFERENCE!
7 2 9: BOYCOTT FOR JUSTICE!
DISCLAIMER: The statements, views and opinions expressed in pieces republished here are solely those of the authors and do not necessarily represent those of TMS. In accordance with title 17 U.S.C. section 107, this material is distributed without profit to those who have expressed a prior interest in receiving the included information for research and educational purposes. TMS has no affiliation whatsoever with the originator of this article nor is TMS endorsed or sponsored by the originator. "GO TO ORIGINAL" links are provided as a convenience to our readers and allow for verification of authenticity. However, as originating pages are often updated by their originating host sites, the versions posted may not match the versions our readers view when clicking the "GO TO ORIGINAL" links. This site contains copyrighted material the use of which has not always been specifically authorized by the copyright owner. We are making such material available in our efforts to advance understanding of environmental, political, human rights, economic, democracy, scientific, and social justice issues, etc. We believe this constitutes a 'fair use' of any such copyrighted material as provided for in section 107 of the US Copyright Law. In accordance with Title 17 U.S.C. Section 107, the material on this site is distributed without profit to those who have expressed a prior interest in receiving the included information for research and educational purposes. For more information go to: http://www.law.cornell.edu/uscode/17/107.shtml. If you wish to use copyrighted material from this site for purposes of your own that go beyond 'fair use', you must obtain permission from the copyright owner.