Howard Zinn (24 Aug 1922 – 14 May 2008)
BIOGRAPHIES, 19 Aug 2019
Posted by Antonio C. S. Rosa | Editor – TRANSCEND Media Service
Howard Zinn was a historian, author, professor, playwright, and activist. His life's work focused on a wide range of issues including race, class, war, and history, and touched the lives of countless people.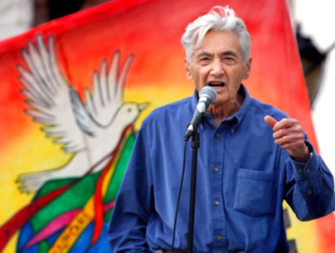 Zinn grew up in Brooklyn in a working-class, immigrant household. At 18 he became a shipyard worker and then joined the Air Force and flew bombing missions during World War II. These experiences helped shape his opposition to war and his strong belief in the importance of knowing history.
After attending college under the G.I. Bill, he worked as a warehouse loader while earning a Ph.D. in history from Columbia University. From 1956 to 1963, he taught at Spelman College in Atlanta, GA, where he became active in the Civil Rights Movement. After being fired by Spelman for his support for student protesters, Zinn became a professor of political science at Boston University, where he taught until his retirement in 1988.
Zinn was the author of dozens of books, including A People's History of the United States, the play Marx in Soho, Vietnam: The Logic of Withdrawal, and SNCC: The New Abolitionists. He received many awards including the Lannan Foundation Literary Award for Nonfiction, the Eugene V. Debs award for his writing and political activism, and the Ridenhour Courage Prize.
Matt Damon from Howard Zinn's Speech: The Problem Is Civil Obedience
httpv://www.youtube.com/watch?v=S2li9E_94MA
The Early Years
Born Aug. 24, 1922, Howard Zinn grew up in New York City. His parents were Jewish immigrants, and met as factory workers. His father worked as a ditch digger and window cleaner during the Depression. His father and mother ran a neighborhood candy store for a brief time, barely getting by. For many years his father was in the waiter's union and worked as a waiter for weddings and bar mitzvahs.
"We moved a lot, one step ahead of the landlord," Zinn recalled. "I lived in all of Brooklyn's best slums."
There were no books in his home growing up. At some point his parents, knowing his interest in books, and never having heard of Charles Dickens, sent in a coupon with a dime each month to the New York Post and received one of ultimately twenty volumes of Dickens' complete works.
He went on to read about fascism in Europe—George Seldes' Sawdust Caesar and The Brown Book of Nazi Terror—and to engage in political discussions and debates with some young Communists in his neighborhood. They invited Zinn to a political rally in Times Square. Despite it being a peaceful rally, mounted police charged the marchers. Zinn was hit and knocked unconscious. He describes this experience as a turning point:
From that moment on, I was no longer a liberal, a believer in the self-correcting character of American democracy. . . The situation required not just a new president or new laws, but an uprooting of the old order, the introduction of a new kind of society—cooperative, peaceful, egalitarian.
Zinn continued reading literature to help understand the world around him including The Communist Manifesto, The Jungle, and The Grapes of Wrath.
He graduated from Thomas Jefferson High School and became an apprentice shipfitter in the Brooklyn Navy Yard. He and a few other apprentices met to discuss books and strategize about how to improve their dangerous working conditions. Excluded from the craft unions of skilled workers, they formed the Apprentice Association.
As Zinn explained in his liner notes to "Fellow Workers":
Before I became a college professor I was a shipyard worker. Before I was a writer I was a warehouse worker. But whatever I did, I was always a member of a labor union. I think the only job I had where I couldn't join a union was when I was a bombardier in the Air Force — and it might have been a good thing if we had one — maybe we would have gotten together and asked the question: Why are we dropping bombs on this peaceful village this morning?
Zinn had his first date with his future wife, Roslyn Shechter, also from Brooklyn, on a midnight boat trip on the Hudson that he organized to raise money for the Association. Roslyn shared Howard's progressive views and was also a child of immigrants.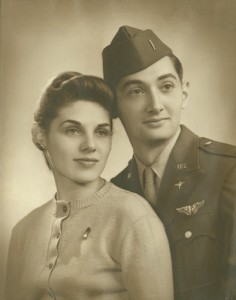 In the Air Force
Zinn joined the Army Air Corps in 1943, eager to fight the fascists, and became a bombardier in a B-17. While in the Air Force he was disturbed by the race and class inequality among the servicemen. It wasn't until years after the war that he questioned the necessity of the bombs that he dropped.  But at the end of the war, back in New York, he deposited his medals in an envelope and wrote: "Never Again."
"I would not deny that [WWII] had a certain moral core, but that made it easier for Americans to treat all subsequent wars with a kind of glow," Zinn said. "Every enemy becomes Hitler."
Years later he would look back at his role in dropping what was then called "jellied gasoline" (napalm) on the French seaside town of Royan, just weeks before the end of the war.   He wrote about this in his book The Bomb and in great detail in his book The Politics of History. His involvement in what he felt was an unnecessary and terrible act informed his lifelong antiwar views.
Zinn and Roz married in 1944. While Zinn worked various jobs after the war, they lived on meager income in a rat-infested basement apartment in Brooklyn. Their daughter Myla was born in 1947 and Jeff in 1949. They moved to new public housing in 1949 and Zinn went to college on the G.I. Bill.
Teaching at Spelman College and the Civil Rights Movement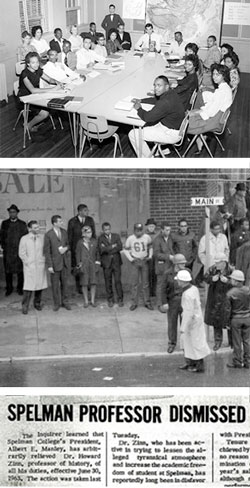 While doing back breaking work as a warehouse loader and with Roz working part-time while raising two small children, Zinn earned a B.A. at New York University and master's and doctoral degrees at Columbia University.
In 1956 he was offered a job at Spelman College, a historically black women's college, as chair of the history department. Among his students were Marian Wright Edelman, founder of the Children's Defense Fund; Alice Walker, the novelist; and the singer, composer, and historian Bernice Johnson Reagon.
What he also found was that below the surface of this quiet, orderly college—resistance to the current social order was brewing. Students would come to their house to use the typewriter, for meetings, for rides, and for advice. As Carol Polsgrove explained,
Minutes before a sit-in began, he alerted the newspapers. In one such event, seventy-seven students were arrested; fourteen Spelman students were among them.  In an article for The Nation, Zinn delighted in a dormitory notice that brought together the decorous past and the radical present: "Young Ladies Who Can Picket, Please Sign Below."
As Zinn said, I was "a 39-year-old professor of history who had begun to wander out of the classroom to see some history."
Zinn, along with Ella Baker, became an "adult adviser" to the Student Nonviolent Coordinating Committee (SNCC) and marched for civil rights with his students, which angered Spelman's president.
On June 4, 1963 Spelman's president notified Zinn that his "services would no longer be needed," even though he was still under tenured contract. "I was fired for insubordination," he recalled. "Which happened to be true." Students campaigned, unsuccessfully, to have Zinn remain at Spelman. (See correspondence from Tamiment Library.) In 2005, Spelman president Beverly Daniel Tatum, committed to making amends, invited Zinn to give the commencement address.
Zinn continued in his role as an ally and adviser for SNCC. He also recognized the need to document history being made. He recorded interviews he did with civil rights leaders like Stokely Carmichael, and sharecroppers and children who were involved in the movement. He took copious notes on the day-to-day organizing. He joined legendary writer James Baldwin, James Forman, and others in Selma, Alabama, in October of 1963 as an observer of the voter registration campaign, documenting the day in great detail. He returned to Mississippi, both to fight for voting rights and to chronicle the history, for Freedom Day in Hattiesburg on January 21, 1964. Writing for The Nation, Zinn traveled to Selma for the final stretch of the march from Selma to Montgomery in March of 1965.
Teaching at Boston University and the Antiwar Movement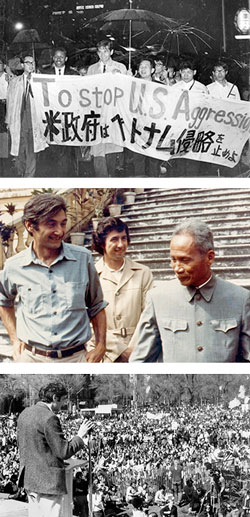 Zinn started teaching political science at Boston University (BU) in 1964. His classes and office hours were extremely popular.
While at BU, Zinn became active in the anti-war movement which he noted had its roots in the Civil Rights Movement: "Black civil rights activists in the South were among the first to resist the draft." (You Can't Be Neutral, p. 108)
Zinn and SNCC activist Ralph Featherstone traveled to Japan in the summer of 1966 for a two-week lecture tour about the Vietnam War. Zinn explains that:
After my trip to Japan I continued to speak against the war all over the country: teach-ins, rallies, and debates. I was becoming frustrated that no major political figure, no leading periodical, no published book, however critical of the war, dared to say what was so clear to me—that the United States must simply get out of Vietnam as quickly as possible. . . I wrote as quickly as I could, a little book of a hundred and twenty-five pages called The Logic of Withdrawal (You Can't Be Neutral, p. 111).
In 1968, he traveled with the Rev. Daniel Berrigan to Hanoi to receive prisoners released by the North Vietnamese and he wrote Disobedience and Democracy: Nine Fallacies of Law and Order (1968).
Zinn's presence on the faculty infuriated Boston University's president at the time, John Silber, a political conservative. Silber said Zinn was a sterling example of those who would "poison the well of academe."
In 1979, the faculty, secretaries, staff, and librarians went out on strike at various times. Zinn was one of the co-chairs of the strike committee of the faculty union. [Read more.]
Zinn retired in 1988, concluding his last class early so he could join a picket line at BU's School of Nursing. He invited his students to join him.
In recent years students have shared memories of Howard Zinn as a professor at Spelman and Boston University.
Author and Playwright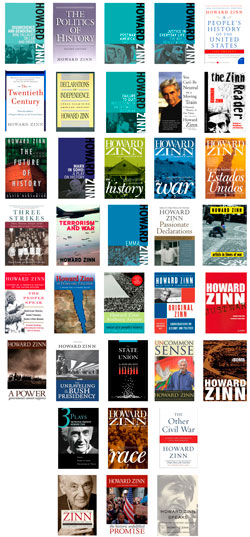 Zinn could not find a bottom-up history text for his own courses, so he wrote A People's History of the United States: 1492-Present (Harper Collins, 1980). To everyone's surprise, it became one of the most widely read and translated U.S. history books with more than two million copies sold to date. With multiple reprints and sales still climbing, it is a classic. However, Zinn wrote much more than this one book.
Zinn's first book La Guardia in Congress (1959) received an honorable mention in the competition for the American Historical Association's Albert J. Beveridge Award.
He went on to write dozens of influential books and articles. His last article was a critical assessment of President Obama for The Nation. "I've been searching hard for a highlight," he wrote.
He also spoke at countless political rallies and forums. Some of these talks have been collected in Howard Zinn Speaks (Haymarket, 2012). His analysis and wit can also be heard in online audio and video interviews.
Zinn wrote three plays: "Daughter of Venus," "Marx in Soho: A Play on History," and "Emma," about the life of the anarchist Emma Goldman. All have been produced. "Marx in Soho" continues to be produced worldwide.
Twenty-first Century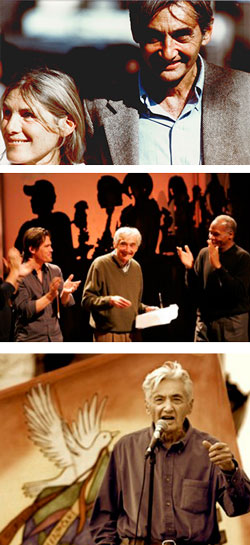 In 2004, Zinn worked with Anthony Arnove to produce a companion to A People's History of the United States called Voices of a People's History of the United States. This led to a series of staged public readings by celebrities, students, and activists. Zinn worked tirelessly behind the scenes to bring these voices to film. In 2009, The People Speak documentary aired on The History Channel and was released on DVD in 2010.
In 2007, Zinn cut back on traveling to spend more time with Rosyln who had been diagnosed with cancer. She died on May 14, 2008. A painter, teacher, and editor, she was deeply admired by all those who met her. As Zinn noted after her death,
Roz was a more rounded person than I was. She didn't just love music, she played music. She didn't just appreciate art, she became a painter. She loved flowers, and planted them. She loved theater and took to the stage. She loved the sea and swam in the coldest of waters. She loved literature and was always reading.

I had total faith in her literary sensibility, so she was the only one who read my writing before I gave it to the publisher. She would undoubtedly suggest that I shorten it. She loved people, and they loved her, instantly.
Zinn continued his activism, speaking at rallies and paying particular attention to teachers and students. In 2008 he introduced a former student to two education groups to launch the Zinn Education Project, bringing resources for teaching people's history to K-12 classrooms. In the fall of 2008 he was the keynote speaker at the National Council for the Social Studies annual conference.
Throughout his life, Zinn responded to letters he received from all over the world. A New York University student reviewing his archived letters at the Tamiment Library made note of his extensive correspondence with prisoners. He also testified at numerous trials including Camden 28, Cruise Missile and Missile X Factory Trial, Sam Lovejoy, the CIA campus recruitment protestors, and the Judi Bari/Darryl Cherney case.
Howard Zinn died on January 27, 2010, in Santa Monica from a heart attack. There was an outpouring of tributes from around the world and public events to commemorate his life and legacy. Zinn is survived by his daughter, Myla Kabat-Zinn of Lexington, Mass.; his son, Jeff Zinn, of Orleans, Mass.; and five grandchildren.
Zinn's influence lives on in millions of people who have read his work and have been inspired by his actions. He ended his autobiography with these encouraging words:
We don't have to wait for some grand utopian future. The future is an endless succession of presents, and to live now as we think humans should live, in defiance of all that is bad around us, is itself a marvelous victory.
Learn More about Howard Zinn
You can find many of his articles, interviews, and book titles on this HowardZinn.org website. We also recommend the book and documentary about Zinn's life, You Can't Be Neutral on a Moving Train, his interviews on Democracy Now! and Alternative Radio, and his articles in The Progressive and on ZCommunications. His papers and recordings were donated to the Tamiment Library.
__________________________________________
Adapted from Zinn's biography You Can't Be Neutral on a Moving Train and the New York Times obituary by Michael Powell, "Howard Zinn, Historian, Is Dead at 87."
Go to Original – howardzinn.org
Tags:
Biography
,
Howard Zinn
DISCLAIMER: The statements, views and opinions expressed in pieces republished here are solely those of the authors and do not necessarily represent those of TMS. In accordance with title 17 U.S.C. section 107, this material is distributed without profit to those who have expressed a prior interest in receiving the included information for research and educational purposes. TMS has no affiliation whatsoever with the originator of this article nor is TMS endorsed or sponsored by the originator. "GO TO ORIGINAL" links are provided as a convenience to our readers and allow for verification of authenticity. However, as originating pages are often updated by their originating host sites, the versions posted may not match the versions our readers view when clicking the "GO TO ORIGINAL" links. This site contains copyrighted material the use of which has not always been specifically authorized by the copyright owner. We are making such material available in our efforts to advance understanding of environmental, political, human rights, economic, democracy, scientific, and social justice issues, etc. We believe this constitutes a 'fair use' of any such copyrighted material as provided for in section 107 of the US Copyright Law. In accordance with Title 17 U.S.C. Section 107, the material on this site is distributed without profit to those who have expressed a prior interest in receiving the included information for research and educational purposes. For more information go to: http://www.law.cornell.edu/uscode/17/107.shtml. If you wish to use copyrighted material from this site for purposes of your own that go beyond 'fair use', you must obtain permission from the copyright owner.