(Português) Ursos arranham e batem as patas contra as paredes de cativeiro em zoo
ORIGINAL LANGUAGES, 19 Aug 2019
ANDA Agência de Notícias de Direitos Animais – TRANSCEND Media Service
Ursos aflitos podem ser vistos se balançando para frente e para trás e se batendo contra as paredes de concreto do recinto onde ficam aprisionados, em um vídeo comovente feito no zoológico Samut Prakan Crocodile Farm and Zoo na Tailândia.
Os ursos negros asiáticos foram filmados no polêmico local, que já foi centro de diversas acusações, e que os ativistas dos direitos animais estão lutando para fechar.
Imagens de 4 de agosto mostram que os animais parecem estar estressados quando batem as patas contra as paredes íngremes enquanto olham para os visitantes do zoo.
Alguns dos ursos também estavam saltando de um lado para o outro enquanto se encostavam contra o concreto, incapazes de subir rumo a liberdade.
O zoológico Samut Prakan Crocodile Farm and Zoo provocaram indignação em dezembro passado, quando imagens de um elefante muito magro e jovem sendo forçado a fazer truques para multidões foram divulgadas nas redes sociais.
Desde então, grupos de defesa dos direitos animais, incluindo a PETA, têm pressionado as empresas de turismo a pararem de levar turistas para o local que fica ao sul de Bangcoc.
A empresa chinesa Ctrip – a maior agência de reservas on-line da Ásia que administra as viagens de férias de milhões de turistas por ano – na semana passada retirou o zoológico de seus roteiros e parou de vender ingressos para a instalação. A empresa é proprietária do Skyscanner, Trip e Tours4fun.
Os ativistas esperam que, ao focar as ações nos clientes e nas turnês, eles possam interromper a demanda por tais atrações, que levam ao sofrimento e a buso dos animais.
A PETA anunciou esta semana que a Ctrip deixaria de vender ingressos para o zoológico e pediu que outros operadores turísticos sigam o mesmo exemplo.
O porta-voz da empresa, Jason Baker, disse: "A Ctrip fez a coisa certa em cortar a venda de ingressos para essa operação desprezível, abusiva e cruel. A PETA está pedindo a todas as empresas de viagens que ainda oferecem excursões a essas instalações que sigam o exemplo compassivo e perspicaz de negócios da Ctrip e que coloquem empresas exploradoras fora de seus itinerários.
O zoológico abriga crocodilos, elefantes, ursos, chimpanzés, tigres e outros animais. A empresa recebeu críticas pelo tratamento cruel dado aos animais, que parecem estar angustiados, infelizes e às vezes desnutridos.
Elefantes ainda estão presentes no zoológico e têm que realizar apresentações de rotina diária, como derrubar pinos e ficar de pé em banquetas para visitantes e turistas em uma arena de concreto.
A PETA denunciou que os "tratadores do zoológico espetavam elefantes com ganchos afiadas de metal e os forçavam a dar passeios e fazer truques antinaturais como jogar boliche, pintar quadros e dançar".
A ONG revelou também que os elefantes não podiam interagir uns com os outros e "oscilavam continuamente para frente e para trás, um sintoma de sofrimento psicológico".
Em outras imagens recentes do zoológico, elefantes traumatizados foram mostrados balançando a cabeça de um lado para outro em um sinal de "sofrimento psicológico" também conhecido como zoocose. Eles são então levados para uma área onde são forçados a se equilibrar em uma perna, chutar bolas de futebol e jogar bolas de boliche em fileiras de pinos.
Amarrados por correntes curtas, crocodilos nadam em piscinas sujas de lixo, e tigres agitados são alimentados com carne por convidados (mediante pagamento) usando uma vara.
A National Geographic também investigou a mesma instalação e encontrou um elefante de quatro anos, Gluay Hom, que, segundo o veículo, estava desnutrido muito magro, manco de uma perna, não conseguia ficar de pé e tinha uma enorme ferida do lado da cabeça.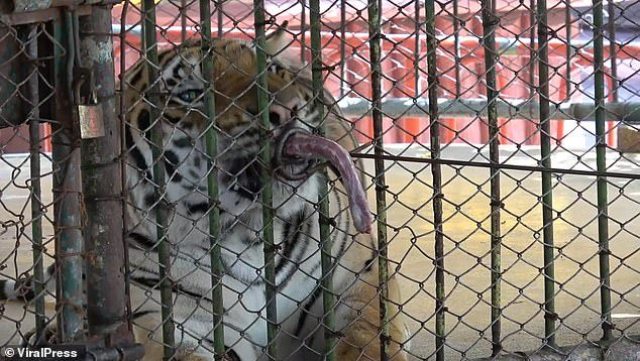 Enquanto isso, um velho tigre chamado Khai Khem podia ser visto como um abcesso dentário tão grave que estava corroendo sua mandíbula.
____________________________________________

A imprensa não apenas informa. Ela forma conceitos. Modifica ideias. Influencia decisões. Define valores. Participa das grandes mudanças sociais e políticas trazendo o mundo para o indivíduo pensar, agir e ser. É justamente este o objetivo da ANDA – Agência de Notícias de Direitos Animais: informar para transformar. A ANDA difunde na mídia os valores de uma nova cultura, mais ética, mais justa e preocupada com a defesa e a garantia dos direitos animais. É o primeiro portal jornalístico do mundo voltado exclusivamente a fatos e informações do universo animal. Com profissionalismo, seriedade e coragem, a ANDA abre um importante canal com jornalistas de todas as mídias e coloca em pauta assuntos que até hoje não tiveram o merecido espaço ou foram mal debatidos na imprensa.
Tags:
Activism
,
Animal Justice
,
Animal rights
,
Animals
,
Capitalism
,
Conflict
,
Cruelty
,
Exploitation
,
Justice
,
Politics
,
Power
,
Veganism
,
Vegetarianism
,
Violence
,
World
DISCLAIMER: The statements, views and opinions expressed in pieces republished here are solely those of the authors and do not necessarily represent those of TMS. In accordance with title 17 U.S.C. section 107, this material is distributed without profit to those who have expressed a prior interest in receiving the included information for research and educational purposes. TMS has no affiliation whatsoever with the originator of this article nor is TMS endorsed or sponsored by the originator. "GO TO ORIGINAL" links are provided as a convenience to our readers and allow for verification of authenticity. However, as originating pages are often updated by their originating host sites, the versions posted may not match the versions our readers view when clicking the "GO TO ORIGINAL" links. This site contains copyrighted material the use of which has not always been specifically authorized by the copyright owner. We are making such material available in our efforts to advance understanding of environmental, political, human rights, economic, democracy, scientific, and social justice issues, etc. We believe this constitutes a 'fair use' of any such copyrighted material as provided for in section 107 of the US Copyright Law. In accordance with Title 17 U.S.C. Section 107, the material on this site is distributed without profit to those who have expressed a prior interest in receiving the included information for research and educational purposes. For more information go to: http://www.law.cornell.edu/uscode/17/107.shtml. If you wish to use copyrighted material from this site for purposes of your own that go beyond 'fair use', you must obtain permission from the copyright owner.