Toni Morrison on the Power of Language: Her Spectacular Nobel Acceptance Speech after Becoming the First African American Woman Awarded the Accolade
NOBEL LAUREATES, 12 Aug 2019
Maria Popova | Brain Pickings – TRANSCEND Media Service
"We die. That may be the meaning of life. But we do language. That may be the measure of our lives."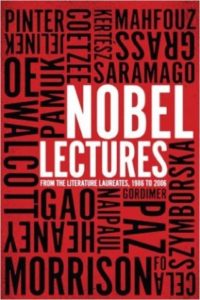 In the final weeks of 1993, Toni Morrison (February 18, 1931–August 5, 2019) became the first African American woman to receive the Nobel Prize, awarded her for being a writer "who in novels characterized by visionary force and poetic import, gives life to an essential aspect of American reality." On December 7, Morrison took the podium at the Swedish Academy in Stockholm and accepted the accolade with a spectacular speech about the power of language — its power to oppress and to liberate, to scar and to sanctify, to plunder and to redeem. Morrison's address, included in Nobel Lectures: From the Literature Laureates, 1986 to 2006 (public library), remains perhaps our most powerful manifesto for the responsibility embedded in how we wield the tool that stands as the hallmark of our species.
Morrison writes:
"Once upon a time there was an old woman. Blind but wise." Or was it an old man? A guru, perhaps. Or a griot soothing restless children. I have heard this story, or one exactly like it, in the lore of several cultures.

"Once upon a time there was an old woman. Blind. Wise."

In the version I know the woman is the daughter of slaves, black, American, and lives alone in a small house outside of town. Her reputation for wisdom is without peer and without question. Among her people she is both the law and its transgression. The honor she is paid and the awe in which she is held reach beyond her neighborhood to places far away; to the city where the intelligence of rural prophets is the source of much amusement.

One day the woman is visited by some young people who seem to be bent on disproving her clairvoyance and showing her up for the fraud they believe she is. Their plan is simple: they enter her house and ask the one question the answer to which rides solely on her difference from them, a difference they regard as a profound disability: her blindness. They stand before her, and one of them says, "Old woman, I hold in my hand a bird. Tell me whether it is living or dead."

She does not answer, and the question is repeated. "Is the bird I am holding living or dead?"

Still she doesn't answer. She is blind and cannot see her visitors, let alone what is in their hands. She does not know their color, gender or homeland. She only knows their motive.

The old woman's silence is so long, the young people have trouble holding their laughter.

Finally she speaks and her voice is soft but stern. "I don't know," she says. "I don't know whether the bird you are holding is dead or alive, but what I do know is that it is in your hands. It is in your hands."

Her answer can be taken to mean: if it is dead, you have either found it that way or you have killed it. If it is alive, you can still kill it. Whether it is to stay alive, it is your decision. Whatever the case, it is your responsibility.

For parading their power and her helplessness, the young visitors are reprimanded, told they are responsible not only for the act of mockery but also for the small bundle of life sacrificed to achieve its aims. The blind woman shifts attention away from assertions of power to the instrument through which that power is exercised.

Speculation on what (other than its own frail body) that bird-in-the-hand might signify has always been attractive to me, but especially so now thinking, as I have been, about the work I do that has brought me to this company. So I choose to read the bird as language and the woman as a practiced writer. She is worried about how the language she dreams in, given to her at birth, is handled, put into service, even withheld from her for certain nefarious purposes. Being a writer she thinks of language partly as a system, partly as a living thing over which one has control, but mostly as agency — as an act with consequences. So the question the children put to her: "Is it living or dead?" is not unreal because she thinks of language as susceptible to death, erasure; certainly imperiled and salvageable only by an effort of the will. She believes that if the bird in the hands of her visitors is dead the custodians are responsible for the corpse. For her a dead language is not only one no longer spoken or written, it is unyielding language content to admire its own paralysis. Like statist language, censored and censoring. Ruthless in its policing duties, it has no desire or purpose other than maintaining the free range of its own narcotic narcissism, its own exclusivity and dominance. However moribund, it is not without effect for it actively thwarts the intellect, stalls conscience, suppresses human potential.
With a cautionary eye to how our misuse of language can "forgo its nuanced, complex, mid-wifery properties for menace and subjugation," Morrison writes:
The vitality of language lies in its ability to limn the actual, imagined and possible lives of its speakers, readers, writers. Although its poise is sometimes in displacing experience it is not a substitute for it. It arcs toward the place where meaning may lie. When a President of the United States thought about the graveyard his country had become, and said, "The world will little note nor long remember what we say here. But it will never forget what they did here," his simple words are exhilarating in their life-sustaining properties because they refused to encapsulate the reality of 600, 000 dead men in a cataclysmic race war. Refusing to monumentalize, disdaining the "final word," the precise "summing up," acknowledging their "poor power to add or detract," his words signal deference to the uncapturability of the life it mourns. It is the deference that moves her, that recognition that language can never live up to life once and for all. Nor should it. Language can never "pin down" slavery, genocide, war. Nor should it yearn for the arrogance to be able to do so. Its force, its felicity is in its reach toward the ineffable.

Be it grand or slender, burrowing, blasting, or refusing to sanctify; whether it laughs out loud or is a cry without an alphabet, the choice word, the chosen silence, unmolested language surges toward knowledge, not its destruction.
In a sentiment that calls to mind James Baldwin's memorable meditation on language and life — "it is experience which shapes a language; and it is language which controls an experience," he wrote — Morrison adds:
Word-work is sublime … because it is generative; it makes meaning that secures our difference, our human difference — the way in which we are like no other life.

We die. That may be the meaning of life. But we do language. That may be the measure of our lives.
Complement with Morrison on the artist's task in troubled times and her spectacular commencement address about how to be your own story, then revisit other memorable Nobel Prize acceptance speeches: William Faulkner on the artist's duty as a booster of the human heart, Bertrand Russell on the four desires motivating all human behavior, Ernest Hemingway on the solitude of being a writer, Gabriel García Márquez on building a new utopia of life, Saul Bellow on how art and literature ennoble the human spirit, and Pearl S. Buck, the youngest woman awarded the prestigious accolade, on the nature of creativity.
_______________________________________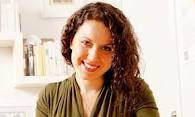 Brain Pickings is the brain child of Maria Popova, an interestingness hunter-gatherer and curious mind at large obsessed with combinatorial creativity who also writes for Wired UK and The Atlantic, among others, and is an MIT Futures of Entertainment Fellow. She has gotten occasional help from a handful of guest contributors. Email: brainpicker@brainpickings.org
Go to Original – brainpickings.org
Tags:
Black Culture
,
Culture
,
Literature
,
Media
,
Nobel Literature Prize
,
Toni Morrison
,
USA
DISCLAIMER: The statements, views and opinions expressed in pieces republished here are solely those of the authors and do not necessarily represent those of TMS. In accordance with title 17 U.S.C. section 107, this material is distributed without profit to those who have expressed a prior interest in receiving the included information for research and educational purposes. TMS has no affiliation whatsoever with the originator of this article nor is TMS endorsed or sponsored by the originator. "GO TO ORIGINAL" links are provided as a convenience to our readers and allow for verification of authenticity. However, as originating pages are often updated by their originating host sites, the versions posted may not match the versions our readers view when clicking the "GO TO ORIGINAL" links. This site contains copyrighted material the use of which has not always been specifically authorized by the copyright owner. We are making such material available in our efforts to advance understanding of environmental, political, human rights, economic, democracy, scientific, and social justice issues, etc. We believe this constitutes a 'fair use' of any such copyrighted material as provided for in section 107 of the US Copyright Law. In accordance with Title 17 U.S.C. Section 107, the material on this site is distributed without profit to those who have expressed a prior interest in receiving the included information for research and educational purposes. For more information go to: http://www.law.cornell.edu/uscode/17/107.shtml. If you wish to use copyrighted material from this site for purposes of your own that go beyond 'fair use', you must obtain permission from the copyright owner.
One Response to "Toni Morrison on the Power of Language: Her Spectacular Nobel Acceptance Speech after Becoming the First African American Woman Awarded the Accolade"