Friedrich Engels (28 Nov 1820 – 5 Aug 1895)
BIOGRAPHIES, 25 Nov 2019
The European Graduate School – TRANSCEND Media Service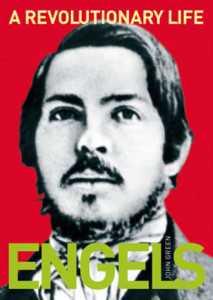 Friedrich Engels was a German author, political theorist and philosopher, most well known for his monumental work with Karl Marx, The Communist Manifesto and Das Kapital. Friedrich Engels is therefore one of the major contributors to the foundation of modern communism. Among his most noted works are The Condition of the Working Class in England in 1844 (1844), Herr Eugen Duhring's Revolution in Science (1878), Socialism: Utopian and Scientific (1880), The Origin of the Family, Private Property and the State (1884) as well as another co-written work with Karl Marx entitled The Holy Family (1844).
Like Karl Marx, Engels was highly influenced by Hegel at an early age and felt that, as Tristam Hunt writes, "an idea of modern pantheism [. . .] a merging of divinity with progressing humanity, a happy dialectical synthesis that freed him from the fixed oppositions of the pietist ethos of devout longing and estrangement." He was a man of varied descriptions, personally he was described as "bighearted" while when encountering political organizations he was known as "ruthless." Because he helped to finish volumes two and three of Das Kapital after Marx's death attempting to make parts cohere and make the text able to extend to more fields than mere economics, he is pegged as being the cornerstone of a development of Marxism that led to Soviet Marxists and the institution of dialectical materialism.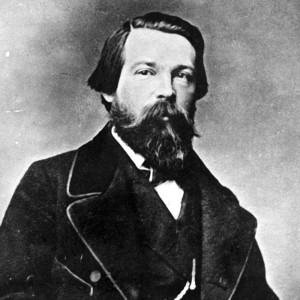 Born in Barmen in 1820, Friedrich Engels' father was a textile factory owner and partner in a cotton plant in Manchester, England. Engels and his father's relationship was strained due to his father preference for Engels to work in business. Contrary to his father's wishes young Engels demonstrated rebellious traits. He dropped out of secondary school and began writing articles under a pseudonym of Friedrich Oswald while placating his father by working in an export firm in Bremen in 1838. He completed a one-year volunteering stint in an artillery regiment honorably (he would continue to be adept at military matters throughout life and friends gave him the nickname "the general") and while in Berlin he developed a taste for banned authors Ludwig Borne, Karl Gutzkow and Heinrich Heine. As soon as he began to read Hegel, however, he abandoned the thoughts of these authors to embrace a Hegelian dialectic with other young leftists Bruno Bauer and Max Stirner. These "Young Hegelians" felt that to progress all repressive and outmoded ideas must go and their first attack was on the foundations of Christianity which pushed Engels' agnosticism into militant atheism. He was able to gain access to the circle by his writings as Friedrich Oswald and attended lectures at the university although he had no formal requirements. In 1842 he also met Moses Hess, another important figure promoting Hegel, who told young Engels that the logical conclusion to his dialectic was communism and that in England the conditions with class conflict in regards to advanced industry were becoming more and more apparent. Engels convinced his father to send him to the textile plant in Manchester under the auspices to continue his business training. Engels' father was pleased that he might be growing out of his radical leanings.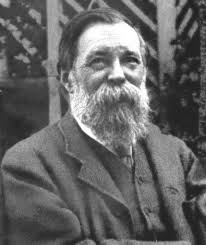 Once in Manchester (1842), Engels did in fact to very well in business using his off time to pursue writing articles and reading books as well as reports on economic and political conditions. He took notes on child labor, the environment and the general life of the laborers which would provide the material and inspiration for The Condition of the Working Class…. He met with members of English labor and Chartist movements and the articles he was feverishly working on were published in The Northern Star, New Moral World and the Democratic Review. While in Manchester, Engels also met Mary Burns, an Irish working girl, and they cultivated a relationship not unlike a marriage (although Engels did not believe in the institution of marriage) that lasted until her death in 1862.
Engels decided to return to Germany in 1844, but on his way back to Barmen he met with Marx in Paris. The two had first met on Engels' way to Manchester in Cologne but at that point the two did not necessarily impress each other as they did when meeting again in France. Marx edited two of Engels' articles that laid out what would become a version of Engels ideas on scientific socialism for the Deutsch-Französische Jahrbucher. The principles in the papers outlined how private property was a major flaw in the liberal economic system. He also helped Karl Marx with writing an attack on his earlier friends, the "Young Hegelians" which developed into the work The Holy Family. In Barmen, Engels published his notes he had gathered in Manchester and The Condition of the Working Class in England in 1844 was published in 1845.
From 1845 to 1848 Engels joined Karl Marx in Brussels where they attempted to organize German workers much in the same way that English and French workers were organizing. They joined the German Communist League and it was at this point that they wrote a manifesto for the organization which is the now infamous Communist Manifesto. 1848 brought conflict and the opportunity for Engels and Marx to participate in Revolution. While the revolution began in France, spreading into other western European countries, Engels and Marx found more conflict in their home country of Prussia where there was an attempt to institute a representational form of government instead of an authoritarian political system that mimicked feudal organization. Based in Cologne, the two radical thinkers edited a paper, Neue Rheinische Zeitung, which they were able to participate in publishing their revolutionary thinking, that democracy was a step towards communism. In 1849, however, the paper was shut down by the triumphant Prussian government and Marx's Prussian citizenship was revoked. Engels stayed on in Prussia working in an uprising in South Germany, but this was also crushed and he fled through Switzerland to meet up again with Karl Marx in England.
Both Friedrich Engels and Karl Marx were back in England, but after reorganizing the Communist League, it became apparent that funds had run out and Karl Marx had much work to accomplish with Das Kapital. Engels decided to return to the business in Manchester where he accepted a similar position as he had had in his adolescence. He moved up the ranks quickly however, becoming a partner in 1864. Throughout his stay working in Manchester, Engels sent Karl Marx money to continue his writing (at first only five pound notes) and the two kept up their correspondence. Engels assisted in a few of Marx's articles during this time as well for Karl Marx found Engels to be the strongest in matters of business, economics, military matters and international questions. The articles Karl Marx published that bore Engels' work were to be published in 1896 under Engels' name as Revolution and Counter-Revolution in Germany in 1848. In 1869, Engels sold his partnership and the next year moved to London where he and Karl Marx were able to work together until Karl Marx's death in 1883.
After Karl Marx's death, Engels served as the first Marxist, working to keep the faith alive, so to speak, corresponding with German Social Democrats and other followers. Engels also took upon himself the completion of the second and third volumes of Das Kapital based on Karl Marx's extensive notes. He also published his own works, most notably The Origin of the Family, Private Property and the State (1884) and Ludwig Feuerbach and the Outcome of Classical German Philosophy (1888). Engels died of throat cancer in 1895.
Tags:
Biography
,
Communism
,
Frederick Engels
DISCLAIMER: The statements, views and opinions expressed in pieces republished here are solely those of the authors and do not necessarily represent those of TMS. In accordance with title 17 U.S.C. section 107, this material is distributed without profit to those who have expressed a prior interest in receiving the included information for research and educational purposes. TMS has no affiliation whatsoever with the originator of this article nor is TMS endorsed or sponsored by the originator. "GO TO ORIGINAL" links are provided as a convenience to our readers and allow for verification of authenticity. However, as originating pages are often updated by their originating host sites, the versions posted may not match the versions our readers view when clicking the "GO TO ORIGINAL" links. This site contains copyrighted material the use of which has not always been specifically authorized by the copyright owner. We are making such material available in our efforts to advance understanding of environmental, political, human rights, economic, democracy, scientific, and social justice issues, etc. We believe this constitutes a 'fair use' of any such copyrighted material as provided for in section 107 of the US Copyright Law. In accordance with Title 17 U.S.C. Section 107, the material on this site is distributed without profit to those who have expressed a prior interest in receiving the included information for research and educational purposes. For more information go to: http://www.law.cornell.edu/uscode/17/107.shtml. If you wish to use copyrighted material from this site for purposes of your own that go beyond 'fair use', you must obtain permission from the copyright owner.